Browse in the Library:
and subscribe to our social channels for news and music updates:
Search Posts by Categories:
Gershwin: The Man I Love (1924) Piano arrangement by the same composer
With music by George Gershwin and lyrics by his brother, Ira, this song was originally published as "The Girl I Love" in 1924. The first recordings of the song were in 1928.

"The Man I Love" was a song without an audience. It was not that George Gershwin's music or his brother Ira's lyrics were not good enough. They were – and still are – but the song simply did not fit in any of the musicals of the era. It was originally intended to be part of the Gershwins' 1924 musical, Lady, Be Good, with the title, "The Girl I Love."
When Adele Astaire, who helped make her younger brother, Fred, more famous than she would ever be, sang the song at the musical's off-Broadway opening in Philadelphia, it was given a nice round of applause. Ira recalled that she sang it "charmingly." Anyone who has ever heard Billie Holiday's version would hardly call it a charming song, and therein lay the problem. This song of simple yearning did not belong in a musical, or at least not a musical of the 1920s.

The Gershwins tried to fit the song in somwhere else after it was dropped from Lady, Be Good. With the new title, "The Man I Love," it appeared in the satirical anti-war show, Strike Up the Band, in 1927 and then again in Flo Ziegfeld's Rosalie in 1928, but he deleted the number from the show in rehearsal. There was one person who did like the song, though. Lady Edwina Mountbatten, wife of the great-grandson of Queen Victoria and member of England's high society heard the song when George played it a party.
It was not the least bit unusual for George to commandeer a piano at party during the Roaring Twenties and play his catalog of songs. He was not shy about his work or his talent. Lady Mountbatten took a copy of the music back to England and requested that her favorite dance orchestras play it. "The Man I Love" caught fire in London and Paris.

Gershwin's publisher, Max Dreyfus, could hardly let this opportunity to pass by, but he first negotiated a deal with Ira and George. He would push the song as a stand-alone single, but they needed to help offset the costs by cutting their royalties from three cents to two cents per copy. Six months later, "The Man I Love" sold 100,000 copies.
The epitome of the torch singers, Helen Morgan, who typically performed while draped over the top of piano, gave the song its first true voice when she gave her interpretation of it. After not being able to find a home, "The Man I Love" was recorded by five different artists in 1928. The most interesting rendition of that year might just belong to Nat Shilkret, recording for Victor Records as The Troubadours, who turned the torch song into a fox trot.
In this song, the singer is waiting for her Prince Charming to come along and make her dreams come true. Depending on your perspective, it's either a delightful throwback to a simpler time, or an outdated stereotype of a helpless woman waiting for a man to save her. This latter view was common at the time the song was written (women were given the right to vote in America just four years earlier), although in its original form, it was transposed, with the guy waiting for the girl to come along.

The women who performed the song in the '50s and '60s likely weren't thinking of it as a setback to the feminist movement, but in later generations, some felt the song should be mothballed along with the happy housewife archetype. For young jazz singers, it can be particularly troublesome because the audiences are often older and less progressive. "The whole song is about how someday a man will come along and he'll be big and strong, and until I find this man, I'm just going to sit around and feel sorry for myself," the singer Kate Davis explained. "It's a beautiful song melodically and harmonically. It's gorgeous, and it's a piece of history. But looking at it now as a progressive, empowered woman, it's like, You've got to be kidding me."
Ella Fitzgerald, Billie Holiday, Lena Horne, Sarah Vaughan, Peggy Lee, Julie London, Cher and Diana Ross are among the singers to record "The Man I Love." The song never charted in America, but in the UK, a version by Kate Bush and Larry Adler went to #27 in 1994.
Gershwin biographer Howard Pollack reports that one day the great English composer, John Ireland, while sipping on a whiskey listened to "The Man I Love" and told a friend, "That, my boy, is a masterpiece…Perfect, my boy, perfect. This is the music of America."
Along with another Gershwin classic, "Rhapsody in Blue," "The Man I Love" entered the public domain in 2020, as that marked 95 years since the song was published.
George Gershwin Artist facts
Born Jacob Gershvin to an immigrant family in Brooklyn, New York, George Gershwin was the second of four children. As a teenager, he started his musical career as a writer on Tin Pan Alley for $15 a week, but it was not long before he began composing his own pieces. "When You Want 'Em, You Can't Get 'Em," was published when he was just 17 years old and earned him $5. Gershwin's career as a composer took off soon after that when he met lyricist Irving Caesar, who collaborated with Gershwin in 1919 on the hit, "Swanee," made famous by Al Jolson.
In 1924, Gershwin began to collaborate with his brother, Ira. That year, they wrote the musical comedy, Lady Be Good, featuring songs such as "The Man I Love" and "Fascinating Rhythm." However, even as Gershwin had success as a composer of popular music, he wanted to try his hand at more serious music and he agreed to perform in Paul Whiteman's Experiment in Modern Music concert in New York later that year. He wrote the jazz-influenced "Rhapsody in Blue" for the show, but composed it in such a hurry, he had to improvise his own piano playing during the live performance.
Gershwin followed up "Rhapsody in Blue" with "Piano Concerto in F, Rhapsody No. 2" and "An American in Paris," which was inspired by his time in France. He took on social issues with musicals such as, Strike up the Band, and Of Thee I Sing, which was a lampoon of American politics that became the first musical to win a Pulitzer Prize for Drama in 1932. Dubose Heyward's novel, Porgy, was the inspiration for the folk opera Porgy and Bess, which premiered in 1935 and shocked some with its African American cast. It was a modest success initially, but it eventually became an American standard. "Summertime" is the show's best-known song and, according to The New York Times, has been recorded over 25,000 times.
Gershwin and his brother moved to Hollywood to try their hand at the film industry. In 1936, the Gershwins collaborated on the music for Shall We Dance, starring Fred Astaire and Ginger Rogers, followed by Astaire's Damsel in Distress. Gershwin was working on the score for The Goldwyn Follies in 1937 when he collapsed. Complaining of severe headaches and smelling burning rubber, Gershwin was told by doctors that he was just working too hard. He had already been labeled a hypochondriac and two weeks before his death, doctors noted on his medical records that he likely suffered from "hysteria." However, on July 9, Gershwin collapsed again and doctors performed surgery to remove a brain tumor. He died two days later. Gershwin received his only Academy Award nomination two months later for Best Original Song for "They Can't Take That Away from Me" from Shall We Dance. Ira died in 1983 and the Gershwin brothers were awarded the Congressional Gold Medal, the highest civilian honor in America, in 1985.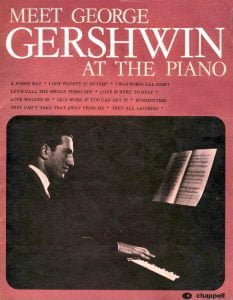 Follow @LibrarySheet