Follow @LibrarySheet
The magical music of Jocelyn Pook:
Parvin Cox – Jocelyn Pook – Upon this Rock
Close your eyes and listen to Jocelyn Pook's music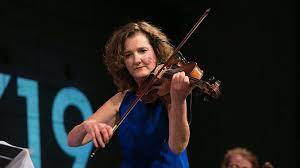 There is music that is heard and other that is experienced. That of the British Jocelyn Pook falls into the second category, and I suppose that, like any lived experience, it is difficult to explain it without imbuing the speech with emotion. In fact, to begin with I must say that it is difficult for me to define the type of music that Pook creates, and I should use adjectives that sound good:
A "beautiful and hypnotic" music, a "mixture of styles and music that create mysterious atmospheres".
This is certainly the case, in front of Pook's compositions, one abandons himself to the sounds he hears, lets himself be transported by these atmospheres, some disturbing and others magical.
Jocelyn Pook is a composer, plays piano, viola and violin, and also sings. He has composed music for theatre, series and films. Theater and cinema are still forms of storytelling; and music is also music, even if it doesn't always come accompanied by words; also because one of the films to which he put music was Eyes Wide Shut, by Stanley Kubrick.
Three of the pieces performed in his concert are part of the soundtrack of this film and one of them, precisely, is one of his most recognized compositions. I don't know if this is due to the strength of the music, to the voice of the pianist Jon Banks, who in this piece shows off a serious and disturbing oral interpretation, or to the memory we have of one of the films of Kubrick more disturbing.
Pook is aware of the power of music in general and of his compositions in particular, and he is also clear that words should not detract from the power of music.
That is why what the voices produce in many of his pieces are sounds or words that we do not understand because they are written in backward speech , that is, words read or pronounced backwards. Beyond that, the Joselyn Pook Ensemble makes their music a mix of styles from around the world, and I think it's this mix that makes us feel like we're on a journey when we listen to their offerings.
Not just a journey around the world, but very especially an inner journey. Music, like any art, is an opportunity to dialogue with ourselves. Anyone who does not know Jocelyn Pook, should look her up quickly and enjoy her imaginative and suggestive compositions.
Biography
Jocelyn Pook (born 14 February 1960) is an English composer and viola player. She is known for her scores for many films, including Eyes Wide Shut, The Merchant of Venice and The Wife.
Jocelyn Pook is one of the UK's most versatile composers, having written extensively for stage, screen, opera house and concert hall. She has established an international reputation as a highly original composer, winning her numerous awards and nominations including a BAFTA, Golden Globe, Olivier and two British Composer Awards.

Often remembered for her film score to Eyes Wide Shut, which won her a Chicago Film Award and a Golden Globe nomination, Pook has worked with some of the world's leading directors, musicians, artists and arts institutions – including Stanley Kubrick, Martin Scorsese, the Royal Opera House, BBC Proms, Andrew Motion, Peter Gabriel, Massive Attack and Laurie Anderson.

Pook graduated from the Guildhall School of Music and Drama in 1983, where she studied the viola. She then embarked on a period of touring and recording with artists such as Peter Gabriel, Massive Attack, Laurie Anderson and PJ Harvey and as a member of the Communards.

Pook wrote the film score to Michael Radford's The Merchant of Venice with Al Pacino, which featured the voice of countertenor Andreas Scholl and was nominated for a Classical Brit Award. Other notable film scores include Brick Lane directed by Sarah Gavron, a piece for the soundtrack to Gangs of New York directed by Martin Scorsese, and a full score for The Wife by Björn Runge, starring Jonathan Pryce, Glenn Close, and Christian Slater.
Jocelyn Pook has also composed scores for television shows and commercials, and was nominated for a BAFTA for Channel 4's The Government Inspector (Dir: Peter Kosminsky).
In 2018, Pook won a BAFTA for the 2017 TV film version of the stage play King Charles III written by Mike Bartlett, in addition to her original score for the stage play.

With a reputation as a composer of electro-acoustic works and music for the concert platform, Pook continues to celebrate the diversity of the human voice, touring extensively with The Jocelyn Pook Ensemble, performing repertoire from her albums and music from her film scores.

Pook won an Olivier Award for the National Theatre's production of St Joan, in 2008, and for her music-theatre piece Speaking in Tunes she won a British Composer Award. She won a second British Composer Award for her soundtrack to DESH, which accompanies Akram Khan's dance production of the same name.

Pook's score for Adam by National Theatre of Scotland was an Edinburgh Fringe hit in 2017, and featured a 120-strong, international world choir of trans individuals from across the globe. Adam won a Scottish Arts Club Award, Fringe First Award, was shortlisted for Amnesty International Freedom of Expression Award and won a Herald Angel Award (for Adam Kashmiry), it continues to tour, with a run at Battersea Arts Centre in September 2018.

Jocelyn Pook has received critical acclaim for her song cycle about mental illness, Hearing Voices, which was premiered in December 2012 by the BBC Concert Orchestra and singer Melanie Pappenheim at the Queen Elizabeth Hall.
In 2015, it was reworked for chamber ensemble with performances at Tête à Tête The Opera Festival, and at The Print Room Coronet, Notting Hill (2017), winning funding from Arts Council England and PRS (2017).
Jocelyn Pook also composed and performed Anxiety Fanfare, a musical exploration of anxiety in all its forms, for choir and ensemble at: Wigmore Hall 2014, Tête à Tête The Opera Festival 2015 and as a winning composer at the PRS New Music Biennial 2017 at Albermarle Music Centre, Hull and at London's Southbank Centre.

In 2015, Pook composed the score for King Charles III, an Olivier award-winning play by Mike Bartlett, which had successful runs at Almeida Theatre, Wyndham's Theatre and on Broadway. The show has since toured the UK and Australia, and was recently made into a BBC TV film, for which she won a BAFTA for Best Original Score in 2018.

In 2014 Pook composed the score for a new dance piece Lest We Forget choreographed by Akram Khan for English National Ballet to mark the centenary of the First World War. In 2016 she was commissioned to do another work for ENB for their production She Said, which received an Oliver award for outstanding achievement in dance.

Pook's first opera Ingerland was commissioned and produced by ROH2 for the Royal Opera House's Linbury Studio in June 2010. The BBC Proms and The King's Singers commissioned to collaborate with the Poet Laureate Andrew Motion on a work entitled Mobile. Portraits in Absentia was commissioned by BBC Radio 3 and is a collage of sound, voice, music and words woven from the messages left on her answerphone.
Recent projects include the film score to Björn Runge's The Wife (2018) with Glenn Close and the score to true-crime documentary The Staircase by Jean-Xavier de Lestrade, both released as digital albums in 2018.
Recent premieres include Memorial, a large-scale music theatre work with music by Pook and performed by her ensemble at Adelaide Festival, Brisbane Festival and London's Barbican Theatre; and the world premiere of the final part of her mental health trilogy, Hysteria, at Hoxton Hall, London.

Pook has chaired and been a judge on various panels including the British Composer Awards, Ivor Novello Awards and BBC Proms Young Composers Competition.
Search Posts by Categories:
and subscribe to our social channels for news and music updates:
Soundtracks (film and TV)
1994-6 – Blight – 14-minute short film by John Smith
1999 – Eyes Wide Shut – directed by Stanley Kubrick
2000 – My Khmer Heart (Breaking Hearts)
2000 – The Sight – directed by Paul Anderson
2000 – Enron advert, "Ode to Why Campaign"
2000 – Comment j'ai tué mon père (How I Killed My Father)
2001 – In a Land of Plenty – 10 episode BBC drama series produced by Sterling Pictures and Talkback
2001 – Stanley Kubrick: A Life in Pictures – documentary, director Jan Harlan
2001 – L'Emploi Du Temps (Time Out)
2002 – Addicted to the Stars
2002 – La Repentie (The Repentant)
2002 – La Guerre à Paris (The War in Paris)
2002 – Gangs of New York – directed by Martin Scorsese
2004 – The Merchant of Venice
2004 – Wild Side
2004 – Soupçons (The Staircase)
2004 – They Came Back
2005 – The Government Inspector
2005–2006 – Heidi
2007 – Brick Lane
2007 – Remnants of Everest: The 1996 Tragedy (US: Storm over Everest)
2009 – The People v. Leo Frank
2009 – Chaotic Ana
2009 – Going South
2010 – Room in Rome
2011 – Room 304
2012 – Augustine
2012 – Les Invisibles
2017 – King Charles III
2017 – The Wife
2019 – The Kingmaker (2019 film)
Collaborations
1993 – Plus from US – various artists – Real World Records
1993 – Way Down Buffalo Hell – Jam Nation – ("Sleeping, She Moved Through The Fair") – Real World Records
1996 – A Night in London – Mark Knopfler – Mercury Records
1997 – Friday the Thirteenth – The Stranglers – ("Waltz in Black", "Valley of the Birds", "Daddy's Riding the Range", "Golden Brown", "No More Heroes")

1999 – Liquid Sunshine – Keziah Jones – ("Hello Heavenly", "Runaway", "Teardrops Will Fall") – Delabel
2000 – OVO (The soundtrack for the Millennium Dome Show of Cirque du Soleil) – Peter Gabriel – ("Low Light", "The Time of the Turning", "The Weaver's Reel", "Downside Up", "The Nest that Sailed the Sky") – Real World Records
2003 – Something Dangerous – Natacha Atlas – ("Adam's Lullaby") – Mantra Records
2008 – Ana Hina – Natacha Atlas – World Village
Awards
Music and Sound Award (Best Original Composition, 2019) for the Wife
Bafta (Original Music, 2018) for King Charles III
British Composer Award nomination (Stage Works, 2012) for DESH
Special Mention of the Jury, Karlovy Vary Film Festival (Best Music, 2011) for Room 304
Olivier Award (Best Music and Sound Design, 2008) for St Joan
ASCAP Award for Brick Lane
BAFTA TV Award nomination (Best Original TV Music, 2006) for The Government Inspector
Classical BRIT Award nomination (Soundtrack Composer, 2005) for The Merchant of Venice
British Composer Award (Multi-Media, 2003) for Speaking in Tunes
ASCAP Award for Eyes Wide Shut
CFCA Award nomination (Best Original Score, 2000) for Eyes Wide Shut
Golden Globe nomination (Best Original Score – Motion Picture, 2000) for Eyes Wide Shut
OFCS Award nomination (Best Original Score, 2000) for Eyes Wide Shut