Follow @LibrarySheet
Jazz Play Along – Lover 3/4 (by Lorenz Hart & Richard Rodgers)
Included in the Aebersold's Jazz Play Along Volume 22 – Favorite Standards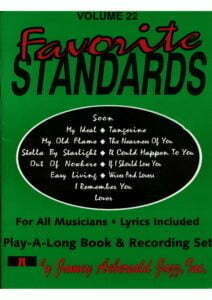 Richard Rodgers and Lorenz Hart were American songwriters of the Great American Songbook.
Rodgers and Hart were one of the most prolific and successful 'songwriting teams' on Broadway in the 1920s and 1930s.
Rodgers composed and Hart wrote the lyrics. At the same time, they formed one of the first partnerships that was perceived as such by the public at the time (think of the collaboration between the brothers George Gershwin and Ira Gershwin ) and which was more than just an artistic one. It was the first time that a songwriter received the same share of royalties as the composer.
From 1919 to 1943 they created around 30 musicals for stage and film. Especially at the beginning of the 1930s, they worked for Hollywood and wrote film songs and film music. Many of their songs have become standards. Their collaboration ended in 1943 with Hart's untimely death. It was also during this period that Rodgers' partnership with Oscar Hammerstein bega.
Well-known songs
One of Rodgers and Hart's best known songs, "Blue Moon", had an unusual genesis. The tune was originally called "Prayer," and was to be sung by Jean Harlow in the 1934 film Hollywood Party, but was cut. Hart then wrote a new lyric, intended to be the title song for Manhattan Melodrama (1934), which was cut again. A third lyric, "The Bad in Every Man," was used in the film.
At the urging of Jack Robbins, head of MGM's music publishing unit, Hart wrote a fourth lyric as a standalone song. Glen Grey and the Casa Loma Orchestra recorded it in 1936, and that version topped the charts for three weeks. Elvis Presley included a haunting version on his self-titled debut album, in 1956.
It again was #1 in 1961, this time in the doo-wop style, by the Marcels. Bob Dylan included his Nashville-inflected version of the song on his Self Portrait album of 1970.
Frederick Nolan writes that "My Romance" (written for Jumbo) "features some of the most elegantly wistful lyrics…[it] is, quite simply, one of the best songs Rodgers and Hart ever wrote."
Other of their many hits include "My Funny Valentine", "Falling in Love with Love", "Here In My Arms", "Mountain Greenery", "My Heart Stood Still", "The Blue Room", "Ten Cents a Dance", "Dancing on the Ceiling", "Lover", "Bewitched, Bothered and Bewildered", "Mimi", and "Have You Met Miss Jones?".
(1925) "Manhattan" and "Mountain Greenery" (from The Garrick Gaieties)
(1925) "Here In My Arms" (from Dearest Enemy)
(1926) "The Blue Room" (from The Girl Friend)
(1927) "Thou Swell" (from A Connecticut Yankee)
(1927) "My Heart Stood Still" (from One Dam Thing After Another)
(1928) "You Took Advantage of Me" (from Present Arms)
(1929) "A Ship Without a Sail" (from Me For You)
(1930) "Yours Sincerely" and "With a Song in My Heart" (from Spring Is Here)
(1930) "Ten Cents a Dance" and "Dancing on the Ceiling" (from Simple Simon)
(1931) "I've Got Five Dollars" (from America's Sweetheart)
(1932) "Lover", "Mimi", and "Isn't It Romantic?", (from Love Me Tonight)
(1932) "You Are Too Beautiful" (from Hallelujah, I'm a Bum)
(1934) "Blue Moon"
(1935) "Little Girl Blue", "The Most Beautiful Girl in the World" (from Jumbo)
(1935) "It's Easy to Remember" (from Mississippi)
(1936) "There's a Small Hotel", and "Glad to Be Unhappy" (from On Your Toes)
(1937) "Where or When", "I Wish I Were in Love Again", "My Funny Valentine", "Johnny One Note", and "The Lady Is a Tramp" (from Babes in Arms)
(1937) "Have You Met Miss Jones?" (from I'd Rather Be Right)
(1938) "This Can't Be Love", "Falling in Love with Love", and "Sing For Your Supper" (from The Boys from Syracuse)
(1938) "Spring Is Here" and "I'll Tell the Man in the Street" (from I Married an Angel)
(1939) "I Didn't Know What Time It Was", "I Like to Recognize the Tune", "Give It Back to the Indians" (from Too Many Girls)
(1940) "It Never Entered My Mind" (from Higher and Higher)
(1940) "Bewitched, Bothered and Bewildered", "I Could Write a Book", and "Zip" (from Pal Joey)
(1942) "Wait Till You See Her", "Nobody's Heart Belongs to Me", "Ev'rything I've Got" (from By Jupiter)
(1943) "To Keep My Love Alive" (from A Connecticut Yankee)
Search Posts by Categories:
and subscribe to our social channels for news and music updates: