Follow @LibrarySheet
Irving Berlin – White Christmas (from the film Holiday Inn) lyrics and piano (sheet music)
JAZZ
Irving Berlin
Irving Berlin's Jewish family immigrated from Russia to the United States in 1891. His father was a rabbi who got a job certifying meat under Kosher Law. After the death of his father in 1896, Irving had to find work to survive; he was employed as a newsboy and also performed on the street to get money.
The harsh reality of having to work even menial jobs to avoid starvation left a deep mark on Berlin's valuation of money. When he was working as a singing waiter at Pelham's Café in Chinatown, Berlin was asked by the owner to write an original song for the café, because a rival business had its own song published. «Marie from Sunny Italy» was the result, being released soon.
Although he only earned 37 cents, it opened the doors to a new career and a new name: Israel Baline was mistakenly printed as "I. Berlin" in the score. Many of her early songs, including "Sadie Salome (Go Home)," "That Mesmerizing Mendelssohn Tune," and "Oh How That German Could Love," achieved modest success both in sheet music, on recording, and on the vaudeville stage. , or as interpolations in various shows; but it was "Alexander's Ragtime Band," written in 1911, that catapulted him into one of Tin Pan Alley's biggest stars.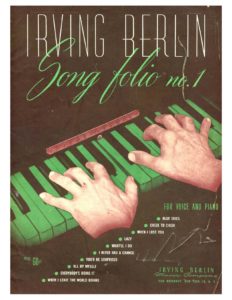 Following the success of "Alexander's", Berlin was rumored to be writing a ragtime opera, yet he produced his first full-length work for the musical stage, "Watch Your Step" (1914), starring Irene and Vernon Castle, the first musical comedy in making penetrating use of syncopated rhythms.
A similar show titled "Stop! Look! Listen!» followed that in 1915. In 1917, during World War II, he entered the US Army and staged a musical revue entitled Yip Yip Yaphank while at Camp Upton in Yaphank, New York. Billed as "a military mess cooked up by the boys from Camp Upton", the cast of the show was made up of 350 members of the armed forces.
The revue was a patriotic tribute to the US military, and Berlin composed a song titled "God Bless America" ​​for the show, though he ultimately made no use of it. When it was performed years later, it became so popular that it was suggested that it could become the National Anthem, that is, a kind of national song.
It has remained until today as one of the most successful songs and one of the best known throughout the United States. Particularly remembered is the interpretation that it was made after the terrorist attack of September 11, 2001, when members of Congress sang it on the steps of the Capitol. Some songs from Yaphank's magazine were later included in the 1943 film "This Is the Army" which also featured other Berlin songs, both the film's title song and a cover of "God Bless America" ​​by Kater Smith.
After the war, Berlin built his own theater, the Music Box, as a venue for annual revues featuring his latest songs; the first such magazine was "The Music Box Revue of 1921". The theater is still in use, occasionally. Although most of his works for the Broadway stage took the form of revues — collections of songs with no common theme — he wrote a few book shows.
The Cocoanuts (1925) was a comedy, with a cast that included, among others, the Marx Brothers. Face the Music (1932) was a political satire to a book by Moss Hart, and Louisiana Purchase (1940) was a satire of a southern politician, obviously based on the exploits of Huey Long.
The show featured a succession of hit songs, including "Easter Parade," "Heat Wave" (presented as the weather forecast), "Harlem on My Mind," and what is perhaps their most powerful ballad, "Supper Time," a tormented song about racial bigotry, with an unusual weight in a musical revue and which was sung by Ethel Waters, a magnificent singer of color, in a heartbreaking interpretation.
During World War II, after receiving permission from General George Marshall, Berlin organized a magazine made up of soldiers in the spirit of Yip Yip Yaphank. The result, This Is the Army, opened on July 4, 1942, with a cast of over 300 soldiers, and remained on the stage for three years, first on Broadway, then on a tour of the United States, and then on the Foreign.
Irving Berlin's most successful Broadway musical was: Annie Get Your Gun (1946), produced by Richard Rodgers and Oscar Hammerstein II. Loosely based on the life of shooter Annie Oakley, the music and lyrics were written by Berlin, with a book by Herbert Fields and his sister Dorothy Fields. Berlin had been hired after the death of Jerome Kern. At first, he turned down the offer, stating that he knew nothing about hillbilly music, but the show ended up running 1,147 performances.
Annie Get Your Gun is considered the best musical in Berlin, not only because of the number of musical hits it contains, but also because its songs successfully combine the description of the characters with the help of the development of the story.
In 1927, one of Berlin's songs, "Blue Skies", a hit since 1926, was performed in the first talking picture in cinema history: The Jazz Singer, sung by Al Jolson. Top Hat (1935) was the first in a series of Berlin-sponsored film musicals to star popular and attractive performers (such as Bing Crosby, Fred Astaire, Judy Garland, and Ginger Rogers), with romantic storylines and a soundtrack to base of his new and old songs.
Irving Berlin did not compose in a traditional way; he used mainly the black keys of a piano. He was a composer of the music for such films as Mark Sandrich's Top Hat (1935), Stuart Heisler's Blue Sky (1946), and Easter Parade (1948). Among his best-known songs are "Everybody's Doin 'It", "There's No Business Like Show Business", "White Christmas" and "Easter Parade".
In 1968, he received the Grammy for a life dedicated to music. He was the author of more than fifteen hundred songs, becoming one of the most important composers in the United States. Although he never learned to read music beyond an elementary level, he wrote over 3,000 songs, many of which left an indelible mark on American music and culture. He produced 17 films and 21 Broadway shows, in addition to his individual songs.
Browse in the Library:
and subscribe to our social channels for news and music updates: