Follow @LibrarySheet
Search Posts by Categories:
and subscribe to our social channels for news and music updates:
Jouez des Jazz Standards avec les partitions + audios MP3 de la Sheet Music Library!
"My Old Flame" est apparu pour la première fois dans le film Belle of the Nineties de 1934 lorsqu'il a été chanté par Mae West, soutenu par le Duke Ellington Orchestra. Six semaines après le tournage terminé avec West, Ellington a enregistré la chanson avec la chanteuse Ivie Anderson, sortie sur Commadore 585.
Il est devenu un succès n ° 7 pour Guy Lombardo plus tard cette année-là, mais ce n'est qu'au début des années 1940 que l'air a réapparu, entrant dans le répertoire des orchestres de Benny Goodman et Count Basie.
"My Old Flame" est une chanson de 1934 composée par Arthur Johnston avec des paroles de Sam Coslow pour le film Belle des années 90. Il est depuis devenu un standard du jazz.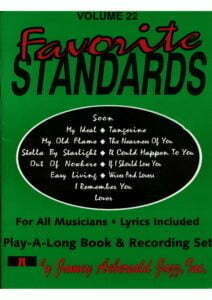 La marque d'insinuations sexuelles de West était son fonds de commerce, et la version initiale du film a été jugée moralement inacceptable par un représentant des producteurs et distributeurs de films cinématographiques d'Amérique (connu sous le nom de bureau Hays pour son chef, Will Hays). Après un changement de titre et une réécriture, le film est sorti sous le nom de Belle of the Nineties.
"My Old Flame" est depuis devenu un standard du jazz, et chanté par Billie Holiday, Peggy Lee, Dinah Washington et Helen Humes, avec des interprétations instrumentales par Charlie Parker pour le label Dial en 1947, Gerry Mulligan avec Chet Baker en 1953 , le tromboniste JJ Johnson sur son album de 1957 Trombone Master, Sonny Rollins sur son album de 1993 Old Flames et bien d'autres.
L'air a également été enregistré par l'orchestre Stan Kenton et Zoot Sims dans une "interprétation sensible" selon le magazine Jazz Improv.
Structure
La musique a une structure AABA. Il est écrit dans la tonalité de sol majeur et comporte un changement en B ♭ dans la section «B».
En tant que véhicule pour West, alors que les paroles contiennent «des lignes typiquement désinvoltes –« Mon ancienne flamme / Je ne me souviens même pas de son nom »– cela suggère que sa sexualité effrontée est la carapace d'un amour de jeunesse perdu»: «Mais leurs tentatives à l'amour/ N'étaient que des imitations de/ Mon ancienne flamme'.
My Old Flame Composé par Arthur Johnston, avec des paroles de Sam Coslow
"My Old Flame" a été écrit pour que Mae West joue dans le film Belle of the Nineties de 1934.
On se souvient de West aujourd'hui comme d'un sex-symbol risqué qui a modifié les sensibilités prudes de l'époque d'avant-guerre, plutôt que comme un chanteur de jazz; mais elle avait prêté une attention particulière aux chanteuses de blues Ma Rainey et Bessie Smith en créant son propre comportement sur scène. Et elle tenait à s'entourer des bons accompagnateurs – dans le film, elle est soutenue par le groupe de Duke Ellington.
Les dirigeants du studio ont d'abord hésité à faire appel à un groupe nommé, mais West a insisté sur Ellington. Même après avoir accepté sa demande, les honchos de Paramount ont tenté de persuader West d'autoriser les acteurs blancs à servir de remplaçants à l'écran pour les musiciens noirs jouant sur la bande originale, mais l'actrice a de nouveau tenu bon.
La chanson est intrigante, secouant l'auditeur dès le début lorsque la phrase d'ouverture tombe pour s'attarder sur le plat à 7 dans la mesure deux. Cette chanson est peut-être écrite dans une tonalité majeure, mais le ton psychologique de "My Old Flame" tend définitivement vers le mode mineur, et je me demande si la chanson aurait été plus populaire si elle avait fait ses débuts dans un film noir mieux correspondait à son humeur.
Le mouvement harmonique est extrême, mais la chanson elle-même apparaît comme paresseuse et non précipitée. Cette combinaison – d'indolence et de complexité – est étrange, mais jette un certain charme sur les performances de la norme.
Paroles de My old flame
I can't even think of his name
But it's funny now and then
How my thoughts go flashing back again
To my old flame
My old flame
My new lovers all seem so tame
For I haven't met a gent
So magnificent or elegant
As my old flame
I've met so many men
With fascinating ways
A fascinating gaze in their eyes
Some who sent me up to the skies
But their attempts at love
Were only imitations of
My old flame
I can't even think of his name
But I'll never be the same
Untill I discover what became
Of my old flame
I've met so many men
With fascinating ways
A fascinating gaze in their eyes
Some who sent me up to the skies
But their attempts at love
Were only imitations of
My old flame
I can't even think of his name
But I'll never be the same
Until I discover what became
Of my old flame
Search Posts by Categories:
and subscribe to our social channels for news and music updates: