Search Posts by Categories:
and subscribe to our social channels for news and music updates: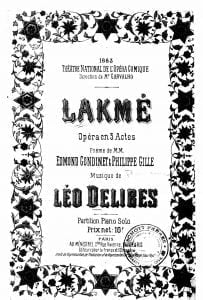 Leo Delibes
Clément Philibert Léo Delibes (Saint-Germain-du-Val, today a neighborhood of La Flèche, in the Sarthe department, February 21, 1836 – Paris, January 16, 1891) was a French romantic composer, best known for his ballets Sylvia and Coppélia and, more recently, for his opera Lakmé.
Follow @LibrarySheet
He was the son of a professional postman-died prematurely. His mother was a talented music aficionado, and his maternal grandfather was an opera singer. After the early death of his father, he was raised mostly by his mother and his uncle. In 1871, at age 35, he married Leontine Estelle Denainekin. Delibes died 20 years later in 1891, and was buried in the Montmartre Cemetery, Paris. His nephew Frédéric was the paternal grandfather of the Spanish writer Miguel Delibes.
Delibes began his composition studies at the Paris Conservatoire in 1847, where he won a first prize in music theory in 1850. He was a student of Adolphe Adam. A year later, he also took voice lessons, although he ended up being a better organist than singer. He rose through the ranks as accompanist pianist and choirmaster at the Théâtre Lyrique, second chorusmaster at the Paris Opera (1864), and organist at the Saint-Pierre-de-Chaillot between 1865 and 1871. The first of his several operettas was Deux le sous charbon, composed in 1856 for the Folies-Nouvelles.
Delibes achieved real fame in 1870 with the success of his ballet Coppélia. It premiered at the Paris Opera. It is based on a story by the German writer Ernst Theodor Amadeus Hoffmann. It tells the fate of old Dr Coppelius and his doll Coppélia, who comes to life. It is often performed as a concert suite.
Among his other ballets are Sylvia, written with Léon Minkus and published in 1876; its action takes place in Greece. The 'Pizzicato' of this ballet stands out, one of Delibes' greatest successes. A great lover of dance, Tchaikovsky admired both ballets.
Delibes also composed several operas, the last of which, the exuberant and orientalizing Lakmé, premiered at the Opéra-Comique in 1883. It chronicles the impossible love of a British officer and the daughter of a Brahma priest, in 18th century India. XIX. It contains, among many dazzling numbers, the famous showpiece number for coloratura soprano known as the Scène et légende de la fille du paria, called the Air des clochettes (Aria of the Little Bells): 'Où va la jeune Indoue?'. The duet Sous le dôme épais, called the Duet of Flowers, is equally famous; it is a barcarolle made familiar to the general public by British Airways commercials.
In their day, his operas impressed Tchaikovsky enough for him to consider Delibes 'much better than Brahms', which is not very complimentary, considering that the Russian composer considered Brahms 'a talentless bastard.'
In 1867 Delibes composed the Divertissement Le Jardin Animé for the recovery of the ballet Le Corsaire by Joseph Mazilier and Adolphe Adam; he wrote a mass, a cantata on the subject of the Algerians; and he composed operettas and occasional music for the theater, such as dances and ancient airs for Victor Hugo's Le roi s'amuse (The King Amuses) (1882), the play that Verdi turned into Rigoletto.
Some musicologists believe that Charles Gounod's ballet Faust was actually composed by him. His songs Bonjour, Suzon! and Les Filles du Cadix (The Women of Cádiz).
In 1884, Delibes was elected to the Academy.
Delibes is remembered as a master of the light and melodious French musical tradition, as he himself proclaims: «For my part, I recognize that Wagner makes me feel very lively emotions, he provokes me with enthusiasm. But, if as a listener, I feel a deep admiration for the German maestro, I refuse, as a producer, to imitate him.»
He died leaving an unfinished opera, Kassya, which was orchestrated by Jules Massenet, allowing it to be premiered in 1893.
Delibes's work stands out for having been a great influence on composers such as Tchaikovsky, Saint-Saëns and Debussy.
Coppélia
Coppélia is a sentimental and comic ballet, in three acts, with original choreography by Arthur Saint-Léon to a ballet libretto by Saint-Léon and Charles Nuitter and music by Léo Delibes. It is based on a macabre story by E. T. A. Hoffmann entitled Der Sandmann (The Sandman), published in 1815. The ballet premiered on May 25, 1870 at the Paris Opera, with Giuseppina Bozzachi in the title role.
Its early successes were interrupted by the Franco-Prussian War and the siege of Paris, but it eventually went on to become the most frequently performed ballet at the Opéra Garnier.
The team formed by Saint-Léon and Nuittier had already achieved previous success with the ballet La Source (1860), in which Delibes had contributed a part of the music. The story is about a mysterious and pale inventor, Doctor Coppélius, who has a life-size dancing doll. It seems so realistic that Franz, a villager falls in love with her, leaving aside her true love, Swanilde, who in Act II shows him her madness, by dressing as a doll and pretending to come to life.
The festive divertissements for the wedding day in the streets of the town that occupy Act III are often eliminated in the modern danced versions, considering that one of the entrées has the first czardas presented in a ballet. If Mary Shelley's Frankenstein represents the dark side of the scientist-as-life-giver theme, then Coppelia is the light side. If Giselle is a tragedy that takes place in a peasant village, then Coppélia is a comedy on the same stage. Franz's part was danced in drag, a convention that appealed to the male members of the Jockey Club de Paris and was held in Paris until World War II.
Giuseppina Bozzacchi, the original Coppélia, a young ballet student who had just turned sixteen, was expected to have a great career ahead of her but fell ill with cholera during the siege of Paris and died on her seventeenth birthday.
Some influence on this story comes from the traveling shows of the late 18th century and early 19th century, which featured mechanical automata. This area of ​​entertainment has been poorly documented, but recent history in this field is contained in Tom Standage's The Mechanical Turk (2002). These shows later influenced Charles Babbage when he invented the difference engine.