Search Posts by Categories:
and subscribe to our social channels for news and music updates:
BACH, J.S. – AIR ON THE G STRING Jazz Play Along Vol 120 (sheet music)
Follow @LibrarySheet
Background tracks, bases, backing tracks, or Jazz Play Along are a system of audio (CD or mp3) devised by saxophonist Jamey Aebersold in the seventies. They allow you to play over a recording made by a rhythm section made up of well-known jazz musicians.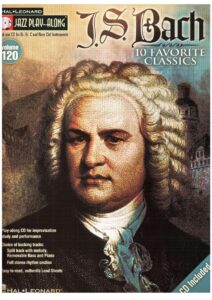 Jazz Play Along offers you many sheet music with Jazz backing tracks, be it Smooth Jazz, Fusion, classic or Latin Jazz. You can choose what you like best! Play the part of your instrument and play the best Jazz standards of all time!
The Jazz Play Along helps you to improvise in classic Jazz style. Browse through our catalogs of Jazz Play Along backing tracks and discover all the classics of the genre or the most influential artists.
The Jazz Play Along best jazz backing tracks are for all instruments: piano, guitar, trumpet, etc.