Table of Contents
Follow @LibrarySheet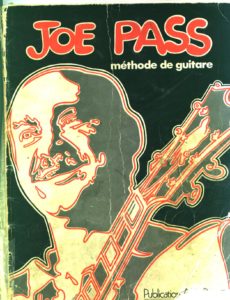 Tracjk List:
00:00 blues 01:18 "hello fellow guitarists" 03:12 ending a tune 05:38 12 bar blues 06:18 V ↔ I 06:53 half step above I (♯I ~ V) 07:58 half step above IV (♯IV ~ I) 08:42 half step below I (bI7 → I) more specifically (bI13b9 → I) 10:00 "On the guitar, a lot of playing is with forms and continuity" 10:37 half step above IV (♯IV → IV), here using ♯IV13 11:19 half step above IV (♯IV → IV), but changing the root to the b5 (which is the I) 11:56 IV → IV♯dim (IV♯dim ~ (bI13b9)
13:22 turnaround: C9 B7 E7 Am11 D7 G7 (keeping a common tone—the note D) 14:28 12 bar blues (basic) 15:02 12 bar blues (with more subs) 15:58 12 bar blues (with other voicings) — many good voicings 17:32 turnaround 18:06 the importance of continuity in chordal improvisation 21:20 12 bar blues (with voice leading and pedal tones) 22:52 "I'm using a lot of the same grips, they're bar forms. They're chords that all guitar players learn and know" 23:53 12 bar blues
24:20 dom7 ↔ m7 25:10 +examples 25:33 the importance of common tones (in changes) 26:47 "Always count 1, 2, 3, 4. I don't know why" 😂 26:53 12 bar blues 27:07 moving chords down chromatically (C13 B13 Bb13/E A13) 27:46 "you can always move chords either chromatically or through a cycle" 28:35 variation (moving down chromatically) 29:30 12 bar blues (with many 251s), 50s/60s style 30:27 same above
30:57 blues 50s style 31:55 alternative version 33:14 again 33:52 pinky chordal movement (I IV V anchored in I) 34:12 don't do things that break the flow of music 34:47 most guitar greats use mainly simple barred forms 36:09 lines that come from simple forms 37:06 "don't play any chords with four fingers that you can play with two or one" 41:52 another blues variation 42:27 using diminished chords as dom7 chords 43:01 another blues 45:50 Joe checking why his lick wasn't working 49:59 another blues
Search Posts by Categories:
and subscribe to our social channels for news and music updates:
Joe Pass
Joseph Passalaqua, the real name of the guitarist, Joe Pass, studied guitar in his hometown, Brunswick, in the late thirties to later join different bands, including Tony Pastor's, while he was still in high school.
In 1947, already with his professional name, Joe Pass reached his musical consecration in Charlie Barnet's orchestra, but his addiction to drugs, acquired while he was doing military service, meant that the decade of the fifties went unnoticed musically speaking, since he used his time alternating various jobs and hospitalizations in various medical institutions in order to detoxify.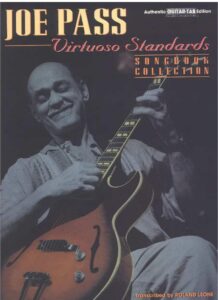 In 1961, Joe Pass voluntarily entered the 'Synanon Foundation' a rehabilitation center in Santa Monica, which managed to break the habit of drug use. He pretty much went out of that center and recorded an extraordinary album for Pacific Jazz, entitled 'The Sounds of of Synanon' in which he starred.
It was his first album and already then, the specialized magazine Down Beat, gave it a rating of 4 and a half stars. In 1970, he recorded another album, this time for the MPS label and two years later, he formed a guitar duo with Herb Ellis, recording some interesting records.
In 1973, the producer Norman Granz, owner of the Pablo label at the time, convinced him to participate in a very long series of tours, increasing his fame as an extraordinary guitarist as the public began to know him.
Joe Pass participated in numerous jazz festivals in Monterey, Newport, Concord, etc. and his name always appeared among the first guitarists in specialized magazines. During the 1980s, Pass emerged from his role as sideman star to begin a period of his career leading his own group, and recording and performing in virtually every situation imaginable, from solo guitar to any combination of small groups.
Among his extensive discography under his name, it is worth highlighting the records recorded in 1973 for JVC (Virtuoso), in 1974 for Pablo (Portrait of Duke Ellington); with Ella Fitzgerald (Fitzgerald and Pass Again, or Ella in London), or in 1992 (Finally: Live in Stockholm). Joe Pass, retained a following loyal to his music until the day of his death in 1994.
What guitars and amps did Joe Pass use?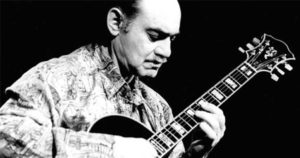 Joe Pass was one of the most important guitarists within the Jazz genre, one of the most outstanding musicians in history and a great reference to the instrument; he owned a unique style, loaded with a large number of musical resources and a Jazz sound that many seek to achieve or emulate.
During his career he had two commercial relationships, one with Ibanez and the other with Epiphone, I never work with effects pedals since I always look for the natural tone of the instrument and always use the same amplifier for his presentations.
What guitars do Joe Pass use?

His guitars were mostly hollow body and came equipped with one or two humbuckers, for a period I used solid body guitars, something completely different from what I usually work with.
He had two business relationships, one with Ibanez, this guitar was not to his liking and he almost never used it live, which led to the eventual cancellation of the contract, later he signed with Epiphone with which he launched his Emperor II, one of his favorite guitars. for jazz players.
Among his guitars we find:
D'Aquisto used this brand of hollow body guitars that he played in the '70s and '80s.
Gibson ES-175
Epiphone Joe Pass Emperor II Custom Model
Ibanez Joe Pass Custom Model
Fender Jazzmaster Solid body guitar with two humbuckers
Gibson L5
Gibson Super 400
amplifier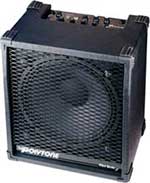 Joe Pass used a single amplifier during his career, a Polytone Model 102, these amplifiers are considered true rarities, unique equipment and highly sought after by Jazz guitarists, this brand existed during the 70s and remained, without advertising for About 40 years ago, its amplifiers were valve type and multipurpose, they could be used for different instruments, its creator was a famous accordionist and he initially designed them to be able to amplify his instrument.
As a good representative of Jazz, Joe Pass was a guitarist who kept his equipment to a minimum, a good guitar, a good amplifier and the rest of the tone is provided by his fingers, the simplicity of the set is interesting and the great tonal variety he achieved in his interpretation.
Search Posts by Categories:
and subscribe to our social channels for news and music updates: