Follow @LibrarySheet
Table of Contents
Search Posts by Categories:
and subscribe to our social channels for news and music updates: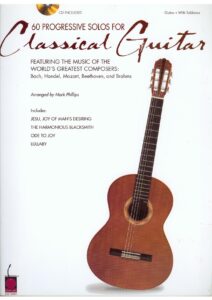 Tàrrega – A short biography
Francesc d'Assís Tàrrega i Eixea (Vila-real, November 21, 1852 – Barcelona, ​​December 15, 1909) was a Valencian composer and guitarist. He was the first guitar concertist of his time.
He was born in a house located in Plaça de Sant Pasqual, very close to the saint's sanctuary. His father, Francesc Tàrrega Tirado, and his mother, Antònia Eixea Broch, worked as interns for the community of the Poor Clares of the convent of Sant Pasqual. Due to the employment of the parents, little Francesc was looked after by an assistant.
On one occasion, Francesc ran away from the nanny and fell into a ditch near his house. The bac damaged his eyes forever. His father thought that the boy might lose his sight completely, so they moved to Castelló so that he could attend music lessons and, in the event of his blindness, earn a living by playing an instrument.
Curiously enough, it was a blind musician, Eugeni Ruiz, who gave Tàrrega the first musical lessons. And another blind man, Manuel González, also known as 'the Blind Man of the Navy' was the one who introduced him to the world of the guitar. He made his living playing such an instrument, and he knew very well all the tricks to encourage the generosity of the public, secrets that the young Tàrrega taught him.
In 1862, the famous concert player Julián Arcas gave a concert in Castelló de la Plana and had the opportunity to hear the young man play. He was so impressed by his ability that he recommended his father to send him to Barcelona to improve his musical studies.
In this way, Tàrrega moved to the county town, but soon left the family home where he lived and joined a group of young musicians, who played in taverns and cafés to earn some money, instead of 'attend the conservatory. His father found out and went to Barcelona to take Tàrrega back home.
The economic situation forced Tàrrega to contribute to the family income, so that after several concerts in neighboring towns, he obtained a position as a pianist in the Casino de Borriana. During this time, he alternated the work of a pianist with a brave defense of the guitar.
A rich businessman, Antonio Canesa, paid for a trip from Tàrrega to Madrid to improve his knowledge at the National Conservatory of Music. When he got there, he was carrying his first quality guitar, made by Antonio Torres, from Seville, and which would become his favorite forever.

Plaque in memory of Francesc Tàrrega i Eixea on the occasion of the centenary of his birth, in Carrer de València no. 234, where he resided during his stay in Barcelona
He entered the Madrid Conservatory in 1874, where he studied composition with Emilio Arrieta. The student years were difficult. The piano was the fashionable instrument, while the guitar had lost its prestige and had fallen to the bottom of the scale of instruments.
Considered inappropriate for concerts, its role was reduced simply to accompanying singers. It was at the same National Music Conservatory where, having seen Tàrrega's great quality with the guitar in a concert, his teacher Arrieta hugged him and said: 'The guitar needs you, and you were born for it '. From that moment, he abandoned his piano career and concentrated exclusively on his favorite instrument.
By 1870 he was teaching guitar and giving concerts regularly. A virtuoso of his instrument, he was known as the 'Sarasate of the guitar'. Emili Pujol and Miquel Llobet were his students.
During the winter of 1880, Tàrrega replaced his friend and guitarist Luis de Soria in a concert in Novelda, the city where he met his future wife, Maria Rizo. His fame began to grow, and his interpretative feeling captivated audiences. In 1881 he moved to France.
After a wonderful concert in Lyon, he arrived in Paris, where he met the most important characters of the time. He performed in several theaters, and was invited to play for the Queen of Spain, Isabel II. He continued his journey to London, from where he returned to Novelda to marry his fiancée, Maria Rizo.
The new family moved to Madrid, where the first daughter, María Josefa, was born, who died soon after. Later they settled in Barcelona, ​​and from here they traveled to many places to offer concerts. It is Tàrrega's period of musical maturity. He makes frequent tours: Perpignan, Cádiz, Nice, Mallorca, Paris, Valencia…
In Cap i Casal Valencia he met a lady who would influence his career: Conxa Martínez, a rich widow who took him under her artistic protection, and lent him and his family a house in the Sant Gervasi neighborhood from Barcelona. This is where Tàrrega composed most of his most famous masterpieces.
On returning from a trip to Granada, he wrote the tremolo Recuerdos de la Alhambra, and while in Algeria he was inspired to compose Danza Mora. There he met the composer Camille Saint-Saëns and later, in Seville, he wrote most of his Studies, such as the one entitled Adelita. To his dear friend and composer Tomás Bretón he dedicated the beautiful composition Capricho árabe.
However, Tàrrega was not satisfied with the sound he was getting from his guitar and, at the age of 50, in 1902, he decided to play with his own prestige and began to cut his nails bit by bit until they almost disappeared under the skin of the fingers, which hardened until they obtained the characteristic sweet sound of their school.
He continued his great concerts: Bilbao, Genoa, Milan, Florence, Naples and Rome. In Italy, he demonstrated his incomparable mastery, as reflected in the chronicles, and made many friends and admirers. But not even fame could change Tàrrega's personality.
A sensitive and affectionate man, he continued to open the doors of his house to all his friends, regardless of social status. Tàrrega was a shy person who preferred concerts in a family atmosphere, with a few attendees, to large theaters.
This way of being made him spend most of the money he had earned, to the point that his brother Vicent was the one who helped push the family forward by giving guitar lessons to the students of Tàrrega when he was on tour.
But luck was not on Tàrrega's side and in January 1906 a hemiplegia left the left half of his body paralyzed. Recovery was slow and painful. The long illness emptied the family coffers, and his many friends showed that they were by returning the favors Tàrrega had done them in better times.
Thus, they organized a series of bi-monthly concerts, the Auditions Tàrrega, in which their friends paid the teacher for their interpretations. Tàrrega recovered and started touring again. In October 1908 he felt homesick and returned to Castellón. From here he moved to Novelda in 1909, and returned to Valencia, Cullera and Alcoi to offer some concerts. In Picanya he composed the last works, Endecha and Oremus, dated December 2 of that year.
On December 3rd, he felt unwell and returned to Barcelona, ​​where he stayed at his house on Carrer València until the early morning of December 15th, 1909, the day he died.
Buried in the Montjuïc Cemetery in Barcelona, ​​he was moved at the end of the same month to the Castelló de la Plana cemetery, where a mausoleum was erected in 1961.
His works
In addition to his original works for guitar, he made transcriptions for guitar of pieces by other composers, such as some by Beethoven, Chopin and Mendelssohn.
Tàrrega is considered to have created the foundations of 20th century classical guitar technique and the growing interest in the guitar as a recital instrument.
Like others of his Spanish contemporaries, his friend Isaac Albéniz, for example, Tàrrega was interested in combining the romantic tendency that prevailed in classical music with Spanish popular elements. The well-known contemporary guitarist Angelo Gilardino has written that Tàrrega's 9 Preludes are '… Tàrrega's deepest musical thought in a concentrated form'.
One of the most popular pieces of music in the world, known as Nokia because it is the alarm tone for this brand's mobile phones, is taken from a piece called Gran Vals, originally from Tàrrega.
It must be said that versions of his works have been performed by artists such as Mike Oldfield and have appeared in films, such as Entre Copes, from 2005. He dedicated a minuet to his Italian student Maria Rita Brondi.
The asteroid (5058) Tarrega is dedicated to his person and work.
In 2018, a South Korean TV series called Memories of the Alhambra (Korean: 아함드드드의의 자이; RR: Alhambeura gungeonui chueok, and in English Memories of the Alhambra) came out. The action takes place mainly in Granada, Barcelona and in the second half, Seoul, it is a sci-fi thriller – fantasy about an augmented reality game inspired by stories of the Alhambra palace, with matters of the heart and business intrigue high-flying The title refers to the piece, Memories of the Alhambra, a piece that forms a key part of the series' music, and in which a character often appears playing it on guitar.