Play Guitar with….ERIC CLAPTON, "Tears in Heaven" with sheet music & audio track (unplugged)
Follow @LibrarySheet
Guitar Play Along series will assist players in learning to play their favorite songs quickly and easily.
Just follow the tab, listen to the audio to hear how the guitar should sound, and then play along using the separate backing tracks.
The melody and lyrics are also included in the book in case you want to sing, or to simply help you follow along.
Acclaimed guitarist and singer-songwriter Eric Clapton is known for his contributions to The Yardbirds and Cream, as well as such singles as "Tears in Heaven" as a solo artist.
Who Is Eric Clapton?
Eric Clapton was a prominent member of The Yardbirds and Cream before achieving success as a solo artist. Considered one of the greatest rock 'n' roll guitarists of all time, he is known for such classic songs as "Layla," "Crossroads" and "Wonderful Tonight."
Early Life
Eric Patrick Clapton was born March 30, 1945, in Ripley, Surrey, England. Clapton's mother, Patricia Molly Clapton, was only 16 years old at the time of his birth; his father, Edward Walter Fryer, was a 24-year-old Canadian soldier stationed in the United Kingdom during World War II. Fryer returned to Canada, where he was already married to another woman, before Clapton's birth.
As a single teenage mother, Patricia Clapton was unprepared to raise a child on her own, so her mother and stepfather, Rose and Jack Clapp, raised Clapton as their own. Although they never legally adopted him, Clapton grew up under the impression that his grandparents were his parents and that his mother was his older sister. Clapton's last name comes from his grandfather, Patricia's father, Reginald Cecil Clapton.
Clapton grew up in a very musical household. His grandmother was a skilled pianist, and his mother and uncle both enjoyed listening to big-band music. As it turns out, Clapton's absent father was also a talented pianist who had played in several dance bands while stationed in Surrey. Around the age of eight, Clapton discovered the earth-shattering truth that the people he believed were his parents were actually his grandparents and that the woman he considered his older sister was in fact his mother. Clapton later recalled, "The truth dawned on me, that when Uncle Adrian jokingly called me a little bastard, he was telling the truth."
The young Clapton, until then a good student and well-liked boy, grew sullen and reserved and lost all motivation to do his schoolwork. He describes a moment shortly after learning the news of his parentage: "I was playing around with my grandma's compact, with a little mirror you know, and I saw myself in two mirrors for the first time and I don't know about you but it was like hearing your voice on a tape machine for the first… and I didn't, I, I was so upset.
I saw a receding chin and a broken nose and I thought my life is over." Clapton failed the important 11-plus exams that determine admission to secondary school. However, he showed a high aptitude for art, so at the age of 13 he enrolled in the art branch of the Holyfield Road School.
Musical Start
By that time, 1958, rock 'n' roll had exploded onto the British music scene; for his 13th birthday, Clapton asked for a guitar. He received a cheap German-made Hoyer, and finding the steel-stringed guitar difficult and painful to play, he soon set it aside. At the age of 16, he gained acceptance into the Kingston College of Art on a one-year probation; it was there, surrounded by teenagers with musical tastes similar to his own, that Clapton really took to the instrument.
Clapton was especially taken with the blues guitar played by musicians such as Robert Johnson, Muddy Waters and Alexis Korner, the last of whom inspired Clapton to buy his first electric guitar — a relative rarity in England.
It was also at Kingston that Clapton discovered something that would have nearly as great an impact on his life as the guitar: booze. He recalls that the first time he got drunk, at the age of 16, he woke up alone in the woods, covered in vomit and without any money. "I couldn't wait to do it all again," Clapton remembers. Clapton was expelled from school after his first year.
He later explained, "Even when you got to art school, it wasn't just a rock 'n' roll holiday camp. I got thrown out after a year for not doing any work. That was a real shock. I was always in the pub or playing the guitar." Finished with school, in 1963 Clapton started hanging around the West End of London and trying to break into the music industry as a guitarist. That year, he joined his first band, The Roosters, but they broke up after only a few months.
Next he joined the pop-oriented Casey Jones and The Engineers but left the band after just a few weeks. At this point, not yet making a living off his music, Clapton worked as a laborer at construction sites to make ends meet.
Already one of the most respected guitarists on the West End pub circuit, in October 1963 Clapton received an invitation to join a band called The Yardbirds. With The Yardbirds, Clapton recorded his first commercial hits, "Good Morning Little Schoolgirl" and "For Your Love," but he soon grew frustrated with the band's commercial pop sound and left the group in 1965. The two young guitarists who replaced Clapton in The Yardbirds, Jimmy Page and Jeff Beck, would also go on to rank among the greatest rock guitarists in history.
Tears in Heaven
"Would you know my name, if I saw you in heaven? Would it be the same, if I saw you in heaven?" asks the lyrics to "Tears in Heaven," the emotionally wrought hit song by guitar idol Eric Clapton. Released in 1991 it charted in the top 10 in more than 20 countries and won Grammys for Song of the Year, Album of the Year (Unplugged) and Best Male Pop Vocal Performance.
Though it achieved incredible international success, the creation of the song, like many adored ballads and laments, was heavily influenced by the emotional state of its creator. For Clapton, it arose out of the pain following the accidental death of his 4-year-old son Conor, and it is infused it with all the loss, heartache and longing of a grieving parent.
Making History
Later in 1965, Clapton joined the blues band John Mayall & the Bluesbreakers, the next year recording an album called The Bluesbreakers with Eric Clapton, which established his reputation as one of the great guitarists of the age. The album, which included songs such as "What'd I Say" and "Ramblin' on My Mind," is widely considered among the greatest blues albums of all time. Clapton's miraculous guitar-playing on the album also inspired his most flattering nickname, "God," popularized by a bit of graffiti on the wall of a London Tube station reading "Clapton is God."
Despite the record's success, Clapton soon left the Bluesbreakers as well; a few months later, he teamed up with bassist Jack Bruce and drummer Ginger Baker to form the rock trio Cream. Performing highly original takes on blues classics such as "Crossroads" and "Spoonful," as well as modern blues tracks like "Sunshine of Your Love" and "White Room," Clapton pushed the boundaries of blues guitar. On the strength of three well-received albums, Fresh Cream (1966), Disraeli Gears (1967) and Wheels of Fire (1968), as well as extensive touring in the United States, Cream achieved international superstar status. Yet they, too, broke up after two final concerts at London's Royal Albert Hall, citing clashing egos as the cause.
Hard Times
After the breakup of Cream, Clapton formed yet another band, Blind Faith, but the group broke up after only one album and a disastrous American tour. Then, in 1970, he formed Derek and the Dominos, and went on to compose and record one of the seminal albums of rock history, Layla and Other Assorted Love Songs. A concept album about unrequited love, Clapton wrote Layla to express his desperate affection for Pattie Boyd, the wife of the Beatles' George Harrison. The album was critically acclaimed but a commercial failure, and in its aftermath a depressed and lonely Clapton deteriorated into three years of heroin.
Clapton finally kicked his drug habit and reemerged onto the music scene in 1974 with two concerts at London's Rainbow Theater organized by his friend Pete Townshend of The Who. Later that year he released 461 Ocean Boulevard, featuring one his most popular singles, a cover of Bob Marley's "I Shot the Sheriff." The album marked the beginning of a remarkably prolific solo career during which Clapton produced notable album after notable album. Highlights include No Reason to Cry (1976), featuring "Hello Old Friend"; Slowhand (1977), featuring "Cocaine" and "Wonderful Tonight"; and Behind the Sun (1985), featuring "She's Waiting" and "Forever Man."
Despite his great musical productivity during these years, Clapton's personal life remained in woeful disarray. In 1979, five years after her divorce from George Harrison, Pattie Boyd finally did marry Eric Clapton. However, by this time Clapton had simply replaced his heroin addiction with alcoholism, and his drinking placed a constant strain on their relationship. He was an unfaithful husband and conceived two children with other women during their marriage.
A yearlong affair with Yvonne Kelly produced a daughter, Ruth, in 1985, and an affair with Italian model Lory Del Santo led to a son, Conor, in 1986. Clapton and Boyd divorced in 1989. In 1991, Clapton's son Conor died when he fell out of the window of his mother's apartment. The tragedy took a heavy toll on Clapton and also inspired one of his most beautiful and heartfelt songs, "Tears in Heaven."
New Beginnings
In 1987, with the help of the 12 steps of Alcoholics Anonymous, Clapton finally quit drinking and has remained sober ever since. Being sober for the first time in his adult life allowed Clapton to achieve the kind of personal happiness he had never known before. In 1998, he founded the Crossroads Centre, a drug and alcohol rehabilitation facility, and in 2002, he married Melia McEnery. Together they have three daughters, Julie Rose, Ella Mae and Sophie.
Clapton, who published his autobiography in 2007, was ranked the second greatest guitarist of all time by Rolling Stone in 2015. An 18-time Grammy Award winner and the only triple inductee of the Rock and Roll of Fame (as a member of The Yardbirds, as a member of Cream and as a solo artist), he continued to record music and tour through his 60s, while also performing charity work.
In 2016, Clapton revealed that he had been diagnosed with peripheral neuropathy three years earlier, a condition that left him with back and leg pain. In early 2018, he admitted in an interview that he was also dealing with tinnitus, a ringing in the ears caused by noise-induced hearing loss. Despite the ailments, the guitar legend said he intended to continue performing that year.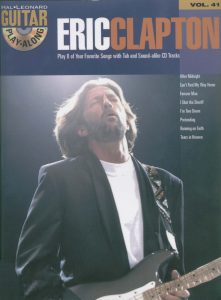 Search Posts by Categories:
and subscribe to our social channels for news and music updates: