Table of Contents
Follow @LibrarySheet
What guitars and amps does Joe Pass use?
Joe Pass was one of the most important guitarists within the Jazz genre, one of the most outstanding musicians in history and a great reference to the instrument; he owned a unique style, loaded with a large number of musical resources and a Jazz sound that many seek to achieve or emulate.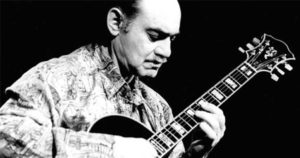 During his career he had two commercial relationships, one with Ibanez and the other with Epiphone, I never work with effects pedals since I always look for the natural tone of the instrument and always use the same amplifier for his presentations.
What guitars did Joe Pass use?
His guitars were mostly hollow body and came equipped with one or two thumbsuckers, for a period I used solid body guitars, something completely different from what I usually work with.
He had two business relationships, one with Ibañez, this guitar was not to his liking, and he almost never used it live, which led to the eventual cancellation of the contract, later he signed with Epiphone with which he launched his Emperor II, one of his favorite guitars for jazz players.
Among his guitars we find:
D'Aquisto used this brand of hollow body guitars that he played in the '70s and '80s.
Gibson ES-175
Epiphone Joe Pass Emperor II Custom Model
Ibañez Joe Pass Custom Model
Fender Jazzmaster Solid body guitar with two thumbsuckers
Gibson L5
Gibson Super 400
Amplifier
Joe Pass used a single amplifier during his career, a Polytone Model 102, these amplifiers are considered true rarities, unique equipment and highly sought after by Jazz guitarists, this brand existed during the 70s and remained, without advertising for About 40 years ago, its amplifiers were valve type and multipurpose, they could be used for different instruments, its creator was a famous accordionist and he initially designed them to be able to amplify his instrument.
As a good representative of Jazz, Joe Pass was a guitarist who kept his equipment to a minimum, a good guitar, a good amplifier and the rest of the tone is provided by his fingers, the simplicity of the set is interesting and the great tonal variety he achieved in his interpretation.
Search Posts by Categories:
and subscribe to our social channels for news and music updates: