Follow @LibrarySheet
The classical piano repertoire is extraordinarily broad and varied, with new pieces being added to it all the time to satisfy the appetites and tastes of pianists and audiences. Amidst this vast repertoire, there are pieces which are almost instantly recognisable to anyone: even if they may not know the title or composer of the piece, they will know it.
These are the piano pieces which have earned the status of "most famous" through their frequency and popularity in performance and on recordings, and, more recently, their use in film, TV and advertising soundtracks.
In addition, certain performing artists have become closely associated with certain piano pieces or composers and this undoubtedly contributes to the music's fame: for example, Glenn Gould, András Schiff and Angela Hewitt with the music of J.S. Bach, Murray Perahia and Maria João Pires with the piano music of Mozart, Arthur Rubinstein with Chopin, Yuja Wang with Prokofiev…
But there's more, because these famous classical piano pieces are instantly appealing, in all their myriad details, from haunting, lyrical melodies to extrovert rhythms and piquant harmonies or the expression of passionate emotions.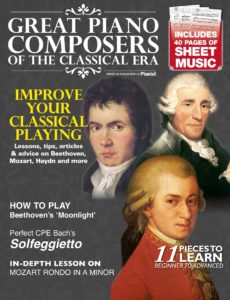 J.S. Bach: Prelude in C Major
This serenely beautiful Prelude is the first of J.S. Bach's famous Preludes & Fugues, from the Well-Tempered Clavier. Its beauty lies in its simplicity – built from a series of broken chords, Bach uses harmonic progressions and modulations, from major to minor and back again, to create a dramatic processional quality in the music. The piece is popular at weddings and has been transcribed and adapted, perhaps most famously by Gounod in his Ave Maria.
Ludwig van Beethoven: Piano Sonata in C-sharp minor, Op 27, No. 2 'Moonlight', 1st movement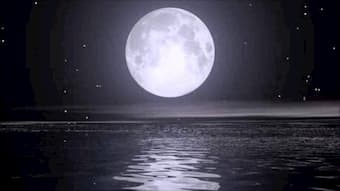 The opening movement of Beethoven's 'Moonlight' Sonata is, like Bach's C Major Prelude, instantly recognisable, with its repeating pattern of hushed broken chords and simple but haunting melody. It is so famous that people often forget it is followed by two other movements! The piece was popular even in Beethoven's day and remains amongst his most famous works.
It is unusual for a classical piano sonata to begin with a slow movement and although the nickname 'Moonlight' was given to the work after Beethoven's death, it is perfectly suited to the expressive nature of this twilight first movement whose harmonies shimmer and shift. It's an amazing gesture, created by a composer poised on the threshold of change in the early years of the nineteenth century.
Wolfgang Amadues Mozart: Rondo alla Turca
This is actually the final movement of Mozart's Piano Sonata No. 11, K.331, but it is often performed as a stand-alone piece. Mozart gave it the title Alla Turca (Turkish style), and it imitates the sound of Turkish Janissary (military) bands whose music was very popular at the time of the sonata's composition.
Frédéric Chopin: 'Minute' Waltz
Like Mozart's Rondo alla Turca, Chopin's Waltz in D-flat Major, Op 64, No. 1, nicknamed the 'Minute' waltz, is a test of the pianist's fleet fingers – although the piece is not intended to be played in the space of just 60 seconds!
It is also known as the Valse du petit chien (French for "Waltz of the puppy") and is said to have been inspired by the gleeful antics of George Sand's little dog 'Marquis', whom Chopin mentions in some of his letters. It's easy to imagine an excitable dog chasing its tail in the twirling, seemingly never-ending quavers in the outer sections of the waltz, and the joyous mood of the music. It is one of Chopin's most famous piano pieces and is also a popular encore.
Sergei Rachmaninoff: Piano Concerto No. 2 in C minor
Composed at the very start of the twentieth century, this piece confirmed Rachmaninoff as a great composer and also one of the greatest pianists of all time. It's phenomenally difficult to play, with hand-splitting chords and vertiginous virtuosity, but it's also very beautiful, profoundly emotional and hauntingly romantic.
Hugely popular with pianists, it regularly appears in concert programs and piano competitions, and was made even more popular by its use in the soundtrack of the film Brief Encounter (1945), where it is cleverly employed to express the true emotions of the leading characters.
Claude Debussy: Clair de Lune from Suite Bergamasque
Another "moonlight" piece, Debussy's Clair de Lune is perhaps his best-loved and most well known piece. It's the third movement of his Suite Bergamesque, but, like Mozart's Rondo alla Turca, it's acquired a life of its own outside of the suite, and is regularly performed as a solo work.
It has a remarkable serenity, only briefly interrupted by a more florid middle section. Debussy drew inspiration from a poem by Paul Verlaine, and the piece is an example of impressionism in music – here, capturing the essence of the haunting beauty of moonlight in sound.
Claude Debussy: Suite bergamasque – III. Clair de lune (Nikolai Lugansky, piano)
Scott Joplin: Maple Leaf Rag
Although the ragtime music of Scott Joplin is generally regarded as the pre-cursor to Jazz, his music falls into the category of "classical music", and his Maple Leaf Rag is one of his most famous piano pieces.
This jaunty, athletic rag with its infectious melody is a challenge for the pianist, with its big chords, leaps and syncopated rhythms, but for the listener it's an almost perfect example of the rag genre. Find a recording with a more leisurely tempo (which is how Joplin intended his music to be played) and enjoy all the details he puts into his score.
George Gershwin: Rhapsody in Blue
Instantly recognizable from the opening clarinet glissando, as famous as the opening measures of Beethoven's Fifth Symphony, George Gershwin's Rhapsody in Blue is one of the most famous piano pieces of the twentieth century, and also one of the greatest in its evocation of the exuberance of the jazz age.
Composed in 1924, it established Gershwin's reputation as a significant composer, and has since gone on to become one of the most popular all American concert works. It synthesizes jazz effects (syncopated rhythms and jazz chords) with classical elements (for example, the cadenza in the piano) to create a work of enormous vibrancy and musical color, beloved of performers and audiences everywhere. George Gershwin: Rhapsody in Blue (Jean-Yves Thibaudet, piano; Baltimore Symphony Orchestra; Marin Alsop, cond.)
Robert Schumann: Traumerei
A miniature gem from Schumann's collection Scenes from Childhood, a collection of 13 short pieces intended as the composer's adult reminiscences of childhood, Traumerei ('Dreaming') is a peaceful picture in music of a child's daydreams. Tender, nostalgic and lyrical, with a graceful ascending melody, it's almost perfect in its construction and is as emotionally powerful as any large-scale work.
Beethoven: Piano Concerto No. 5 'Emperor'
The last of Beethoven's concertos for piano, this work could easily claim the title of greatest piano piece ever written. Composed between 1809 and 1811, the concerto is dedicated to Archduke Rudolf, Beethoven's patron and pupil, who gave the work its first performance in a private recital in Vienna in January 1811. The nickname 'Emperor' was not Beethoven's, but was given to the work by Johann Cramer, the English publisher.
It's certainly the most famous of Beethoven's five piano concertos and one of the most famous piano concertos of all time. Its colossal, propulsive first movement opens with a virtuosic statement by the piano. This is followed by a contrasting slow movement with a nocturne-like serenity which flows directly into the finale, a triumphant rondo in which the piano has the spotlight.
It's been performed and recorded by countless pianists and is a staple of the concert repertoire, perennially popular with performers, orchestras and audiences alike.
Franz Liszt: Liebesträum No. 3 in A flat
Franz Liszt is often unfairly dismissed as a showman, whose often complex piano music was written to allow him to display his exceptional pianistic bravado. While it's true that some of his piano pieces are highly virtuosic, he also wrote a great deal of music which is intimate, romantic and deeply poetic.
He composed three Liebesträum (Love's Dream) for solo piano, but the third, in warm A-flat major, remains his most famous. Based on the poem by German writer Ferdinand Freliligrath O Lieb, so lang du lieben kannst (Love as long as love you can), the music illustrates themes of love and the loss of love.
It's a challenge for the pianist as the right hand is effectively split into two hands – one playing the melody, the other a flowing, arpeggiated accompaniment. Heart-wrenching and troubled, Liszt melds complex harmonies and melody with dramatic dynamics to create a powerful and achingly beautiful musical narrative. Elvis Presley was a fan of this piece and used it as inspiration for his song 'Today, Tomorrow and Forever' in the film Viva Las Vegas.
Browse in the Library:
and subscribe to our social channels for news and music updates: