Follow @LibrarySheet
Table of Contents
Tubular bells (Intro) – Mike Oldfield sheet music
Mike Oldfield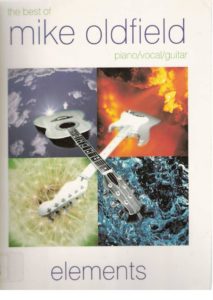 He was born in the city of Reading, England on May 15, 1953. His father Raymond was a doctor who had a guitar he bought while serving in the Royal Air Force in Egypt during World War II. Mike remembers how his father 'used to play the guitar every Christmas Eve, singing the only song he knew how to play, Danny Boy.'
Mike also attributed his early interest in music to virtuoso guitarist Bert Weedon. 'I saw it on TV when I was seven years old and immediately convinced my father to buy me my first guitar. In fact, I think if it hadn't been for Bert I never would have become the main thing in my life.' The Oldfields became a musical family. Mike's older brother, Terry is now a renowned composer in the field of TV documentary music and already has several albums on the market. His sister Sally became a professional singer and had a hit in the early 80's with everyone known as 'Mirrors', she now calls herself Natasha Oldfield. By the age of 10, Mike was already composing instrumental pieces for acoustic guitar.
The guitar was for him more than an instrument. it was an escape route from a family situation that was worsening and cutting him off from the outside world for a long time. Throughout the past decade, the acoustic music scene had been in very good health.
Music was played in many of the clubs that were open during that period. It was in one of those clubs where young Mike began to realize that his musical ideas were accepted by a large majority of the public. 'He used to have two 15-minute instrumentals that he would play at the local folk clubs where he would go through all the styles,' he would say. 'He would even totally detune the strings and bend them over the neck and do all sorts of things. As soon as I got vacations from school, he would spend the whole week practicing and playing the guitar.' He also tried electronic music, him playing instrumental pieces from 'The Shadows' in an amateur band. When he was 13 years old, the Oldfield family moved to Romford in Essex.
In 1967, he dropped out of school and together with his sister Sally formed Sallyangie, a folk voice and guitar duo. They were signed by the Transatlantic company, which released the album 'Children Of The Sun' in 1968 and the single 'Two Ships' in 1969. Around this time Mike's guitar playing was heavily influenced by 'baroque folk' popularized by John Renbourn, Pentangle leader and Bert Jansch. After a year, the end of Sallyangie came.
Mike returned to rock music, forming another group of similar duration called Barefeet. That led to a job as a bassist with Kevin Ayers & the Whole World. Ayers was a founding member of Soft Machine but left the group in 1968. The following year they made the 'Joy Of A Toy' album which led to a tour in 1970.
Among the members of the Whole World was David Bedford taking care of the keyboards. Bedford, who was a classically trained composer, struck up a good friendship with Mike, helping him compose an early version of Tubular Bells. While on tour with The Whole World, Mike came into contact with the Centipede, a huge jazz band conducted by Keith Tippett.
The wide range of instruments available to them influenced Mike in the multi-instrumental character that he would later give to his own compositions.
Kevin Ayers & the Whole World recorded two albums, Shooting At The Moon and Whatevershebringswesing before splitting up in August 1971. Until then Mike had been playing electric guitar and his masterful solos with Kevin Ayers had already earned him a reputation as a master.
The Road to Tubular Bells: 1971-1973
During that period Mike began to order the musical ideas that would later form part of Tubular Bells. Using a four-track recorder with two tracks going one way and two tracks going the other that Kevin Ayers lent him, he discovered that if he covered the erase head with a small piece of cardboard he could record on four tracks. In this way he could begin to record the ideas necessary to realize his dream.
That dream was to create a symphony, similar to the large-scale compositions for orchestra with different movements that could be found in many works of classical music. With Ayers' tape recorder he went into his bedroom in the house he shared with the other members of the group, and ideas for his new work slowly began to take shape.
Already involved in the work, Mike insisted on playing all the instruments himself. And he thought that it would not be difficult for him with his natural gift to master almost any instrument; from the glockenspiel to the grand piano, the classical guitar, the Farfisa organ… .
While continuing to work with Kevin Ayers, he also assisted with recordings being made at London's famous Abbey Road Studios. He soon discovered that the studio had a warehouse full of all kinds of instruments, so he would manage to arrive early and while the others arrived, he would experiment with those instruments and thus incorporate new sounds and textures into his musical ideas.
Engrossed in his work, he set out to capture all the deep emotions he was experiencing at that time in his music. Either way, one would have to wonder if Mike's state of mind would have allowed him to withstand the pressure of working with other people much longer.
Especially considering that what he was doing would be a job that he would gradually become a vehicle to unload his deepest emotions and those with which he was having the most trouble living. After creating a small demo, he started going through all the record labels trying to convince someone to support his project. They all gave him a resounding NO for an answer, saying that this was 'not commercial' and that if it were ever published, no one would buy it.
Obviously, that had happened to him for putting his faith in that little worked model. After having composed the hypnotic introduction (the theme that would form the main part of his magnum opus after developing it), he would still remember that. If only he could have recorded, edited and promoted it!
But a ray of light would illuminate his future. Mike left the Kevin Ayers band and worked occasionally as a guitarist to earn a living. One such job was in the backing band for the £5 a night London production of Hair, the 'tribal love-rock musical'.
He also played bass for a time in a band led by soul singer Arthur Lewis. The group was to record at a recently opened studio in a mansion in Shipton-on-Cherwell, 20 miles from Oxford. The Manor recording studios were built for Richard Branson by Tom Newman, assisted among others by Simon Heyworth. It was a team of good friends. The girlfriends of some of them were also there to attend to them, as well as a cook, cleaners and gardeners. As Mike later commented, 'We treated any problems that came up like we were one big family.'
The great atmosphere in the studio and the attitude of Newman and Heyworth gave Mike the opportunity to record a demo of his musical ideas. They both loved it. Heyworth and Newman launched a campaign to persuade Branson to edit it and to leave the studio for a while to record it.
From the outset it seemed that this was not the appropriate moment. The project had to wait a bit for the arrival of Simon Draper who would join Branson to create the Virgin record company. Draper had extensive musical knowledge and when he heard Mike's ideas, he was immediately enthusiastic.
Mike continued to develop and refine his ideas that he could now give a name to: Tubular Bells, although it initially carried names like Breakfast in Bed and Opus One (Opus 1).
But she had almost given up hope of realizing her dream when Draper offered her a week of study time at The Manor. A wide selection of instruments was brought into the studio and work began. During that week something else of the first part was recorded, and the rest of the work during sessions spread over the following months.
From the beginning Mike put the facilities that the technology of the time gave him to the limit to make his recordings. Very soon he started using 16 tracks. As more and more instruments were added to the recording, the sessions were also a test of the inventive resources of Newman and Heyworth who mixed it all together as well as they could be based on their knowledge. The studio's equipment was not automated, and all the work was done manually by Mike.
Simon Heyworth and Tom Newman were already using every finger at their disposal on the mixing desk. This made the relationship between producers and artist less close, but even so, each of the three learned many things from their other two companions. During the session, Mike played over 20 instruments and approximately 2000 test tapes were recorded. The music was played almost entirely by himself, except for Viv Stanshall (Vocals), Jon Field (Flute), Steve Broughton (Percussion) and Mundy Ellis (Vocals). Tom Newman and Simon Heyworth earned credit as co-producers.
When the sessions were over, Branson took the Tubular Bells tapes with him to the music industry fair, MIDEM, in Cannes in January 1973. An executive from an American company told him, 'if you put lyrics on it, I'll buy it for $20,000. '. With no one showing interest, Branson and Draper decided to release the album themselves on their new Virgin Records label.
Tubular Bells was released on May 25, 1973. It came out of a recording and mixing process that could have been called art in its purest form. Critics did what they could to define it. The public simply opened their hearts to him.
The press in his country was perplexed. Influential BBC radio DJ John Peel wrote that it was 'a record that genuinely covered new and uncharted territory', with music that 'combines logic with surprise, sunshine with rain'. 'A lengthy work, almost classical in its structure and in the way the theme is established and deftly worked', said the Melody Maker. Some interviewers even thought they could tell what Mike's influences were: 'The texture of Tubular Bells is quite reminiscent of Sibelius, Vaughan Williams, Michel Legrand and The Last Night Of The Proms,' wrote television producer Tony Palmer.
Tubular Bells will always be remembered as a moment in rock music history that captured the hearts and imaginations of many people. It was also a starting point from which to appreciate the many changes and discoveries made by this creator who, starting at the age of 19, grew in maturity. The album entered the UK charts in July and soon reached No. 1. Tubular Bells began selling out across Europe.
In June 1973, a live concert by Tubular Bells was given at the Queen Elizabeth Hall in London. Mike was joined for this occasion by guitarists Mick Taylor (of the Rolling Stones), Steve Hillage (of Gong), Fred Frith (of Henry Cow) and Ted Speight. Also taking part were David Bedford, Kevin Ayers and Pierre Moerlen, the percussionist for the avant-garde rock band Gong and who would be a fixture on Mike's band of musicians for many years.
Although his appearance was announced, Stevie Winwood could not play at the end because due to certain problems she had not had much time to rehearse. The audience's response was described by a New Musical Express journalist as follows: 'The entire audience stood up and started asking for more. That was just one of those rare, spur-of-the-moment tokens of appreciation.'
Tubular Bells was also released in the United States, but everything was happening more slowly there. The necessary push for the album's sales to skyrocket came when film director William Friedkin, encouraged by Richard Branson, decided to use a 4-minute excerpt in the controversial horror film The Exorcist.
Mike was not consulted regarding the association of his work with that film and would later tell reporters that he had not liked it. In the UK, a Tubular Bells single was released with a remixed version of the album in a 'quadraphonic' version, a system that required four speakers for full use. To show the wonders of that new system, the Tubular Bells 'Quad' included an extra sequence of an airplane appearing to move around the listener, which was recorded after The Sailor's Hornpipe.
The Shooting Star: 1974-1975
Mike Oldfield had long dreamed of the time when Tubular Bells would be released. When that happened he couldn't take the pressure and still emotionally exhausted from the recording process for Tubular Bells he retired to his new home in Herefordshire. It was there that he began creating his new work that would later take the name of nearby Hergest Ridge.
Released in England in September 1974, like its predecessor Tubular Bells, this was an album containing a single theme song. Again almost all the instruments are played by Mike himself. The most talked about effect was what one reviewer called a 'electrical storm'.
Other musicians who contributed to the album included Sally Oldfield and Clodagh Simmonds (vocals), June Whiting and Lindsay Cooper (oboes), and Ted Hobart (trumpet). For Mike, music composition was a constant work in progress. The symphonic scheme used in Tubular Bells was continued in a series of later works: Hergest Ridge, Ommadawn, Incantations, QE2 and Amarok.
Hergest Ridge went straight to number one on the UK sales chart. Virgin Records also advertised it on television, although the slogan had to be changed for this purpose. The ad originally said the album was available from 'Virgin and other immaculate record stores'.
It had to be changed for another due to the possible objections that the Catholic Church could present. Although some critics viewed Hergest Ridge as inferior to Tubular Bells, most loved it. One said it was 'The most everyday rock music with some classical symphony'. Another wrote that it was 'a series of emotional spikes exploding here and there through a tickling stillness'.
In December 1974, the orchestral versions of Tubular Bells and Hergest Ridge were presented in concert at the Royal Albert Hall in London. The concert was planned by David Bedford who conducted the Royal Philharmonic Orchestra with guitar solos by Steve Hillage.
Mike himself would play the guitar in the studio version of that concert, which was released in January 1975 under the name The Orchestral Tubular Bells. In that same year but a little later those same orchestral arrangements were presented in concerts in Glasgow and Newcastle. In Scotland, Steve Hillage played guitar parts with the Scottish National Orchestra, and the soloist in the North East was Andy Summers, later a member of The Police.
The sense of humor that was evident in the 'introduction to the instruments' of Tubular Bells was prominently featured on Don Alfonso, a single that was released in March 1975. With the help of Chris Cutler (drums), David Bedford (vocals ) and Kevin Ayers (Wine Bottles), Mike told the story of a bullfighter who worked for Oxo ('Worked for Oxo'). In a slightly more serious direction, he released Ommadawn in September 1975. His third great work of symphonic rock had taken him nine months to record. At Ommadawn, Mike played about 20 instruments, ranging from guitars to grand piano to spinet.
The album incorporated music from Africa and Ireland by way of Jabula's African percussion group and the Uilean bagpipes of Paddy Moloney, leader of the Chieftains. Other contributing artists included Terry and Sally Oldfield, members of the Hereford City Band, and recorder (a type of flute) soloist Leslie Penney. Penney also accompanied Mike on the Christmas single, a version of the traditional Christmas carol In Dulci Jubilo which managed to reach number four in the UK charts.
Although many journalists hailed Ommadawn as yet another triumph, some resentment began to show in some criticism of the album by others. Perhaps influenced by the influx of rock fashion into previously retro-style pubs, one UK pop newspaper called Ommadawn 'bland and inconsequential'. An excellent background music for banquets.'
Although he had not yet returned from the tour he was doing to promote that work, Mike contributed to albums by other musicians with whom he was associated. His guitar playing can be heard on records released in 1975 by David Bedford, Edgar Broughton and Tom Newman.
The impact of Tubular Bells continued in 1975. In that year it was awarded a Grammy for Best Instrumental Composition and the enormous popularity that these instruments (tubular bells) were reaching led the company that manufactured them, Premier, to launch a selling a new range of rigid metal tubes. In a different vein, a reader wrote to Mayfair magazine: 'The most exciting moment of my sex life came recently when we both finally climaxed together listening to the end of Mike Oldfield's Tubular Bells.'
Out of the limelight: 1976-1978
In the following years the then world famous Tubular Bells theme appeared in a disco version by the Champs Boys, a group of French studio musicians. That was almost all that was heard of Mike's music in 1976, although fans of equestrian sports did hear an excerpt from Ommadawn as an intro to the televised broadcast of the Horse Of The Year Show.
Mike hid from the public for longer than he did from 1976 to 1978. He would later tell reporters that he had psychological problems and that is why he went into seclusion in the country at his home in Gloucestershire to create the music that would later be called Incantations. .
To hide it from the public eye, Virgin compiled Boxed, a four-disc set containing their three albums released to date and a fourth disc containing singles, special collaborations on records by other artists, and a song sung by Mike himself called Speak (Tho ' You Only Say Farewell).
Mike's only new work in 1976 was the Christmas single, Portsmouth, another traditional song arranged by Oldfield. It reached number 3, one position above that of In Dulci Jubilo.
In January 1977 Mike made his first stage appearance in two and a half years as a guest guitarist in a live performance of David Bedford's suite called The Odyssey. He followed with the almost continuous release of two singles. One was a version of the William Tell Overture and the other was Cuckoo, another setting of a traditional English folk song. Neither of them was successful.
Although Mike remained inactive for the rest of the year, his works continued to be presented in live concerts. In May, Steve Hillage was repeating his guitar solo with the Scottish Symphony Orchestra at Tubular Bells and Hergest Ridge. Around that time it was announced that Ommadawn's first live concert would be given by Trinity College Dublin with the accompaniment of the Liffey Light Orchestra.
The fourth album of original material, Incantations, would finally appear in late 1978. In the years after Ommadawn, British pop had lost worldwide interest thanks to the advent of punk rock. Within his own country, punk also impacted Mike. When he was asked in 1977 by an interviewer what he thought of that trend he replied, 'Punk rock? I never heard of it.'
The change in atmosphere for Incantations meant that it became less successful than its predecessors, although it did remain in the Top 20 in Britain for a while. Tracks not ultimately included on Incantations and portions of Tubular Bells and Portsmouth were used on the soundtrack to The Space Movie, a Tony Palmer television documentary celebrating the tenth anniversary of the July 1969 moon landing by American astronauts.
Around this time Mike was giving numerous interviews to promote the album and discuss his radical personality change, caused mainly by his attending exegesis-based seminars, a form of therapy designed to enhance self-confidence.
Thanks to exegesis, he believed he had discovered the most positive side of his character. In an interview at the time he said, literally, 'I have experienced what I might describe as a 'rebirth', which has helped me deepen myself and human nature. I've started again.' In March 1979, Mike released a single, Guilty, whose sound was quite close to that of more contemporary rock. Some journalists detected a certain 'disco' style in that music that he had recorded with studio musicians in New York.
A little later, but also in 1979, Platinum was released, his fifth album of original material. This one broke with the pattern of his first four albums, which were structured in long tracks. The main composition, Platinum, was divided into four pieces, which were followed by short, instrumental songs. Among these were Punkadiddle, a satire ridiculing the punk movement, and Sally, a song for the mother of his young daughter Molly. In addition to the musical contributions of her siblings Sally and Terry, Platinum included the vocals of Maddy Prior, the famed singer of the folk-rock band Steeleye Span.
The decade ended for Mike with the release of the Christmas single that Mike's fans had grown accustomed to for the past four years. Like Portsmouth, Blue Peter was an adaptation of a traditional song used as the theme song for a children's show of the same name. Despite this, Mike's single only reached number 19 on the UK charts. Mike's Royalties for the single Blue Peter were donated to the Cambodia relief campaign that launched that same children's show.
Touring Band: 1979-1984
Although he is a master of studio recordings, his live concerts have formed an important part of Mike's artistic life. After the therapy he underwent in the late '70s, he felt ready to go on tour with a great group of musicians. This resulted in the tour titled Exposed. The first tour Mike Oldfield embarked on took place in 1979, almost six years after the release of Tubular Bells.
The expensive spectacle was given by an orchestra and a choir of 50 musicians. They had an entourage of 25 roadies and technicians and three trailers carrying all the equipment. Participating musicians included Maddy Prior (who provided vocals for the sequence included in Incantations that takes Henry Wadsworth Longfellow's poem 'Hiawatha' as lyrics), guitarists Phil Beer and Nico Ramsden, and Pierre Moerlen and his brother Benoit on percussion.
Also included in the group were two traditional folk musicians, Robin Morton and Ringo McDonough, as well as members of the Queens College Girls Choir. But not everything was music, there was also a visual element contributed by the films created especially for this event by Ian Eames and that would be projected in the back of the stage. The tour began with concerts in Madrid and Barcelona, where Mike and the musicians performed Incantations and Tubular Bells and which one reporter described as 'an audience of 30,000 frantic young Spaniards'.
There were then 11 concerts in Belgium, France, the Netherlands and Germany, in which both critics and the public ended up a bit upset.
In August, Virgin released Exposed, a double live album recorded on tour. In later years, Mike would reveal that that tour was a financial disaster. In the spring of 1980, Mike put together an eleven-piece group for another 40-day tour of Europe with a show featuring Platinum songs. Its members included saxophonist Bimbo Acock, Pierre Moerlen, and vocalist Wendy Roberts. Ian Eames again made film sequences to project backstage, including an image of the sea with a seaplane taking off and turning towards the camera.
Such live shows culminated in the Knebworth festival in July. After his arrival by helicopter, it was his turn to act behind the Beach Boys and Lindisfarne; Santana would also play. The excellent performance by Mike and his musicians caught the attention of a Record Mirror magazine journalist, who wrote: 'the sound was crystal clear, bringing out the new color and understatedness of their arrangements.'
In keeping with the new emphasis being placed on highlights of his work, he released two cover versions as singles in the fall of 1980. The first was Arrival, an Abba song with which Mike paid tribute to them.
The other single was one such tribute song, Wonderful Land, a recreation of a 1962 song by The Shadows whose frontman Hank Marvin served as an inspiration to all the young guitarists of Oldfield's generation. It's really ironic that most people who don't know Mike's music think that he is primarily a keyboard player.
His favorite instrument (and the one he uses the most) is in fact the guitar. In his guitar playing you can distinguish a certain resemblance to the style of John Renbourn and Bert Jansch, two acoustic multi-instrumentalists who influenced him from a young age. He spent many hours analyzing and learning from his music, and during this process he developed a formidable guitar playing technique. With the electric guitar, it can be said without a doubt that it is the best that England has produced.
Arrival and Wonderful Land appeared on QE2, a Platinum-like album. This time the title track is not on side one of the disc, but appears at the end of side two. QE2 was co-produced and mixed with engineer David Hentschel who had previously worked with Genesis. Hentschel told a reporter, 'I always liked Mike's character.
All of his ideas served as a refresher for mine and I think mine were also for him. It was all a lot of fun, and I think if you want to do a job that's really good, you have to have fun doing it.' Contributing musicians to the recording of QE2 included Phil Collins on percussion, Rick Fenn (guitar) and singer Maggie Reilly.
The vocalist of the Scottish soul/rock group Cado Belle, Maggie Reilly would go on to become one of the most important members of Mike's team over the next five years. Criticism towards QE2 was all kinds, with some of Mike's die-hard fans in the press saying that rather than introducing new ideas, with that album he had marked the beginning of an era.
However, there were fans of Mike who wrote to music magazines saying they were surprised by the overall critical response. One wrote to the Record Mirror to complain about critics who 'had no idea of ​​the true greatness of him. In 50 years, this music will still be heard and loved by people.' The tours were already becoming an annual event. On the 1981 tour of Europe and Great Britain, Mike took with him a much smaller number of musicians whose core consisted of Maggie Reilly, Tim Cross (Keyboards), Rick Fenn (Bass), and percussionists Morris Pert and Mike Frye.
If his most recent records hadn't been on the charts for long, the Tubular Bells phenomenon continued. In July 1981, Virgin announced the sale of all ten million copies of Tubular Bells. In the same month, Mike would play a free concert as part of the festivities organized by the City of London for the wedding of Prince Charles and Lady Diana Spencer. In recognition for this and for his merits in making the UK known beyond its borders, he was awarded the 'Freedom of the City Of London'.
He was also part of a jury for a national contest for young pop groups along with other illuminati such as Billy Idol, Phil Linott and Noddy Holder. To cap off a year in which Mike seemed to have regained his place in society, he was included in the Who's Who, the exclusive guide to the most important people in Britain: he was the only pop musician to appear there. , not counting Paul McCartney.
When a member of the Who's Who team was asked why Mike Oldfield had been included in the book, unsure she said: 'Well, everyone has heard of him, right?' In his section of Who's Who, Mike says that his hobbies are 'aviation (light flights, helicopters)'.
He earned his pilot's license in 1979, and an accident a year later inspired him to make the title track for the 1982 album Five Miles Out. In August 1980, Mike was piloting a twin-engine Piper Navajo over the Pyrenees when he crashed in a storm 'We were thrown around like a flour pancake and there was ice collecting on the propellers and rain on the windshield and everyone went aaargh! 'as he said he in an interview.
That incident would be commemorated with a specially commissioned painting by Mike from a renowned painter of airplane pictures. Like Platinum and QE2, Five Miles Out combined a full-length track with a series of individual songs.
The longest piece was Taurus II, which included contributions from piper Paddy Moloney and a morris dancing group. Among the songs was Family Man, with lead vocals by Maggie Reilly. When Family Man was released as a single, it was swarming at the bottom of the UK charts. The following year, paradoxically, a version by Daryl Hall and John Oates was a Top 10 hit in America.
Family Man was a clear example of what Mike had achieved with his work. Moonlight Shadow, Family Man, Shadow On The Wall, Five Miles Out and Islands are so much more than just pop songs, but again they all make use of texture and dynamic change.
Much of the Five Miles Out album was recorded in Mike's home studio in Buckinghamshire. The house was chosen due to its proximity to the entrances to London and a small local airport where Mike could fly his planes.
Five Miles Out was Mike's biggest UK hit since Ommadawn, and his success was achieved despite the fact that reviews in the music press were unfavorable. Their single "Mistake" was called "mid-'70s arena rock" by one writer, while another reviewer said that "Oldfield kept fooling around with himself without rhyme or reason."
But Mike gave everything he had. When asked in the New Musical Express about his "hatred of animals", he replied: "I probably hate his rickety newspaper more than anything in the world." He also told the NME that his favorite movie was 2001: A Space Odyssey, and his heroes were Sibelius and Captain Kirk (from Star Trek).

In 1982, Mike undertook his longest tour to date, playing in Europe and North America. For his world tour he formed a new group in which he was accompanied by Maggie Reilly and ex-Gong percussionist Pierre Moerlen along with two keyboardists. The London concert was sympathetically reviewed by Ray Coleman in the Daily Express, who described the audience as "young newlywed couples looking to sit somewhere comfortable and spend the night listening to music".

May 1983 was the tenth anniversary of the release of Tubular Bells. Mike himself released his eighth album, Crises, and played a huge concert in July at London's Wembley Stadium. Musicians accompanying him at this event included drummer Simon Phillips and Phil Spalding, Toyah's bassist.

Crises would be the first record made with Simon Phillips as co-producer. Its vocalists were Jon Anderson from Yes and Roger Chapman from Family (in Shadow On The Wall) as well as the essential Maggie Reilly. The standout track was Moonlight Shadow. Sung by Maggie Reilly, it was widely understood as a tribute to the then recently deceased John Lennon and became Mike's most successful single since Portsmouth was released seven years earlier.

1984 was one of the most exhausting years of his entire career. He began with a donation of 300 pounds to the town of Presteigne (Wales), near the house where he secluded himself to film Hergest Ridge. The money would be used to pay someone to ring the church bell each night, as stipulated in an inheritance from a local wool merchant.

His professional activities in 1984 included the release of a new album, a 50-concert tour of Europe and the preparation of his first soundtrack. That soundtrack would be for the film The Killing Fields, (The Screams of Silence) by Roland Joffe. A highly praised film that dealt with the Cambodian civil war.
It was very difficult for Mike to write music for a film that was so emotionally captured. To compose the music he used a video synchronizer connected to his Fairlight. Much of it is based on the ethnic music of Cambodia. The main theme, Etude, was an adaptation of a song by Francisco Tárrega and was released as a single in December.

The 1984 Discovery album was the first Mike recorded outside of England. For that, he built a studio in a house 2,000 meters on a mountain in the Swiss Alps overlooking Lake Geneva and where he and Phillips co-produced a new selection of songs along with an instrumental titled The Lake. This time, the task of voicing the songs was shared between Maggie Reilly and Barry Palmer. Among the songs was To France, inspired by the life of Mary Stuart, Queen of Scots. Though only moderately successful in England, it was a hit across Europe.

By then, Mike's skills as a rock guitarist were winning over a large number of heavy music fans. In the heavy music magazine Kerrang!, veteran journalist Chris Welch enthusiastically quoted words from the Greek Thucydides in praise of Discovery: "For we are lovers of beauty yet simple in our tastes, and we cultivate the mind without losing our manhood." Discovery's music was featured on the 1984 European tour for which he would be accompanied by a band that included Maggie Reilly, Simon Phillips, Phil Spalding and Barry Palmer.
The Video Years: 1985-1988
In 1985, Virgin decided it was time to put out a compilation of material from Mike's 12-year career with the label. This is why he released a double album called The Complete Mike Oldfield. One of its four parts was dedicated to live recordings from tours of the previous five years. This included his outstanding playing on guitar on the Platinum tour in 1980.
By then, Mike's interests moved closer to using video for the creation of his musical works. To do this he equipped his home-studio in Buckinghamshire with the latest technological advances, such as a Quantel Mirage computer with which he generated the images for the Pictures In The Dark video. Featuring vocalists such as Barry Palmer, Anita Hegerland and 15-year-old boy soprano Aled Jones, he conceived a "video single" and released it in December 1985.
Mike's studio was outfitted with seven synthesizers, and in a 1986 interview Mike said that his working methods were diametrically opposed to those of musicians who dedicated themselves solely to sampling excerpts from other people's records: "I have a lot of my own samples and I usually take time at the end of each session to record the instruments that I have used".
In a later interview, he explained his preference for real instruments over synthesized instruments: "What I'm opposed to is making music with only computers. It's like you take some fancy type of pianola or barrel organ. They're totally soulless."
During 1986 Mike concentrated on creating a video album, which would be released later in October 1988 on VHS and Laserdisc and would be called Wind Chimes. Among his collaborators were in charge of the visual side characters like Alex Proyas (The Crow, Dark City), who created the images for the Magic Touch video and who had previously worked making video clips for Crowded House and many other bands.
The only new thing Mike released in 1986 was the single Shine, featuring Jon Anderson on vocals. The accompanying album for Wind Chimes would be Islands, which was released in September 1987. The two-part instrumental Wind Chimes was inspired by music Mike had heard on a visit to Bali and was co-produced by Simon Phillips. Among the musicians who contributed to the creation of Islands were Kevin Ayers, Roxy Music saxophonist Andy Mackay and Geoff Downes on keyboards. The lead vocalist for the title track would be Bonnie Tyler, and in October 1987 Mike would make one of those rare television appearances in which he played the song with Bonnie.
The end of the Virgin Era: 1989-1991
In 1989, Mike created a seven-minute version of Tubular Bells for the Nick Campbell Show on BBC Radio One. That made him revisit the idea of ​​creating a follow-up to his first great album, reworking his themes, but this time with 1990's technology. Tubular Bells II had been sitting on his agenda for many years.
Virgin executives had been looking forward to it, and in 1982 the New Musical Express made up the news that the release of TB II was imminent and that Mike was preparing for the release of the second part of the saga. Before that happened, he put out three more records. The first was Earth Moving, in 1989 in which no more and no less than seven vocalists sang for nine songs. Maggie Reilly returned singing Blue Night, while Chris Thompson of Manfred Mann's Earth would provide his vocals on two of the tracks.

Amarok (1990) was a return to the format of the great trilogy of 1973-75. Like Tubular Bells, Hergest Ridge and Ommadawn it was a single full-length symphony. Amarok reunited Mike with Tom Newman, the sound engineer for Tubular Bells. In a way, this was Mike's last work that bore any similarities to Tubular Bells.
The tubular bells and the caveman also made their appearance on this album. Amarok was a 60-minute piece of music that blended styles of English folk, flamenco, and African music, marrying the latest music and studio technology with classic Oldfield technology.
It is interesting to contrast the sound produced by the technological advances of the 1990s with those used when Tubular Bells was created at the then newly created Manor studios. But in both cases, Oldfield showed his mastery of all the latest developments and his ability to incorporate them into the creative process.

Heaven's Open was released in 1991 and was based on the familiar Platinum structure, a long composition and a few songs. For the first time, all the songs were sung by Mike himself, without inviting any other vocalist. As he said in an interview, "I'm doing a lot better now with my voice. It's been a real pleasure for me to discover that I wasn't as bad a singer as I had thought."
Mike was accompanied by a band made up of saxophonist Courtney Pine, Simon Phillips and pianist Mickey Simmonds, among others. Heaven's Open's feature length piece was the 20-minute opus titled Music From The Balcony. After fulfilling his contractual obligations that had bound him for eighteen years with Virgin Records, the label that had made him famous in 1973, Mike was preparing to record Tubular Bells II, this time for another company. Mike Oldfield's days with Virgin were over.
The story is not over
And as expected, the expectations that the WEA (his new label) placed on Tubular Bells II did not disappoint. Released in 1992, it was a resounding sales success. In addition, everything was accompanied by an extensive tour of Europe and North America, where he had not performed for a long time. And to top it off, Warner executives placed the famous producer Trevor Horn under Mike's orders.
For some time Mike himself had already told the media that he was thinking of doing a reissue of Tubular Bells with things that had been left unanswered on the first album in the tubular saga, and he thought it would be a good idea to wait until a new one was released, in this case the WEA, which in the end promised the author freedom of movement and a promotion of his album in North America, a market that Virgin had not even been able to touch.

The album cover, like that of Tubular Bells, was commissioned to the artist Trevor Key. The result is really impressive; a yellow tubular bell folded in three parts floating on a navy blue background that in this way enhances the image of the bell.

Tubular Bells II in essence is very similar to Tubular Bells I. In fact, if we listen to it, we can notice how there are parts that are totally analogous between the two albums. That is to say, there is a piano sequence that introduces the first part, just like in Tubular Bells I. We also find a reflection of the Piltdown Man piece that we can hear in Tubular Bells I. In addition, the sequence in which a ringmaster He introduces the different instruments that appear after him mentioning his name.
The piece that was released on Tubular Bells as a promotional single for the album and which was called "Mike Oldfield's Single" finds an almost twin brother on the track that is now called "Tattoo" on Tubular Bells II and which is performed on the bagpipes by the Los Angeles City Police Department Pipe Band. It really is a masterpiece of production. Three singles appeared: "Sentinel", "Tattoo" and "The Bell" of which there are about 5 or 6 versions with different masters of ceremonies and announcing the instruments in different languages.
One of them and curiously the most expensive because it was difficult to find was a collaboration with a host from Cadena 100 Radio, Carlos Finaly, a good friend of Mike's who had the pleasure of interviewing him and providing the voice in Spanish for said track. The presentation of Tubular Bells II was made with a great concert on the esplanade in front of the Edinburgh castle, in Scotland.
Although in principle such a presentation was scheduled to take place in Seville, it seems that last-minute problems with the organization of the event meant that everything was organized in Edinburgh. Everything was seen: fireworks, bagpipers, some madman yelling into a microphone, a great band of musicians, and most importantly, a bursting Mike Oldfield who gladdened the ears of the audience offering an impressive guitar performance.

After two years savoring the success of Tubular Bells II, at the end of 1994 Mike surprises his fans again with something that would be a true challenge for certain sensibilities. An album was presented almost entirely made with synthesizers, loops and drum machines.
Those who loved the simplicity and acoustic flavor of works like Hergest Ridge or Ommadawn were totally disappointed with this record. Some, on the contrary, praised it as one of his best albums.
The album was entitled "The Songs Of Distant Earth", and it was an electronic symphony evoked by reading the book of the same title by Arthur C. Clark, the same author of "2001 A Space Odyssey", Mike's favorite movie . This book deals with the extinction of life on earth and how human beings try to find a place in the universe where they can establish themselves as a civilization.
In addition, the CD version had an innovative element. It was the first record released for sale on the music market that incorporated a data track for use on a personal computer. The downside is that Mike chose to make it for the MAC, and left PC users a bit disappointed.

Later in 1996 "Voyager" came to light, a record with which he wanted to get closer to the Celtic roots that influenced records like Ommadawn and Hergest Ridge so much. Although there are will and themes that can be considered good, the general impression is that he does not succeed. It is not a record that his fans particularly like. In addition, during the period in which the album was recorded, Mike himself was not in the best environment.
He bought a house in Ibiza with views of the sea to, as he said, "Seek union with the elements" and relax. Ibiza is known for its nightclubs and its nightlife, and that was not lost on Mike, who was often seen staying up all night at many of them. He even starred in an unfortunate incident one day when he returned drunk at dawn in his Mercedes and crashed it into a tree. Bad times those.

In 1998, he published "Tubular Bells III" of which he had already given a depressing sample on the "XXV" compilation. Luckily for her fans and her own, the version that she puts on the album of her song "Secrets" is much more elaborate. Contrary to the first 2 Tubular Bells, this one does not have a "symphony with small movements" structure. Rather, they are independent tracks that do bear a certain resemblance to some of the tracks on the other 2 "tubular" discs.
With this album, Mike once again shows that he has not yet come out of the musical rut that he had in his Ibizan stage, although he has really brilliant tracks within him. A very remarkable one is the one that he uses as the conclusion to the album and that could have been called "The Bell III", since it was another revision of the aforementioned track from the previous Tubular Bells.
In this case it was called "Far Above The Clouds" and it is presented as master of ceremonies by his daughter Greta Marie, who was 10 years old at that time. With this album, Mike wanted to capture in some way the bad and frustrating things that happened to him during his stay in Eivissa, although with "Far Above The Clouds" he symbolizes the return to peace and the memory of what he left there, and he achieves that by adding a sound of birds singing that is heard at the end of the record.
The premiere, like all of them, was very well staged and developed, where both Mike and his musicians offered a great show to their audience. It took place at London's Horseguards Parade on September 4, 1998, next to the royal palace and got a little damaged due to rain and a blackout in the middle of the show.
Here Mike introduced us to what from then on seemed to be his muse singer, just like Maggie Reilly was in the 80s. It was Pepsi Demacque, a colored singer, who could not have had a better presentation before the many millions of spectators who were watching that spectacle. Her debut was magnificent, although her fans perhaps compared to Maggie began to split on her views on her.
The truth is that they were totally different singers. This time the cover design was carried out by an infographic design studio, Bill Smith's Studio, which was based on Trevor Key's previous designs. The reason for this change in designer was the death a few years ago of the aforementioned Trevor Key.

In 1999, Mike came up with the idea of ​​making a record-experiment. This album would be called "Guitars", and the title already gives a good clue of what it is. Absolutely all the "instruments" that are heard are guitars. An entire album played with guitars, but in which other instruments sound.
This is possible thanks to the famous MIDI pickups, in which the vibration of a guitar string is transformed into any MIDI instrument note that we have previously selected. Thanks to this Mike was able to include percussion, wind instruments, synthesizers and everything he could think of, but everything, absolutely everything, played with guitars.
The truth is, "Guitars" did not become a sufficiently admired album among Mike's followers, although it has really splendid tracks. Among them, to name a few, we could highlight "Muse", an acoustic theme that totally recalls the acoustic compositions of the 70s; "Cochise" in which Mike wastes all the energy that can be extracted from the guitars, and "Summit Day" one of his audience's favorites and which stands out for the enormous feeling and sensitivity that his notes radiate.
Shortly after the release of the album he embarked on a tour that took him all over Europe. It was called "Live Then & Now Tour" and in it he played songs from the album Guitars and Tubular Bells III, but he also reviewed old things like some songs from "Songs Of Distant Earth" and his essential "Shadow On The Wall" and "Moonlight Shadow", lavishly sung by Pepsi, who knew how to earn the public's warmth wherever he was.
On the tour they opened for the Galician group "Luar Na Lubre", whose singer, Rosa Cedrón, already knew Mike from having sung for him the song "The Inner Child", contained on the album Tubular Bells III. In addition, the composer of this group, Bieito Romero, was the one who composed the original theme on which Mike was based to make "The Song Of The Sun" that appears on his album "Voyager" in 1996. The theme in question, and in format original, it was called "O Son do Ar" (The sound of the wind) and the Luar had to play it, of course, in all the concerts they gave on this tour in which they accompanied Mike.

Already at the time of the promotion of his album "Guitars", Mike acknowledged in some interviews that he was involved in the composition of an album that would be a tribute to the 2000 years of history that have elapsed since the birth of Christ. And at the end of 1999 the WEA released the album "The Millennium Bell".
Curiously, the cover says a lot about the concept of the album. A folded bell, as usual, floating among an amalgamation of objects such as planets, guitars, swords, butterflies, astronauts, Dali's famous melted clock and some other things.
This time the cover was designed by the infographic company "Blue Cactus". It's possibly the strangest record Mike has put out in his entire career. He reviews not only 2000 years of history, but also many musical styles with which he seems to want to show that apart from mastering many instruments, he also mastered many styles. The album begins with "Peace On Earth", a kind of Christmas song in which the birth of Christ is remembered, then "Pacha Mama", inspired by a trip that Mike made to Cuzco, in Peru.
Pacha Mama was one of the singles from the album, and to make it reflect and evoke the atmosphere of the time and the magic of the Inca shamans, he called on singer Miryam Stockley (known for her work on Adiemus and with Karl Jenkins), already a choir It is curious that before the album came out, in all their reviews a track appeared that in the end was either not included on the album or it was the same Pacha Mama with another name. This track was called "Excalibur".
To commemorate the discovery of America, he wanted to put "Santa María" on the album, a track very similar in style to one that Vangelis already did in his day for a movie soundtrack. It is followed by "Sunlight Shining Through Clouds", a magnificent song in which slavery in America is remembered.
To do this, Mike brings to the music a ready-made letter, exactly the same as the gospel song "Amazing Grace". This is the theme that Mike leaves for Pepsi on the album, and although he doesn't give him a chance to show off, the truth is that it looks pretty good. At first there were rumors that the one that would appear on the album would be a rap song and his fans did not sit well with it. A surprise!!, "The Doge's Palace".
It was a memory of one of the most influential families of Renaissance Venice. In it, an orchestra plays a kind of polka that is accompanied by a choir that from time to time sings out loud the names of various members of the Doge family. Then comes another example that a musician like Mike can do things with a lot of feeling. The track in question would be called "Lake Constance".
It is followed by "Mastermind", which is reminiscent of Chicago in the 1920s with its gangster gangs. "Broad Sunlit Uplands" and "Liberation" were added as a sad WWII throwback. Another of the album's surprises was "Amber Light" and it served to commemorate the arrival of the dawn of the new millennium.
The really impressive thing about this song is, apart from the beauty of the melody, the union of 2 choirs singing together with Miryam Stockley, David Serame and Nicola Emmanuel, who would lead the main voices. An attempt was made to make a version of this theme with the special collaboration of Nelson Mandela who would quote the introductory words, but the numerous commitments of this character prevented this from taking place on schedule, so the project was aborted.
And as a climax to the strangest album in Mike's career comes the track that gives it its name, "The Millennium Bell", which was a review of all the songs on the album, but this time in a reprise version.
As a premiere, he gave a concert to celebrate the arrival of the new millennium at the Siegessäule in Berlin, about 300 m from the Brandenburg Gate. It is estimated that close to a million people were there present. Mike wanted to commemorate that occasion with the creation of a theme, "Berlin 2000", which would serve to end the concert.
His next work would come two years later: Tr3s Lunas. As a curiosity, we will say that this album was supposed to be the first of a contract of 3 (although in the end he only did 2) with Warner Spain as a local artist. The album's title is a tribute to an Ibizan cocktail bar called Dos Lunas. In fact, the album still shows the influence of Ibiza in Oldfield. It is clearly Chill-Out in tone, although with the peculiar touch of Oldfield and his guitars.
The presentation was held at the City of Sciences in Valencia. The album consisted of two CD's: the first contained the 13 music tracks plus a remix of the single: To be free. The second CD contained a video game, called Music-VR, designed after Oldfield's own ideas and where music had a great leading role. The press focused on this content, practically ignoring the music CD, and the album was not well received by fans, who expected something more classic.
The following year, he concluded his period with WEA with the publication of "Tubular Bells 2003", a re-recording of Oldfield's best-known album. Throughout his career, Mike had declared that he was not happy with the version that was finally published of his first film, he saw it full of imperfections, a product of the rush and lack of means that he had in 1973. For this reason 30 years later, he re-recorded the entire album note for note.
Although it appeared divided into tracks, the structure is exactly the same and the variations are minimal, although the sound was very clear, which according to some fans took away part of the charm of the work. Either way, this album demonstrated the validity of that sound and Oldfield's virtuosity on guitar.
And 2005 arrives, after a new encounter with videogames with the second part of Music-VR: "Maestro", our artist changes company and signs for Universal. As a public premiere Light+Shade, a double album made up of a chill out style album: "Ligth", very much in the style of "Tr3s Lunas" and a more dance-oriented one: "Shade", where he performs all kinds of experiments with techniques of electronic music.
Even though it is of a higher quality than "Tr3s Lunas", that Oldfield style does not come to fruition and sales are not very good. In any case, it is worth highlighting some songs like "Tears for an Angel". With this we come to 2006 where a triple compilation album titled "The Platinum Collection" is published, in an attempt to encompass 32 years of career in 3 cd's.
Already at the end of that same year Mike is called from Nokia Night of the proms to perform some concerts at this great festival in Germany, Mike travels from England to give those concerts as the main role, performing several mini concerts during a long week, already in 2007 Mike pulls out his autobiography: "Changeling." As soon as this book was published, Mike was given the chance to return to Spain with Night of the Proms again, performing in Valencia on March 30 and on the 31st in Madrid with Ana Torroja and other groups.
After various delays, the main one due to the birth of a new son, on March 17, 2007 "Music of the Spheres" is released, the first classical album from Reading. Under the Universal Classics & Jazz label, Oldfield was produced by Karl Jenkins (founder of the Adiemus group).
The album also features the collaboration of vocalist Hayley Westenra and virtuoso pianist Lang Lang. The official presentation of the album took place on March 7, 2008 at the Guggenheim Museum in Bilbao, with the interpretation of the Euskaudiko Orkestra Sinfonikoa accompanying Oldfield himself.
On June 8, 2009, the umpteenth reissue of the legendary Tubular Bells goes on sale, in various formats. It is worth noting the Super Deluxe Edition that contains the new mixes made in the Bahamas (his current residence), the first digital edition of "Mike Oldfield's Single", the 1971 demos, the initial scratched mix from the spring of '73, a 5.1 mix Surround, a BBC video and the original mixes on CD and vinyl. In addition, the box contains a book and various memorabilia material. A signed and numbered edition went on sale from this edition.
Search Posts by Categories:
and subscribe to our social channels for news and music updates: