Follow @LibrarySheet
Table of Contents
Enya – Only Time (piano solo sheet music)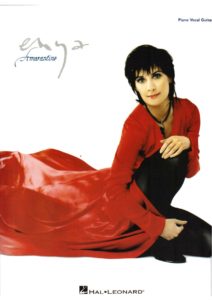 Enya
Bunker castle, without a partner and does not give concerts: what happened to Enya, the queen of New Age music?
At 61, he lives in his own world without being seen in public for almost a decade
Since 2015 he has not published any new album or any new song
Eithne Pádraigín Ní Bhraonáin. The queen of the New Age, better known as Enya, is one of the most jealous people on her private life who inhabit the face of the earth. Enya 0'Brennan, as she was last introduced in public more than seven years ago, lives in seclusion in her Victorian-style castle in the town of Killiney, not far from Dublin. The property of 4 million euros, she barely represents a tiny part of her personal fortune, which exceeds one hundred million euros , being one of the three richest people in Ireland
Her castle, named by Enya herself as Manderley Castle in honor of the famous mansion in the movie Rebecca, saw how the singer-songwriter herself climbed the walls that isolate her from the world beyond three meters to hide from the eyes of others, and to protect herself from assault attempts, there were two in 2005. Few data are confirmed by the protagonist herself, but it is said that in both raids she took refuge in a panic room that she built specifically for this type of situation.
A life full of mystery and many unanswered questions
In the few interviews she has given, all many years ago, she declares that she is "afraid of marriage" because she is afraid of not corresponding to the image people have of her. "To create the music that I compose, I have to put everything aside and focus completely on getting the composition just the way I want it," she says.
At the moment, at 61 years old, no other company is known for her than that of a dozen cats and the service that attends her in her mansion, although in 2016 several publications on social networks from close friends suggested that she had married in secret in an intimate ceremony. Nothing is confirmed as of today.
Composer and producer of her own works, although the Ryan family, especially her friend Roma Ryan, the wife of her first producer, has always been an important part of her success, especially in different lyrics of her songs, she has tried on numerous occasions to hire her to give majestic concerts, but she has refused, arguing that "creating the atmosphere that I create in my studio is difficult to emulate live," she says.
Eight albums and an Oscar nomination
The fifth of nine children, Enya started in the world of music in 1979 with several of her brothers joining the group Clannad. Before Watermark (1988), the work that elevated her as queen of queens, she took a giant step in 1986 by accepting a commission from the BBC to put music to their documentary series "The Celts". itself I am not exaggerating if I confess that I have listened to that album thousands of times, purer and more intoxicating than Watermark , recognized by critics as "an album that marked a milestone in history."
His discography is not extensive. His first five works sold millions and millions of copies. The fifth album, Amarantine (2005) did not achieve the same success, although he invented a new invented language, "loxian" , and continued betting on the superposition of his voice in up to 80 different tracks, the latest generation synthesizers and light melodies, although recognizable for all his fans, perpetuating a unique and unmistakable style.
His last two works, And Winter Came (2008) and Dark Sky Island (2015) have not had, by far, the same success or recognition as the first ones that launched him to fame, despite having sold millions of records. There was even some critical voice when in the video of the central theme of his latest work, Echoes in Rain , it was confirmed that there were only women playing the instruments and integrating the choir.
Perhaps the peak of his career was his Oscar nomination for best original song. It was in 2002, when she performed "May it Be", one of the main themes of The Lord of the Rings. She did not get the award, but everyone gave her as a favorite before the gala. Few have dared, like her, to sing in ten different languages, including Japanese and Spanish.
Since 2015, silence. A thousand and one anecdotes have dotted his existence since then. That if he has married, that if they put his name to a new fish found in the Orinoco for one of its best-known themes (Orinoco Flow), that if they put his name to asteroid number 6433 of the series of the Center for Minor Planets discovered in 1978, that if an Italian stabbed himself with a photograph of Enya around his neck, that if one of his songs, "Only Time", is little less than the soundtrack of the 9/11 tragedy, that if he said "No " to James Cameron to compose the OST of Titanic… and so on almost to infinity.
Discography of Enya
The Celts (1987)
Watermark (1988)
Shepherd Moons (1991)
The Memory of Trees (1995)
A Day Without Rain (2000)
Amarantine (2005)
And Winter Came… (2008)
Dark Sky Island (2015)
Search Posts by Categories:
and subscribe to our social channels for news and music updates: