Follow @LibrarySheet
Bester Notendownload aus unserer Bibliothek.
Lyrics
Smile though your heart is aching
Smile even though it's breaking
When there are clouds in the sky you'll get by
If you smile through your fear and sorrow
Smile and maybe tomorrow
You'll see the sun come shining through
For you Light up your face with gladness
Hide every trace of sadness
Although a tear maybe ever so near
That's the time you must keep on trying
Smile- what's the use of crying
You'll find that…
"Smile" ist ein Lied, das auf einem Instrumentalthema basiert, das im Soundtrack von Charlie Chaplins Film Modern Times von 1936 verwendet wurde. Chaplin komponierte die Musik, inspiriert von Puccinis Tosca. John Turner und Geoffrey Parsons fügten 1954 den Text und den Titel hinzu. In den Texten, die auf Zeilen und Themen aus dem Film basieren, sagt der Sänger dem Zuhörer, dass er sich freuen soll und dass es immer ein strahlendes Morgen gibt, solange sie lächeln .
"Smile" ist seit seiner ursprünglichen Verwendung in Chaplins Film zu einem beliebten Standard geworden und wurde von zahlreichen Künstlern aufgenommen. Das Lied wurde auch von Jimmy Durante als Teil seines Albums Jackie Barnett Presents Hello Young Lovers aufgenommen. Seine Version ist Teil des Soundtracks zum Film Joker aus dem Jahr 2019 mit Joaquin Phoenix und Robert De Niro.
Judy Garland sang 1963 eine Version von "Smile" in der Ed Sullivan Show.
Das Lied wurde in den Soundtrack von Chaplins biografischem Film von 1992 aufgenommen, der von seinem Hauptdarsteller Robert Downey Jr. gecovert wurde.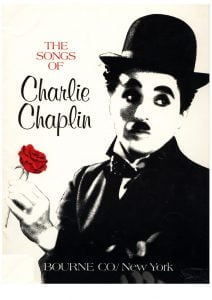 Browse in the Library:
and subscribe to our social channels for news and music updates:
Search Posts by Categories: