Follow @LibrarySheet
Awesome document: JOE PASS ON GUITAR – Scales for altered dominant turnarounds, sheet music, Noten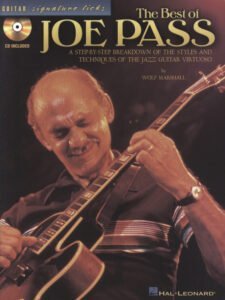 Joe Pass
Certain particularities in life led me to show concern about the origins of the solo guitar, that is, the development of the Chord Melody that is not always pondered . I looked to George Van Eps and Luiz Bonfa , guitarists who moved through the unstable arenas of jazz and samba, for Tal Farlow's versions, but I think that nobody, at least before that January 13, 1974, has developed a style completely solo and with as much movement and beauty as that of Joe Pass .
At that time, Miles Davis had already released "Bitches Brew" (1969), an album that undoubtedly broke chains and conventions and made possible new ways of conceiving songs and interpreting standards; the "Sgt. Pepper's Lonely Hearts Club Band". Both albums were very influential in this artistically expansive era: from the sound, to the artistic-musical and including the cover art, everything experienced an unexpected sophistication.
It is a year in which genres as overloaded and disruptive as free jazz, progressive rock and Latin jazz are presented as trends that are at the top of the wave, and which also enjoy great acceptance by the public. They are genres that adhere to new compositional structures and sound nuances and that also take advantage of technological evolution using synthesizers, effects pedals and new and sophisticated guitar and amplifier designs.
In that same year, Joseph Anthony Jacobi Passalacqua sports a thick mustache, has overcome his self-destructive tendencies, is still thin, and is 45 years old. He is no longer a neophyte in the matter: he has been playing the guitar for thirty-six years and a ten-year career. He has already recorded seven albums and with "Virtuoso" , he intends to turn his career around.
Among his previous albums are: "Catch me!" (1963), where the vertigo of Be-Bop is the common denominator; "The Sounds of Synanon" (in honor of the Center where he rehabilitated himself from his heroin addiction), LP where he shows quite an inclination towards blues, especially marked by the accompaniment of horns; the ill-fated "The Stones Jazz" (1967), in my humble opinion, one of the albums that has the least reason for being in his extensive discography or the brilliant "For Django" (1968), one of the most representative in his career and in which Pass reinterprets songs by Django Reinhardt: "Limehouse", "Nuages", "Rosetta".
Virtuoso sound
"Virtuoso" (Pablo Records) is presented as the first LP in which Joe Pass plays completely alone, and in which he displays a new and traditional style at the same time. "Virtuoso" arrives as a crystalline and clean corpus of covers: devoid of any characteristics of free jazz and jazz fusion, except for the great ability to improvise that it demonstrates throughout an album that pays homage to guitarists such as Charlie Christian, Django Reinhardt , Barney Kessel and as he himself mentions, "musicians from the 40s".
Pass appears to us as an excellent guitarist, as he demonstrates by varying the equalization in the sound of a guitar that always sounds, however, clean, and that at times reminds us of Kenny Burrel for his characteristic simplicity and vertigo in his phrasing. and for that traditional and classic sound. In some ways, we can compare him to a Wes Montgomery who sometimes played with his "eighth notes", and sometimes in a more conventional style.
"Virtuoso" is characterized by the intimate sense of each of his interpretations, by the enormous amount of technical resources in which he alternates between thick and sharp notes, rhythm changes, walking bass, double stops, chords played en bloc, counterpoints, polyphony, arpeggios and phrasings that seem to not obey scales (and often remind of trumpet phrasing).
Pass, in an inverse way, achieves a record that is a true innovation and redefinition for the guitar and of course for Joe Pass himself, who does without pedals, bands or synthesizers for his production: he only uses his old Gibson E 175 , in which his hands must be arranged in a different way, because with this style, he has largely dispensed with the use of the pick, which he always places between his teeth to use from time to time, playing in a very different way from what he a band guitarist does.
In his versions, and with only six strings, Pass manages to develop in us a very particular aesthetic experience, which first goes through an estrangement and then gives us standards that sound as if he were the author of these pieces.
The album compositions
"Night and Day", the Cole Porter classic, is like a clear sky, where Pass uses his usual walking bass impeccably, knowing how to give certain nuances reminiscent of movie music.
Miles Davis' "Stella by Starlight" is undoubtedly one of the best on this album in terms of both emotionality and technical prowess. It is worth adding the natural melody of the version, and in which Pass knows how to make each of his arrangements effective.
"Sweet Lorraine" in which the frequency and rhythm that the open strings give to the version is impressive, especially the thicker ones. He also uses certain counterpoint resources that he will use in future versions, such as "Yesterday" by Paul McCartney.
Monk's "Round Midnight" , Pass's version is very different from Monk's, perhaps it is the piece that sounds the most classical or Spanish elements.
History has been fair with "Virtuoso, Vol. I", the first in a long series, because today it is recognized as a true innovation and redefinition. Mimicking sometimes a keyboard, other times the big bands of Charlie Parker or Duke Ellington…by paying attention to detail, to creating a unique style in terms of playing techniques, Pass makes every performance sound fresh.
In his repertoire of chords, he chooses the simplest, with his right hand he develops a sound rich in timbres: the pizzicato, the cello, the brass, the pianissimo, various techniques that Pass also worked on, a bit like Andrés Segovia. Perhaps in "Virtuoso" there are remnants of Francisco Tárrega, because Pass's innovation was to return to the roots of the guitar itself and to the very roots of Afro-American music.