Follow @LibrarySheet
Wussten Sie, dass Charles Chaplin selbst der Komponist der meisten (wenn nicht aller) Soundtracks seiner Filme war? Und wir haben die Noten in unserer Bibliothek.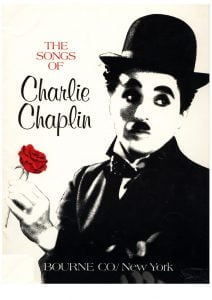 Tracklist:
Modern Times
City Lights
A Dog`s Life
Modern Times
A King in New York
The Great Dictator
Limelight
The Pilgrim
A Countess from Hongkong
Shoulder Arms
Gold Rush
Die Summe von Charlie Chaplins musikalischem Erbe wird oft und fälschlicherweise als das Lied "Smile" von 1954 angesehen, das Jahrzehnte zuvor als Liebesthema im Film "Modern Times" begann. Bei seinem Warner-Debüt offenbart der Geiger Philippe Quint, begleitet von der Pianistin Marta Aznavoorian und bei zwei Titeln von dem Geiger Joshua Bell begleitet, die wahren Tiefen von Chaplins musikalischem Geist.
Bester Notendownload aus unserer Bibliothek.
Chaplin komponierte den größten Teil seiner Karriere, veröffentlichte Musik von 1916 bis zur Stummfilmära und komponierte ab 1931 für den Rest seines Lebens Filmmusik. Er behauptete, Musik sei als junger Mann "in seine Seele eingedrungen". Aber Chaplin hatte Mühe, ernst genommen zu werden. Er konnte weder Noten lesen noch schreiben und wurde als Amateur, als Scharlatan, als bloßer "Hummer" abgetan.
Es bedurfte einer kleinen Armee, um Chaplins Summen, seinen schiefen Gesang und sein willkürliches Klavier- und Geigenspiel in die Realität des Orchesters umzusetzen. Quint hat die Werke nun für Violine und Klavier arrangiert. Etwas Raum für interpretatorische Darbietungen ist gegeben, obwohl die Arrangements im Allgemeinen ihren Ursprüngen als sentimentale Filmmelodien treu bleiben.
Es gibt etwas Schmalz, aber es ist kontrolliert und kontextualisiert, und neben dieser treffenden Romantik gibt es viel Kunstfertigkeit, Virtuosität und Energie.
Quint, Aznavoorian und Bell offenbaren die entwaffnende Einfachheit von Chaplins anmutiger und bezaubernder Musik, die, wie der Geiger sagt, "die tiefsten Tiefen unserer Seele erreicht".
Search Posts by Categories:
and subscribe to our social channels for news and music updates: