Follow @LibrarySheet
Table of Contents
Thelonious Monk – Blue Sphere (sheet music transcription)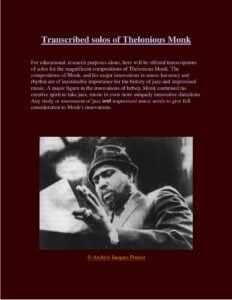 Thelonious Monk
10 things you didn't know about Thelonious Monk
If you listen to jazz, you know the work of Thelonious Monk. Famous for his musical style and dress, the American pianist and composer is the second most recorded jazz artist after Duke Ellington. If you consider that Ellington composed over 1,000 pieces of music and Monk wrote about 70, that says a lot about the enduring power of this composer's works.
While many know Monk for being a key member of the jazz revolution that took place in the early 1940s, here are some facts you might not know about one of the early creators of modern jazz and bebop:
At the age of five or six, he learned to read music by choosing melodies on his family's piano and watching over his sister's shoulder as she took lessons. By age 13, he was playing at a local bar with a trio. He also performed at the Apollo Theater's famous weekly amateur music competitions, but won so many times that he was eventually banned from the event.
Monk's earliest known recording dates back to 1944, when he was working as a member of Coleman Hawkin's quartet. He did not record under his own name until 1947, when he performed as the leader of a sextet session for Blue Note.
In 1954, Monk became one of only five jazz musicians to ever grace the cover of Time Magazine. The others are Louis Armstrong, Dave Brubeck, Duke Ellington and Wynton Marsalis.
Thelonious Monk is famous for his unique piano style. He sometimes flattened his fingers when playing the piano and used his elbows and forearms to get the sound he wanted.
Monk never spoke to his audience and rarely gave interviews - he preferred to let his music speak for itself.
During gigs and recording sessions, he would occasionally get up from his bench and break into a dance to emphasize the rhythm he wanted from his band members.
He was both a good friend and teacher of American jazz pianist Bud Powell.
Monk's composition 'Brilliant Corners' was so difficult to play that the final recorded version took over 25 takes to complete, and it was only by merging two versions that it was completed.
While many recognize his full name as Thelonious Sphere Monk, his middle name on his birth certificate was Junior.
Thelonious Monk was repeatedly victimized by the police, resulting in the loss of his cabaret card and therefore his ability to perform in New York nightclubs. This happened three times, in 1948 after an arrest for marijuana possession, in 1951 after a narcotics arrest with Bud Powell, and in 1958 after an altercation with Delaware state troopers.
Compositions
Thelonious Monk composed a lot, and many of his songs became standards de jazz : Ask Me Now, Blue Monk, Epistrophy, In Walked Bud, 'Round Midnight, Straight, No Chaser, Well, You Needn't, etc.
Discography
During his lifetime, more than 50 records by Thelonious Monk were released, under his name or under the names of other musicians. Since his death, other recordings are available: for example in 2005 an unreleased live with John Coltrane.