Follow @LibrarySheet
Hidetoshi Sato 佐藤 英敏 – A Cruel Angel's Thesis 残酷な天使のテーゼ – Neon Genesis Evangelion 新世紀エヴァンゲリオン sheet music 楽譜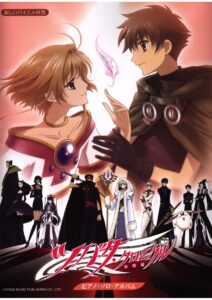 The soundtracks of Neon Genesis Evangelion were produced for the 1995 anime series of the same name and its sequels, remakes and spinoffs. Shiro Sagisu composed the tracks under the direction of Hideaki Anno, director of the series. In addition to Sagisu's compositions, the soundtracks include pieces by Masami Okui, Kotono Mitsuishi and a wide repertoire of classical music, including symphonies by Beethoven, Bach, Giuseppe Verdi and other composers.
Under the direction of Toshimichi Ōtsuki, a representative of King Records and one of the producers of the series, "A Cruel Angel's Thesis" was composed as the series' opening theme song. The series used "Fly Me to the Moon", originally written by Bart Howard, as the closing theme song.
Different versions of the song were recorded by British singer Claire Littley, Yoko Takahashi and the anime's main female voice actors, Megumi Hayashibara, Kotono Mitsuishi and Yuko Miyamura.
The anime soundtrack was collected in three main albums, released in 1995 and 1996. These were followed by several studio albums, collections and remixes. Sagisu also composed the soundtracks for the Rebuild of Evangelion tetralogy—a remake of the original series—and several derivative video games.
Critics have compared several pieces to Beatles songs and soundtracks from earlier animes, such as Mobile Suit Gundam and Space Battleship Yamato. Sagisu's work has been well received by critics and audiences alike; several albums and singles from the soundtrack have been certified gold or platinum in Japan, reaching the top of the national charts. According to SciFi Japan, albums dedicated to Evangelion have sold a total of nine million copies.