Follow @LibrarySheet
Table of Contents
Schumann – Piano Concerto Op. 54 Theme from 1st Mov. Piano Solo reduction
Browse in the Library:
and subscribe to our social channels for news and music updates:
Robert Schumann
Despite his troubled state of mind, or perhaps because of it, Schumann succeeded in completing hundreds of compositions for piano, chamber, orchestra, lieder, and even an opera.
Already from an early age, Schumann suffered from a serious mental illness that he created moods ends and exhaustion when he concluded one of his masterpieces.
Robert Schumann (1810-1856) was a composer, pianist, conductor and critic of music in the NINETEENTH-century German and one of the most important figures of the Romantic musical.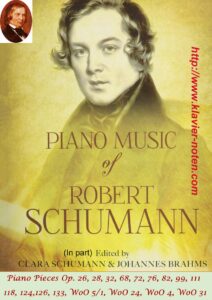 Already in his early years of life, the child Robert became a wonder to the music. At 6 years old he received his first lessons, and composed his first pieces of music. However, as a teenager, his father pressed him to enter the University of Leipzig to study Law. But the stubborn young man continued taking piano lessons at the home of pianist, composer and piano teacher Friedrich Wieck (1785-1873).
And it is there where the German he met the daughter of his teacher, Clara Wieck, the brilliant pianist, who, despite a strong opposition from her father that went to court, he ended up getting married in 1840 to start a fruitful musical association to each other and to other composers key as Brahms .
The experts assert that, from an early age, Robert Schumann suffered from a serious mental illness that created moods ends and a mental exhaustion every time he concluded one of his masterpieces.
Some described this condition as bipolar disorder, others such as schizophrenia and other as dementia praecox. Such was his bipolarity that he himself wrote about and developed in their works two characters, antagonists, Eusebius and florestan's responding to your two states of mind: a rare and very depressing.
But in all the music critics agree on is that the majority of their technically these are extremely difficult score, its loudness and its more beautiful and contrasting pieces for piano would not have been so without the accused madness, which led to the death in a mental institution at the age of 46 years.
There is No confunfir the German musician of the NINETEENTH century with the French politician of German descent, Jean-Baptiste Nicolas Robert Schuman (known as Robert Schumann), regarded as one of the "fathers of Europe".
Biography of Robert Schumann
Childhood and adolescence
Robert Alexander Schumann was born in Zwickau (Germany) on June 8, 1810, when Mozart was already 19 years deceased, and Beethoven had 16 years to follow in the footsteps of the austrian. Franz Schubert , his great influence romantic, I was 13 years old .
From the age of six they're familiar with and gave piano lessons.
After attending four years at a private school, at the age of nine he entered the high school Zwickau Gymnasium, where he stayed for eight courses up to his 17 years.
In those teen years, as his father was a bookseller, he had access to the works of the romantic writers of fashion (Byron, Goethe, Jean Paul Richter etc) and was able to cultivate his taste for classical music and admiration for the burgeoning austrian composer Franz Schubert ( 1797- 1828). At this age he composed his first songs (lieder).
In Leipzig
In 1828, at the age of 18 years, Robert Alexander completed his studies and was pressured by his parents to study Law, which he did, though very reluctantly, at the University of Leipzig.
However, during his stay in Leipzig, Robert devoted all his efforts to the composition of songs, piano practice, and even to write.
During long months was installed in the house of a piano teacher Friedrich Wieck aspiring to become a famous concert pianist. And it was there that he injured his right hand after forcing it open with an invention to improve your technique , and must thereafter give up on their dreams as a concert pianist to devote himself to composition and music criticism.
In the sentimental, it is in the residence Wieck where you know who would be the love of his life, the girl's Clear, then nine years old.
Clara Wieck was brewing which would be a brilliant pianist and performer. And Robert Alexander a turbulent struggle to get a forbidden love, since that time.
In Heidelberg
In the summer of 1829 Robert left Leipzig to temporarily installed in Heidelberg, about 500 km There he composed waltzes in the style of Franz Schubert published later as piano pieces in their Papillons (Opus 2).
Back to Leipzig
In the fall of 1830, after much insistence and the assessment of his early works, his parents allowed him to return to Leipzig to complete his training musicial with Wieck.
This was never sure of the mental capacity and stability of your pupil to meet an effort demanding. So much less I was willing to a union of sentimental apt pupil with his daughter.
Clara Schumann (Wieck)
Key person in the life and work of Schumann was Clara Wieck .
As we have seen, Robert knew, in his master's home when I was 9 years old and when Clara turned 16, missed no opportunity to woo her, struggle, and even plead with his father for three years until 1840, when she was 21 and he's 30, married.
It is striking that the fact that Robert had committed with Ernestine von Fricken since 1830, but his love for Clara did break his promise with Ernestine in 1836.
Clara Schumann was the musical inspiration of Robert whenever he was not on tour as a pianist. Many of the works of the composer are inspired in Clear ( Chiarina the flame in a beautiful piece of Carnival op. 9), written for her or directed by it (through their influence on Robert).
In fact, Clara encouraged him to compose cyclically (1840 lieder, 1841 symphonies, 1842 chamber music) throughout his eventful life as a musical.
Music critic
Schumann was a successful music critic with your reviews published in the Neue Zeitschrift für Musik managed to aupar to the summit composers mature of his time such as Brahms or Chopin .
Schumann The Great Piano Works (Wolfram Schmitt-Leonardy y Klára Würtz)
Track List:
Klára Würtz: 00:00:00 Robert Schumann: Piano Sonata No. 1 in F-Sharp Minor, Op. 11: Introduzione (un poco adagio)-allegro vivace
00:12:42 Robert Schumann: Piano Sonata No. 1 in F-Sharp Minor, Op. 11: Aria 00:15:45 Robert Schumann: Piano Sonata No. 1 in F-Sharp Minor, Op. 11: Scherzo e Intermezzo, allegrissimo 00:20:39 Robert Schumann: Piano Sonata No. 1 in F-Sharp Minor, Op. 11: Finale, allegro un poco maestoso 00:32:30 Robert Schumann: Piano Sonata No. 2 in G Minor, Op. 22: So rasch wie möglich schneller- noch schneller 00:38:16 Robert Schumann: Piano Sonata No. 2 in G Minor, Op. 22: Andantino, getragen 00:43:16 Robert Schumann: Piano Sonata No. 2 in G Minor, Op. 22: Scherzo, sehr rasch und markiert 00:44:52 Robert Schumann: Piano Sonata No. 2 in G Minor, Op. 22: Rondo, presto
Wolfram Schmitt-Leonardy: 00:50:04 Robert Schumann: Carnaval, Op. 9: I. Préambule: Quasi maestoso 00:52:31 Robert Schumann: Carnaval, Op. 9: II. Pierrot: Moderato 00:54:30 Robert Schumann: Carnaval, Op. 9: III. Arlequin: Vivo 00:55:32 Robert Schumann: Carnaval, Op. 9: IV. Valse noble: Un poco maestoso 00:57:39 Robert Schumann: Carnaval, Op. 9: V. Eusebius: Adagio 00:59:22 Robert Schumann: Carnaval, Op. 9: VI. Florestan: Passionato 01:00:19 Robert Schumann: Carnaval, Op. 9: VII. Coquette: Vivo 01:01:53 Robert Schumann: Carnaval, Op. 9: VIII. Réplique: L'istesso tempo 01:02:51 Robert Schumann: Carnaval, Op. 9: IX. Sphinxes
01:03:55 Robert Schumann: Carnaval, Op. 9: X. Papillons: Prestissimo 01:04:40 Robert Schumann: Carnaval, Op. 9: XI. A.S.C.H.–S.C.H.A., Lettres dansantes: Presto 01:05:36 Robert Schumann: Carnaval, Op. 9: XII. Chiarina: Passionato 01:07:04 Robert Schumann: Carnaval, Op. 9: XIII. Chopin: Agitato 01:08:21 Robert Schumann: Carnaval, Op. 9: XIV. Estrella: Con affetto 01:08:51 Robert Schumann: Carnaval, Op. 9: XV. Reconnaissance: Animato 01:10:29 Robert Schumann: Carnaval, Op. 9: XVI. Pantalon et Colombine: Presto 01:11:25 Robert Schumann: Carnaval, Op. 9: XVII. Valse allemande: Molto vivace 01:12:24 Robert Schumann: Carnaval, Op. 9: XVIII. Paganini, Presto
01:14:10 Robert Schumann: Carnaval, Op. 9: XIX. Aveu, Passionato 01:15:13 Robert Schumann: Carnaval, Op. 9: XX. Promenade: Commodo 01:17:38 Robert Schumann: Carnaval, Op. 9: XXI. Pause: Precipitandosi 01:17:56 Robert Schumann: Carnaval, Op. 9: XXII. Marche des 'Davidsbündler' contre les Philistins: Non allegro 01:21:49 Robert Schumann: Toccata, Op. 7 01:28:56 Robert Schumann: ABEGG Variations, Op. 1: Thema 01:29:58 Robert Schumann: ABEGG Variations, Op. 1: Variation 1 01:31:23Robert Schumann: ABEGG Variations, Op. 1: Variation 2 01:32:28 Robert Schumann: ABEGG Variations, Op. 1: Variation 3 01:33:25 Robert Schumann: ABEGG Variations, Op. 1: Cantabile
01:34:37 Robert Schumann: ABEGG Variations, Op. 1: Finale alla Fantasia 01:37:09 Robert Schumann: Symphonische Etüden, Op. 13 (including 5 posthumous variations): Thema: Andante 01:38:33 Robert Schumann: Symphonische Etüden, Op. 13 (including 5 posthumous variations): Etüde I: Un poco più vivo 01:39:43 Robert Schumann: Symphonische Etüden, Op. 13 (including 5 posthumous variations): Anhang Variation 1 01:41:37 Robert Schumann: Symphonische Etüden, Op. 13 (including 5 posthumous variations): Etüde II: Espressivo 01:44:38 Robert Schumann: Symphonische Etüden, Op. 13 (including 5 posthumous variations): Etüde III: Vivace
01:45:57 Robert Schumann: Symphonische Etüden, Op. 13 (including 5 posthumous variations): Etüde IV 01:46:53 Robert Schumann: Symphonische Etüden, Op. 13 (including 5 posthumous variations): Etüde V: Scherzando 01:48:13 Robert Schumann: Symphonische Etüden, Op. 13 (including 5 posthumous variations): Anhang Variation 4 01:51:40 Robert Schumann: Symphonische Etüden, Op. 13 (including 5 posthumous variations): Etüde VI: Agitato 01:52:35 Robert Schumann: Symphonische Etüden, Op. 13 (including 5 posthumous variations): Etüde VII: Allegro molto 01:53:49 Robert Schumann: Symphonische Etüden, Op. 13 (including 5 posthumous variations): Anhang Variation 2 01:56:09 Robert Schumann: Symphonische Etüden, Op. 13 (including 5 posthumous variations): Anhang Variation 5
01:59:39 Robert Schumann: Symphonische Etüden, Op. 13 (including 5 posthumous variations): Etüde VIII: Sempre marcatissimo 02:02:13 Robert Schumann: Symphonische Etüden, Op. 13 (including 5 posthumous variations): Etüde IX: Presto possibile 02:02:54 Robert Schumann: Symphonische Etüden, Op. 13 (including 5 posthumous variations): Anhang Variation 3 02:04:19 Robert Schumann: Symphonische Etüden, Op. 13 (including 5 posthumous variations): Etüde X: Con energia sempre 02:05:39 Robert Schumann: Symphonische Etüden, Op. 13 (including 5 posthumous variations): Etüde XI: Con espressione 02:08:58 Robert Schumann: Symphonische Etüden, Op. 13 (including 5 posthumous variations): Etüde XII: Finale, allegro brillante
Klára Würtz: 02:15:18 Robert Schumann: Fantasiestücke, Op. 12: I. Des Abends 02:18:41 Robert Schumann: Fantasiestücke, Op. 12: II. Aufschwung 02:21:34 Robert Schumann: Fantasiestücke, Op. 12: III. Warum? 02:24:06 Robert Schumann: Fantasiestücke, Op. 12: IV. Grillen 02:27:37 Robert Schumann: Fantasiestücke, Op. 12: V. In der Nacht 02:31:24 Robert Schumann: Fantasiestücke, Op. 12: VI. Fabel
02:33:56 Robert Schumann: Fantasiestücke, Op. 12: VII. Traumes Wirren 02:36:08 Robert Schumann: Fantasiestücke, Op. 12: VIII. Ende vom Lied 02:40:51 Robert Schumann: Arabeske, Op. 18 02:47:11 Robert Schumann: Kinderszenen, Op. 15: I. Von fremden Ländern und Menschen 02:48:57 Robert Schumann: Kinderszenen, Op. 15: II. Kuriöse Geschichte 02:50:02 Robert Schumann: Kinderszenen, Op. 15: III. Hasche-Mann 02:50:31 Robert Schumann: Kinderszenen, Op. 15: IV. Bittendes Kind 02:51:38 Robert Schumann: Kinderszenen, Op. 15: V. Glückes genug
02:52:41 Robert Schumann: Kinderszenen, Op. 15: VI. Wichtige Begebenheit 02:53:30 Robert Schumann: Kinderszenen, Op. 15: VII. Träumerei 02:56:11 Robert Schumann: Kinderszenen, Op. 15: VIII. Am Kamin 02:57:05 Robert Schumann: Kinderszenen, Op. 15: IX. Ritter vom Steckenpferd 02:57:40 Robert Schumann: Kinderszenen, Op. 15: X. Fast zu ernst 02:59:30 Robert Schumann: Kinderszenen, Op. 15: XI. Fürchtenmachen
03:00:53 Robert Schumann: Kinderszenen, Op. 15: XII. Kind im Einschlummern 03:03:03 Robert Schumann: Kinderszenen, Op. 15: XIII. Der Dichter spricht