Follow @LibrarySheet
Meet Gershwin At The Piano – Sheet Music, Noten, partitura, partition, spartiti
Pianist: Marc-André Hamelin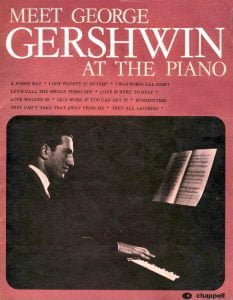 Track List:
Swanee 0:01
Nobody but you 0:38
I'll build a Stairway to Paradise 1:30
Do it again 2:11
Fascinating Rhythm 3:36
Oh, Lady Be Good 4:25
Somebody Loves Me 5:34
Sweet and Low Down 6:48
That certain feeling 7:36
The Man I love 9:01
Clap yo' hands 11:26
Do-do-do 12:06
My one and only 12:56
'S Wonderful 13:40
Strike up the band 14:47
Liza – All the clouds'll roll away 15:36
I Got Rhythm 17:34
Who Cares as Long as You Care for Me? 18:43
Marc-André Hamelin
"A performer of near-superhuman technical prowess" (The New York Times), pianist Marc-André Hamelin is known worldwide for his unrivaled blend of consummate musicianship and brilliant technique in the great works of the established repertoire, as well as for his intrepid exploration of the rarities of the 19th, 20th, and 21st centuries. He regularly performs around the globe with the leading orchestras and conductors of our time, and gives recitals at major concert venues and festivals worldwide.
Highlights of Mr. Hamelin's 2023–2024 season include a vast variety of repertoire performed with the Philharmonisches Orchester Hagen (Beethoven's Piano Concerto No. 3), Netherlands Radio Philharmonic (Reger's Piano Concerto), and Los Angeles Chamber Orchestra (music by Franck and Boulanger). Recital and chamber music appearances take Mr. Hamelin to Prague, Poland, Oslo, Hamburg's Elbphilharmonie, London's Wigmore Hall, Amsterdam's Muziekgebouw, Portland Piano International, Cleveland Chamber Music Society, Cliburn Concerts and Brevard Music Center with Johannes Moser, and across the U.S. with the Takács Quartet.
Festival appearances include Tanglewood, Le Festival de Lanaudière, Grand Teton Music Festival, Tuckamore Festival, Schubertiade, and Rockport Chamber Music Festival.
Mr. Hamelin is an exclusive recording artist for Hyperion Records, where his discography spans more than 70 albums, with notable recordings of a broad range of solo, orchestral, and chamber repertoire. In September 2023, the label releases Mr. Hamelin's recording of Fauré's Nocturnes and Barcarolles, including a short four-hand suite, played with his wife,Cathy Fuller. In 2022, he released both a two-disc set of C. P. E. Bach's sonatas and rondos and a two-disc set of William Bolcom's complete rags that both received wide critical acclaim.
Mr. Hamelin has composed music throughout his career, with over 30 compositions to his name. The majority of those works—including the Études and Toccata on "L'homme armé," commissioned by the Van Cliburn International Piano Competition—are published by Edition Peters. Mr. Hamelin performed his Toccata on "L'homme armé" along with music by C.P.E. Bach and William Bolcom on NPR's Tiny Desk in 2023. His most recent work, his Piano Quintet, was premiered in August 2022 by himself and the celebrated Dover Quartet at La Jolla Music Society.
Mr. Hamelin makes his home in the Boston area with his wife, Cathy Fuller, a producer and host at Classical WCRB. Born in Montreal, he is the recipient of a Lifetime Achievement Award from the German Record Critics' Association, and has received 7 Juno Awards, 11 Grammy nominations, and the 2018 Jean Gimbel Lane Prize in Piano Performance from Northwestern University's Bienen School of Music. In December 2020, he was awarded the Paul de Hueck and Norman Walford Career Achievement Award for Keyboard Artistry from the Ontario Arts Foundation. Mr. Hamelin is an Officer of the Order of Canada, a Chevalier de l'Ordre national du Québec, and a member of the Royal Society of Canada.
Writing in The New Yorker in 2000, senior critic Alex Ross said: "Hamelin's legend will grow—right now, there is no one like him."
Later in 2010, Ross added that Hamelin was ranked highly by piano connoisseurs, and "admired for his monstrously brilliant technique and his questing, deep-thinking approach."
In 2015, Zachary Woolfe, classical music editor of The New York Times, noted Mr. Hamelin's "preternatural clarity and control, qualities that in him don't preclude sensitivity [or] even poetry"