Follow @LibrarySheet
Table of Contents
애니 재즈 (카우보이비밥, 루팡3세, 스페이스코브라, 원피스, 사무라이참프루)│Anime Jazz Compilation Vol 2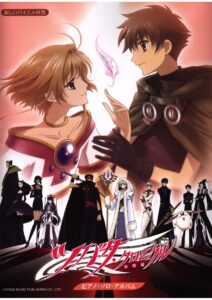 Track List:
Cowboy Bebop 00:00 Road to the West 02:56 N.Y Rush 08:01 The Egg and You 11:46 Bad Dog No Biscuits 15:57 Car24 18:49 The Singing Sea 23:29 What planet is this! 28:00 Clutch
Lupin III 33:14 Angel Dance 38:42 Hey! Mr. Lucky 43:58 Samba Temperado 47:10 Love Theme 52:29 Superhero 53:52 Funky Monster Party 57:40 Zenigata March (Slow Version) 59:54 Buono!! Buono!! 1:03:30 Zenigata Rock 1:08:02 Lupintica Night
Space Adventure Cobra 1:09:25 Window Shopping 1:11:32 Heiwa e no Datsushutsu 1:14:47 The Psychogun 1:17:13 Mirage 1:20:49 Twilight Memory 1:24:27 Special Moment 1:27:24 Kedarui Taikutsu 1:30:14 C. Silhouette 1:31:40 Kyûtomoto no saikai
One Piece 1:34:15 Sanji's Treat 1:36:30 Explosion! Sanji Keeps On Kicking! 1:36:53 Sanji 1:39:10 Miss All Sunday 1:40:26 Nami and Muchi 1:42:41 Sanji Counterattack! 1:43:20 A Serious Duel!
Samurai Champloo 1:44:34 Aruarian dance 1:48:41 The Space Between Two Worlds 1:53:20 How You Feel 1:57:46 Just Forget 2:01:39 Kodama 2:02:43 Not Quite Seleah 2:04:43 Tsurugi No Mai 2:08:06 Sincerely
Anime Jazz music on:
Cowboy Bebop カウボーイビバップ
Cowboy Bebop (Japanese: カウボーイビバップ, Hepburn: Kaubōi Bibappu) is a Japanese neo-noir space Western anime television series which aired on TV Tokyo and Wowow from 1998 to 1999.
It was created and animated by Sunrise, led by a production team of director Shinichirō Watanabe, screenwriter Keiko Nobumoto, character designer Toshihiro Kawamoto, mechanical designer Kimitoshi Yamane, and composer Yoko Kanno, who are collectively billed as Hajime Yatate.
The series, which ran for twenty-six episodes (dubbed "sessions"), is set in the year 2071, and follows the lives of a traveling bounty-hunting crew aboard a spaceship, the Bebop. Although it incorporates a wide variety of genres, the series draws most heavily from science fiction, Western, and noir films. Its most prominent themes are existential boredom, loneliness, and the inability to escape one's past.
The series was dubbed into English by Animaze and ZRO Limit Productions, and was originally licensed in North America by Bandai Entertainment (and is now licensed by Crunchyroll) and in Britain by Beez Entertainment (now by Anime Limited); Madman Entertainment owns the license in Australia and New Zealand. In 2001, it became the first anime title to be broadcast on Adult Swim.
Cowboy Bebop has been hailed as one of the greatest animated television series of all time. It was a critical and commercial success both in Japanese and international markets, most notably in the United States. It garnered several major anime and science-fiction awards upon its release, and received unanimous praise for its style, characters, story, voice acting, animation, and soundtrack. The English dub was particularly lauded, and is regarded as one of the best anime English dubs.
Credited with helping to introduce anime to a new wave of Western viewers in the early 2000s, Cowboy Bebop has also been called a gateway series for anime as a whole.
『カウボーイビバップ』(Cowboy Bebop)は、サンライズ(現・バンダイナムコフィルムワークス)制作の日本のSFアニメ作品。テレビ東京系などで1998年(平成10年)4月から同年6月にかけて全26話中の一部(後述)が放送され、その後WOWOWで同年10月から1999年(平成11年)4月にかけて全26話が放送された。また、2001年(平成13年)9月には劇場作品『カウボーイビバップ 天国の扉』が公開された。
1998年(平成10年)11月開催の第3回アニメーション神戸で作品賞・テレビ部門を受賞。2000年(平成12年)の日本SF大会で星雲賞メディア部門を受賞。
Lupin the Third ルパン三世
Lupin III (Japanese: ルパン三世, Hepburn: Rupan Sansei), also written as Lupin the Third, Lupin the 3rd, or Lupin the IIIrd, is a Japanese media franchise created by Monkey Punch in 1967. The series follows the endeavors of master thief Lupin III, grandson of gentleman thief Arsène Lupin, joined by his criminal gang. The original Lupin III manga began in Weekly Manga Action on August 10, 1967.
The series' success spawned a media franchise that includes numerous manga, seven animated television series, eleven theatrically released animated films, two live-action films, five OVA works, twenty-seven animated television specials, two musicals, and several video games.
Over fifty years after its creation, Lupin III remains popular, with a seventh anime series airing in 2021 and new ONAs released in 2023. Critical reception of the franchise has been largely positive across its various incarnations, with the appeal of the lead characters being noted as the primary factor of the series' success.
The voice acting (in both Japanese and English versions) and soundtracks (especially those composed by Yuji Ohno) of the anime adaptations have also received similar compliments; however, several of the franchise's installments, most specifically the television specials, have been criticized for being formulaic.
The manga has also been noted by fans and critics for its darker tone compared to the anime, with its explicit depictions of sex and violence, as well as its black, fourth wall-breaking sense of humor, contrasting with the mostly family-friendly animated versions.
For several years, issues relating to the copyright of Maurice Leblanc's intellectual property meant that the Lupin name was removed from its releases outside Japan, usually changed to "Rupan" or "Wolf". However, the copyright has since expired, allowing foreign releases to use the Lupin name.
Many different companies have owned the English-language distribution rights to various Lupin III properties at various times. Tokyopop acquired the license to the original manga in 2002, and later the second series in 2004. Seven Seas Entertainment licensed manga collections in 2020.
Funimation Entertainment dubbed and released several of the television specials and films from 2002 to 2006, and the fourth television series in 2013. Between 2003 and 2007, Geneon licensed and dubbed the first 79 episodes of the second television series, 26 of which were broadcast in the United States on Adult Swim in 2003 and 52 in Canada on G4techTV in 2007.
Discotek Media licensed the first six television series in the franchise and the first live-action film; they also own the rights to numerous other Lupin titles, including several previously released by other companies.
『ルパン三世』(ルパンさんせい)は、モンキー・パンチによる日本の漫画作品およびそれを原作としたアニメ作品。
怪盗アルセーヌ・ルパンの孫・ルパン三世を主人公に設定している。1971年にテレビアニメ化されてからは映画、OVA、ゲーム化などの各種メディア展開がされ、現在に至るまで半世紀以上、幅広い層からの人気を得ている。
原作漫画(旧)
『漫画アクション』1967年8月10日号(創刊号)から1969年5月22日号まで連載。全94話。
モート・ドラッカー(Mort Drucker)の影響を残すひょろりとした線で描かれる長身の登場人物。アニメの義賊的なイメージ(特に第1シリーズ後半以降)とは趣が異なり、ルパン本人の美学に忠実ながら殺人やレイプを厭わない悪党として描かれる(エロティック・クライム・サスペンス)。ハードボイルド色が強い描写や性的な描写が頻繁だが、アニメに見られるジョークや人情味は少ない。
Space Adventure Cobra コブラ (漫画)
Cobra (Japanese: コブラ, Hepburn: Kobura) is a Japanese manga series written and illustrated by Buichi Terasawa. Set in the far future, the series tells the story of Cobra, who lives an adventurous life until his enemies begin to hunt him down.
Cobra surgically alters his face and erases his own memory to hide from his foes and have a normal life. Eventually, he regains his memories and reunites with his former partner Lady Armaroid. Terasawa devised it as a mix of Spaghetti Western and samurai stories, and aspects of films, varying from James Bond to Disney.
The manga was originally serialized in Shueisha's Weekly Shōnen Jump from November 1978 to November 1984. Later, Shueisha collected the chapters and published them in 18 tankōbon volumes.
The Cobra manga spawned various sequel manga series, one-shots, a 1982 feature-length anime film, two anime television series (a 31-episode series in 1982, and a 13-episode series in 2010), two original video animations (OVAs) in 2008–2009, audio albums, video games, and other merchandise.
In the United States, portions of the manga were published by Viz Media in 1990 and the complete sequel series was published in Kindle format by Creek & River in 2015. The feature film was licensed by Tara for its release in American theaters and by Manga Entertainment in British theaters in 1995. Urban Vision and Discotek Media released it for the home video market, while Madman Entertainment acquired it for the Australasian region's release. The anime series was licensed in the Northern American region by Nozomi Entertainment.
In Japan, the Cobra manga has sold 50 million copies, making it one of Weekly Shōnen Jump's best-selling manga series of all time. Publications for manga, anime and other media have compared the series to Star Wars and Barbarella, and the main character's attitude to James Bond. Its film adaptation received mixed reviews, and the original anime series as well as Cobra the Animation has been well received by reviewers.
The anime series was very popular in France in the 1980s, and French-speaking filmmakers and studios have attempted to adapt it into live-action films or animated series in the 2000s and in the 2010s.
コブラ』(COBRA THE SPACE PIRATE)は、寺沢武一の漫画作品。および作品内の主人公の名称。
概要
左腕に特殊な高性能光線銃「サイコガン」を付けた、一匹狼の宇宙海賊・コブラの活躍を、アメコミ風タッチで描く痛快SFアクション(スペースオペラ)。原型となる作品に『シグマ45』がある。
『週刊少年ジャンプ』(集英社)にて1978年45号から1984年48号にかけて、157回分が断続的に連載され、その後も『スーパージャンプ』に連載された後、同業他社であるメディアファクトリー社(MF社。現・KADOKAWA)のコミック雑誌・『コミックフラッパー』に移籍。以後も断続的にではあるが作品を継続している。2019年11月からはKADOKAWAのWEBコミックサイト「COMIC Hu」で最新エピソード『COBRA OVER THE RAINBOW』の連載が開始されている。単行本化されたエピソードは、たびたび版を変えて再発売されるロングセラーになっている。2018年4月時点で単行本の全世界累計発行部数は5000万部を突破している。
One Piece ワンピース
One Piece (stylized in all caps) is a Japanese manga series written and illustrated by Eiichiro Oda. It has been serialized in Shueisha's shōnen manga magazine Weekly Shōnen Jump since July 1997, with its individual chapters compiled into 107 tankōbon volumes as of November 2023.
The story follows the adventures of Monkey D. Luffy and his crew, the Straw Hat Pirates, where he explores the Grand Line in search of the mythical treasure known as the "One Piece" in order to become the next King of the Pirates.
The manga spawned a media franchise, having been adapted into a festival film by Production I.G, and an anime series by Toei Animation, which began broadcasting in 1999. Additionally, Toei has developed fourteen animated feature films, one original video animation, and thirteen television specials.
Several companies have developed various types of merchandising and media, such as a trading card game and numerous video games. The manga series was licensed for an English language release in North America and the United Kingdom by Viz Media, and in Australia by Madman Entertainment. The anime series was licensed by 4Kids Entertainment for an English-language release in North America in 2004 before the license was dropped and subsequently acquired by Funimation in 2007.
One Piece has received praise for its storytelling, world-building, art, characterization, and humor. It has received many awards and is ranked by critics, reviewers, and readers as one of the best manga of all time.
By August 2022, it had over 516.6 million copies in circulation in 61 countries and regions worldwide, making it the best-selling manga series in history, and the best-selling comic series printed in book volume. Several volumes of the manga have broken publishing records, including the highest initial print run of any book in Japan.
In 2015 and 2022, One Piece set the Guinness World Record for "the most copies published for the same comic book series by a single author". It was the best-selling manga for eleven consecutive years from 2008 to 2018, and is the only manga that had an initial print of volumes of above 3 million continuously for more than 10 years, as well as the only that had achieved more than 1 million copies sold in all of its over 100 published tankōbon volumes. One Piece is the only manga whose volumes have ranked first every year in Oricon's weekly comic chart existence since 2008.
『ONE PIECE』(ワンピース)は、尾田栄一郎による日本の少年漫画作品。『週刊少年ジャンプ』(集英社)にて1997年34号から連載中。略称は「ワンピ。
概要
海賊王を夢見る少年モンキー・D・ルフィを主人公とする、「ひとつなぎの大秘宝(ワンピース)」を巡る海洋冒険ロマン。
夢への冒険・仲間たちとの友情といったテーマを前面に掲げ、バトルやギャグシーン、感動エピソードをメインとする少年漫画の王道を行く物語として人気を博している。また、長年にわたりながら深く練り込まれた壮大な世界観・巧緻な設定のストーリーも特徴。
2023年7月の時点で単行本は第106巻まで刊行されており、『週刊少年ジャンプ』歴代作品の中では『こちら葛飾区亀有公園前派出所』(1976年 – 2016年)に次ぐ長期連載となっている。国内累計発行部数は2022年時点で日本の漫画では最高となる4億1000万部を突破している。また、第67巻は初版発行部数405万部の国内出版史上最高記録を樹立し、第57巻(2010年3月発売)以降の単行本は初版300万部以上発行を継続するなど、出版の国内最高記録をいくつも保持している。
2015年6月15日には "Most Copies Published For The Same Comic Book Series By A Single Author(最も多く発行された単一作者によるコミックシリーズ)" 名義でギネス世界記録に認定された。実績は発行部数3億2,086万6,000部(2014年12月時点。なお、このギネス世界記録は2022年7月付で同作品によって更新され、日本では同年8月に「日本国内累計発行部数4億1656万6000部」と報道された。
本作とともに長年ジャンプの看板作品であった『NARUTO -ナルト-』同様、海外での人気も高い。海外では翻訳版が60以上の国と地域で販売されており、海外でのコミックス累計発行部数は2022年8月時点で1億部を突破、全世界累計発行部数は2022年8月の時点で5億1000万部を突破している。
1999年よりテレビアニメがフジテレビ系列で放送されており、東映アニメーション製作のアニメ作品としては最長のロングラン作品になっている(詳細はONE PIECE (アニメ)を参照)。
Samurai Champloo サムライチャンプルー
Samurai Champloo (Japanese: サムライチャンプルー, Hepburn: Samurai Chanpurū) is a 2004 Japanese historical adventure anime television series. The debut television production of studio Manglobe, the 26-episode series aired from May 2004 to March 2005.
It was first partially broadcast on Fuji TV, then had a complete airing on Fuji Network System. It was licensed for North American broadcast on Adult Swim, and for commercial release, first by Geneon Entertainment and later by Crunchyroll. It was also licensed for English releases in the United Kingdom by MVM Films, and in Australia and New Zealand by Madman Entertainment.
A manga adaptation was serialized in Monthly Shōnen Ace during 2004, later released in North America by Tokyopop the following year.
The series is set in a fictionalized version of Edo period Japan, blending traditional elements with anachronistic cultural references including hip hop. The series follows the exploits of tea waitress Fuu, vagrant outlaw Mugen, and ronin Jin. Fuu saves Mugen and Jin from execution, then forces the pair to aid in her quest to find a samurai who smells of sunflowers.
Structured similar to a road movie, the series focuses on tolerance and acceptance of minorities contrasted against its setting, with a central theme being the portrayal and acceptance of death.
Director Shinichirō Watanabe began planning for the series in 1999, creating the characters and premise during his work on Cowboy Bebop: The Movie and The Animatrix, and began pre-production in 2002. The staff included character designer and animation director Kazuto Nakazawa and writers Shinji Obara and Yukihiko Tsutsumi of Office Crescendo. The music was composed by hip hop artists Shinji "Tsutchie" Tsuchida of Shakkazombie, Fat Jon, Nujabes and Force of Nature.
The production was unstructured, with the scenario going through multiple revisions, and Watanabe bringing in multiple guest creators to ensure a high animation quality. Reception of the series has been positive, with praise focusing on its animation and music, and proved a commercial success in the West.
『サムライチャンプルー』(SAMURAI CHAMPLOO)は、マングローブ原作・制作による日本のオリジナルテレビアニメ作品、および、これを原作とした漫画作品。
概要
『カウボーイビバップ』を手掛けた渡辺信一郎監督によるテレビアニメシリーズ。
フジテレビと関西テレビの深夜枠で、2004年5月19日から9月22日まで(フジテレビの場合)放送された。全二十六話が制作されたが、地上波での放送はフジテレビの編成の都合上、第十七話で打ち切られた(関西テレビでの放送も、フジテレビ同様に第十七話まで)。BSフジでは一話から十七話を第一シーズン、十八話から二十六話を第二シーズンとして放送した(第二シーズンは土曜朝10時30分から11時00分と深夜からの移動となったと共に金曜深夜にリピート放送もあった)。後にアニマックスでも放送された。
Blu-rayBOXの発売に先駆け、2011年7月17日にニコニコ生放送にて、フジテレビ未放送のエピソードを含む全二十六話が一挙生配信された。
世界観
江戸時代の日本を舞台としているものの、チャンプルーの名前通り、随所に現代文化がミックスされた独特の世界観が特徴。登場人物はカタカナ語(「バイト」、「モデル」など)や若者言葉(「マジ」、「たりぃ」など)を話し、金髪にピアスの若者やヒューマンビートボクサーが登場するなど、時代考証を無視した時代劇が展開されている。渡辺監督によれば、これは作品に面白味と新鮮味を出すための演出であり、第一回の冒頭において視聴者に対し「ガタガタ言うな。黙って見やがれ」とのメッセージが送られている。
また、監督自身が好むヒップホップカルチャーが全編を通じて根底にあり、音楽のみならずブレイクダンスを用いた殺陣など演出方法もその影響を受けている。