Search Posts by Categories:
and subscribe to our social channels for news and music updates:
Duke Ellington: the 100 most inspiring musicians of all time
American pianist Duke Ellington (born Edward Kennedy Ellington, (b. April 29, 1899, Washington, D.C., U.S.—d. May 24, 1974, NewYork, N.Y.) was one of the most influential jazz composers and bandleaders of the 20th century. One of the originators of big-band jazz, Ellington led his band for more than 50 years, composed thousands of scores, and created one of the most distinctive ensemble sounds in all of Western music.
Duke Ellington grew up in a secure, middle-class family in Washington, D.C. His family encouraged his interests in the fine arts, and he began studying piano at age seven. Inspired by ragtime performers, he began to perform professionally at age 17. On July 2, 1918, a 19-year-old Ellington married Edna Thompson, who had grown up across the street from
him. Their son Mercer was born March 11, 1919. (Another child, born the following year, died in infancy.)
Ellington first played in New York City in 1923. Later that year he moved there and, in Broadway nightclubs, led a sextet that grew in time into a 10-piece ensemble. The singular blues-based melodies, the harsh, vocalized sounds of his trumpeter, Bubber Miley (who used a plunger ["wa-wa"] mute), and the sonorities of the distinctive trombonist Joe ("Tricky Sam") Nanton (who played muted "growl" sounds) all influenced Ellington's early "jungle style," as seen in such masterpieces as "East St. Louis Toodle-oo" (1926) and "Black and Tan Fantasy" (1927).
Extended residencies at the Cotton Club in Harlem (1927–32, 1937–38) stimulated Ellington to enlarge his band to 14 musicians and to expand his compositional scope.
He selected his musicians for their expressive individuality, and several members of his ensemble—including trumpeter Cootie Williams (who replaced Miley), cornetist Rex Stewart, trombonist Lawrence Brown, baritone saxophonist Harry Carney, alto saxophonist Johnny Hodges, and clarinetist Barney Bigard—were themselves important jazz artists. (With these exceptional musicians, who remained with him throughout the 1930s, Ellington made hundreds of recordings, appeared in films and on radio, and toured Europe in 1933 and 1939.
The expertise of this ensemble allowed Ellington to use new harmonies to blend his musicians' individual sounds. He illuminated subtle moods with ingenious combinations of instruments; among the most famous examples is "Mood Indigo" in his 1930 setting for muted trumpet, unmuted trombone, and low-register clarinet.
In 1931 Ellington began to create extended works, including such pieces as Creole Rhapsody, Reminiscing in Tempo, and Diminuendo in Blue/Crescendo in Blue. He composed a series of works to highlight the special talents of his soloists. Williams, for example, demonstrated his versatility in Ellington's miniature concertos Echoes of Harlem and Concerto for Cootie. Some of Ellington's numbers—notably "Caravan" and "Perdido" by trombonist Juan Tizol—were cowritten or entirely composed by sidemen.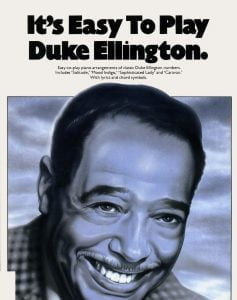 A high point in Ellington's career came in the early 1940s, when he composed several masterworks—including the above-mentioned Concerto for Cootie, his fast-tempo showpieces "Cotton Tail" and "Ko-Ko," and the uniquely structured, compressed panoramas "Main Stem" and "Harlem Air Shaft"—in which successions of soloists are accompanied
by diverse ensemble colours.
The variety and ingenuity of these works are extraordinary, as are their unique forms, which range from logically flowing expositions to juxtapositions of line and mood. By then, Billy Strayhorn, composer of what would become the band's theme song, "Take the 'A' Train," had become Ellington's composing-arranging partner.
Not limiting himself to jazz innovation, Ellington also wrote such great popular songs as "Sophisticated Lady," "Rocks in My Bed," and "Satin Doll." In other songs, such as "Don't Get Around Much Any More," "Prelude to a Kiss," and "I Let a Song Go out of My Heart," he made
wide interval leaps an Ellington trademark. A number of these hits were introduced by Ivy Anderson, who was the band's female vocalist in the 1930s.
During these years Ellington became intrigued with the possibilities of composing jazz within classical forms. His musical suite Black, Brown and Beige (1943), a portrayal of African American history, was the fi rst in a series of suites he composed, usually consisting of pieces linked by subject matter.
It was followed by, among others, Liberian Suite (1947); A Drum Is a Woman (1956), created for a television production; Such Sweet Thunder (1957), impressions of William Shakespeare's scenes and characters; a recomposed, reorchestrated version of Nutcracker Suite (1960; after Peter Tchaikovsky); Far East Suite (1964); and Togo Brava Suite (1971).
Ellington's symphonic A Rhapsody of Negro Life was the basis for the film short Symphony in Black (1935). Ellington wrote motion-picture scores for The Asphalt Jungle (1950) and Anatomy of a Murder (1959)
and composed for the ballet and theatre—including, at the height of the civil rights movement, the show My People (1964), a celebration of African American life.
In his last decade he composed several pieces of sacred music. Although Ellington's compositional interests and ambitions changed over the decades, his melodic, harmonic, and rhythmic characteristics were for the most part fixed by the late 1930s, when he was a star of the swing era.
Ellington's stylistic qualities were shared by Strayhorn, who increasingly participated in composing and orchestrating music for the Ellington band. During 1939–67 Strayhorn collaborated so closely with Ellington that jazz scholars may never determine how much the gifted deputy influenced
or even composed works attributed to Ellington.
The Ellington band toured Europe often after World War II; it also played in Asia (1963–64, 1970), West Africa (1966), South America (1968), and Australia (1970) and frequently toured North America. Despite this grueling schedule, some of Ellington's musicians stayed with him for decades; Carney, for example, was a band member for 47 years. For the most part, later replacements fit into roles that had been created by their distinguished predecessors.
Not least of the band's musicians was Ellington himself, a pianist whose style originated in ragtime and the stride piano idiom of James P. Johnson and Willie "The Lion" Smith. He adapted his style for orchestral purposes, accompanying with vivid harmonic colours and, especially in later years, offering swinging solos with angular melodies.
An elegant man, Ellington maintained a regal manner as he led the band and charmed audiences with his suave humour. His career spanned more than half a century— most of the documented history of jazz. He continued to lead the band until shortly before his death in 1974.
Track Listing:
00:00:00 In a Sentimental Mood 00:02:31 Take the "A" Train 00:05:26 Caravan 00:09:55 Perdido 00:13:03 Summertime 00:15:16 Five O'Clock Drag 00:18:26 Don't Mean a Thing 00:20:53 All of Me 00:23:25 Battle of Swing 00:26:18 Honeysuckle Rose 00:30:35 Jungle Jamboree 00:33:16 Cotton Club Stomp 00:36:05 In the Shade of the Old Apple Tree 00:39:20 Blue Mood 00:42:15 Chlœ : song of the swamp 00:45:45 The Mood to Be Wooed 00:48:36 Blue Serge 00:51:56 Carnegie Blues 00:54:37 Rockin' in Rhythm