Search Posts by Categories:
and subscribe to our social channels for news and music updates:
Ella Fitzgerald: the 100 most inspiring musicians of all time
American singer Ella Fitzgerald (b. April 25, 1917, Newport News, Va., U.S.—d. June 15, 1996, Beverly Hills, Calif.) became world-famous for the wide range and rare sweetness of her voice, and was an international legend during a career that spanned some six decades.
Singing in a style influenced by the jazz vocalist Connee Boswell, Fitzgerald won amateur talent contests in New York City before she joined the Chick Webb orchestra in 1935; Webb became the teenaged Fitzgerald's guardian when her mother died. She made her first recording, "Love and Kisses," in 1935, and her first hit, "A-Tisket, A-Tasket," followed in 1938. After Webb's death in 1939, she led his band until it broke up in 1942. She then soloed in cabarets and theaters, toured internationally with such pop and jazz stars as Benny Goodman, Louis Armstrong, Duke Ellington, the Mills Brothers, the Ink Spots, and Dizzy Gillespie, and recorded prolifically.
During much of her early career, she had been noted for singing and recording novelty songs. Her status rose dramatically in the 1950s when jazz impresario Norman Granz became her manager. From 1956 to 1964 she recorded a 19-volume series of "songbooks," in which she interpreted nearly 250 outstanding songs by Richard Rodgers, Cole Porter, George Gershwin, Duke Ellington, Jerome Kern, Irving Berlin, and Johnny Mercer. This material, combined with the best jazz instrumental support,
clearly demonstrated Fitzgerald's remarkable interpretative skills. Although her diction was excellent, her rendition of lyrics was intuitive rather than studied. For many years, the star attraction of Granz's Jazz at the
Philharmonic concert tours, she was also one of the bestselling jazz vocal recording artists in history. She appeared in films (notably Pete Kelly's Blues in 1955), on television, and in concert halls throughout the world. She also recorded a number of live concert albums and produced a notable
duet version of Porgy and Bess (1957) with Armstrong. During the 1970s she began to experience serious health problems, but she continued to perform periodically, even after heart surgery in 1986, until about 1993.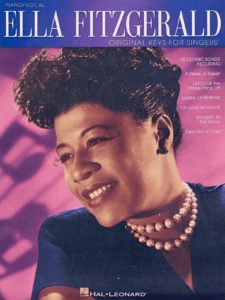 Fitzgerald's clear tone and wide vocal range were complemented by her mastery of rhythm, harmony, intonation, and articulation. She was an excellent ballad singer, conveying a winsome, ingenuous quality. Her
infectious scat singing brought excitement to such concert recordings as Mack the Knife: Ella in Berlin, and was widely imitated by others. She won 12 Grammy Awards and several other honors.
TRACKLIST:
1. Sam and Delilah : 00:00 2. But Not for Me : 03:14 3. My One and Only : 06:45 4. Let's Call the Whole Thing Off : 09:21 5. Beginner's Luck : 13:47 6. Oh, Lady Be Good : 16:55 7. Nice Work If You Can Get It : 20:54 8. Things Are Looking Up : 24:25 9. Just Another Rhumba : 27:28 10. How Long Has This Been Going On ? : 33:02 11. S Wonderful : 36:48 12. That Certain Feeling : 40:16 13. By Strauss : 43:18 14. Someone to Watch Over Me : 45:46 15. The Real American : 50:18
16. Who Cares ? : 54:01 17. Looking for a Boy : 57:07 18. They All Laughed : 01:00:10 19. My Cousin In Milwaukee : 01:03:12 20. A Froggy Day : 01:06:19 21. Clap Yo' Hands : 01:09:50 22. For You, for Me , for Evermore : 01:12:18 23. Stiff Upper Lip : 01:15:41 24. Boy Wanted : 01:18:31 25. Strike Up the Band : 01:22:04 26. Soon : 01:24:37 27. I'v Got a Crush On You : 01:26:57 28. Didin' My Time : 01:30:25 29. Aren't Kind of Glad We Did ? : 01:33:06
30. Of Thee I Sing (Baby) : 01:36:34 31. The Half of It, Dearie, Blues : 01:39:41 32. I Was Doing All Right : 01:43:26 33. He Loves and She Loves : 01:46:51 34. Love Is Sweeping the Country : 01:49:37 35. Treat Me Rough : 01:53:01 36. Love Is Here to Stay : 01:55:56 37. Slap That Bass : 01:59:48 38. Shall We Dance : 02:03:07 39. Love Walked In : 02:06:14 40. You've Got That What Gets Me : 02:10:05 41. They Can't Take That Away From Me : 02:12:19 42. Embraceable You : 02:15:26 43. I Can't Be Bothered Now : 02:20:15 44. Boy ! What Love Has Done to Me : 02:23:03
45. Fasinatin' Rhythm : 02:26:50 46. Funny Face : 02:30:11 47. Lorelei : 02:33:34 48. Oh, so Nice : 02:36:54 49. Let's Kiss and Make Up : 02:40:34 50. I Got Rhythm : 02:44:24 51. Just One of Those Things : 02:47:29 52. Every Time We Say Goodbye : 02:50:59 53. All of You : 02:54:29 54. Begin the Beguine : 02:56:12 55. Get Out of Town : 02:59:49 56. I Am In Love : 03:03:10 57. From This Moment On : 03:07:15 58. Let's Do It : 03:10:31 59. All Through the Night : 03:14:03
60. Anything Goes : 03:17:17 61. Miss Otis Regrets : 03:20:37 62. Too Darn Hot : 03:23:37 63. In the Still of the Night : 03:27:21 64. I Get a Kick Out of You : 03:29:59 65. Do I Love You : 03:33:59 66. Always True to You In My Fashion : 03:37:46 67. Don't Be That Way : 03:40:35 68. Makin' Whoopee : 03:45:26 69. They All Laughed : 03:49:18 70. Comes Love : 03:53:02 71. Autumn In New York : 03:55:26 72. Let's Do It : 04:01:20 73. Stompin' At The Savoy : 04:09:54 74. I Won't Dance : 04:15:02
75. Gee Baby, Ain't I Good : 04:19:43 76. The Dipsy Doodle : 04:23:52 77. Hallelujah : 04:27:03 78. A-Tisket a-Tasket : 04:31:06 79. Undecided : 04:33:42 80. You'll Have to Swing It : 04:36:58 81. Swinging On the Reservation : 04:39:54 82. Rock It for Me : 04:42:58 83. I Want to Be Happy : 04:46:06 84. Mac Pherson Is Rehearsin' to Swing : 04:50:32 85. Ella : 04:53:39 86. Gotta Pebble In My Shoe : 04:56:25 87. Organ Grinder's Swing : 04:59:18 88. Shine : 05:02:11 89. My Last Affair : 05:05:04
90. Cryin'Mood : 05:07:46 91. Just a Simple Melody : 05:10:23 92. Holiday In Harlem : 05:13:22 93. Pack Up Your Sins and Go to the Devil : 05:16:32 94. Wacky Dust : 05:19:28 95. One Side of Me : 05:22:32 96. My Heart Belongs to Daddy : 05:25:53 97. Sugar Pie : 05:29:00 98. It's Slumbertime Along the Swanee : 05:32:11 99. Little White Lies : 05:35:00 100. Coochi-Coochi-Coo : 05:37:56