Maria Callas: the 100 most inspiring musicians of all time
American-born Greek operatic soprano Maria Callas,(b. Dec. 2, 1923, New York, N.Y., U.S.—d. Sept. 16, 1977, Paris, France)originally named Maria Cecilia Sophia Anna Kalogeropoulos, revived classical coloratura roles in the mid-20th century with her lyrical and dramatic versatility.
Callas was the daughter of Greek immigrants and early developed an interest in singing. Accompanied by her mother, she left the United States in 1937 to study at the Athens Conservatory with soprano Elvira de Hidalgo; in 1966 she became a Greek citizen and relinquished her U.S.
citizenship.
Browse in the Library:
and subscribe to our social channels for news and music updates:
She sang locally in Cavalleria rusticana and Boccaccio and returned to the United States in 1945. Her career began in earnest in August 1947, when she appeared in Verona in La gioconda. Soon, under the tutelage of conductor Tullio Serafin, she made debuts in Venice, Turin, and Florence. In 1949, she first appeared in Rome, Buenos Aires, and Naples, and in 1950 in Mexico City. Her powerful soprano voice, capable of sustaining both lyric and coloratura roles, was, although not perfect in control, intensely dramatic; combined with her strong sense of theater and her scrupulously high artistic standards, it took her quickly to the forefront of contemporary opera stars.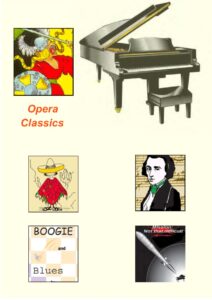 Her talents made possible the revival of 19th-century Bel Canto works, notably those of Bellini and Donizetti, that had long been dropped from standard repertoires. Callas made her debut at the prestigious La Scala in
Milan in 1950, singing in I Vespri siciliani. In 1952, she appeared at Covent Garden, London. Her American debut took place in November 1954 at Chicago's Lyric Opera in the title role of Norma, a performance she repeated before a record audience at the Metropolitan Opera in New York City. Callas's recordings were enthusiastically received, and she was one of the most popular singers of the period.
Her much-publicized volatile temperament resulted in several protracted feuds with rivals and managers. After a final operatic performance as Tosca at Covent Garden (July 1965), Callas made the film Medea (1971) and
taught master classes in opera at Juilliard (1972) before a last U.S. and European concert tour (1973–74). By the time of her retirement, she had performed more than 40 different roles and had recorded more than 20 complete operas.
Track List:
1 – 00:00 – Norma, Act I, Scene 4: "Casta diva… Fine al rito" (Norma, Coro) 2 – 10:50 – Carmen, Act I, Scene 5: "L'amour est un oiseau rebelle" (Carmen) 3 – 14:50 – La traviata, Act I, Scene 2: "Libiam ne' lieti calici" (Alfredo, Violetta, Coro) 4 – 18:02 – La Wally, Act I: "Ebben? Ne andrò lontana" (Wally) 5 – 22:51 – Gianni Schicchi, Act I: "O mio babbino caro" (Lauretta) 6 – 25:23 – Madama Butterfly, Act II: "Un bel dì, vedremo" (Madama Butterfly) 7 – 30:04 – Andrea Chénier, Act III: "La mamma morta" (Maddalena) 8 – 34:54 – La forza del destino, Act IV: "Pace, pace, mio Dio" (Leonora) 9 – 41:17 – Orfeo ed Euridice, Act III, Scene 1: "J'ai perdu mon Eurydice" (Orfeo) 10 – 45:37 – Alceste, Act I, Scene 5: "Divinités du Styx" (Alceste)
11 – 49:57 – Medea, Act I: "Taci, Giason" (Medea, Giasone) 12 – 52:24 – La vestale, Act II: "O nume tutelar" (Julia) 13 – 54:53 – The Barber of Seville, Act I, Scene 5: "Una voce poco fa" (Rosina) 14 – 01:01:12 – Anna Bolena, Act II, Scene 13: "Coppia iniqua" 15 – 01:04:14 – Lucia di Lammermoor, Act III, Scene 4: "Oh, giusto cielo!… Il dolce suono" (Coro, Lucia) 16 – 01:07:42 – Il pirata, Act II, Scene 12: "Qual suono ferale echeggia" & "Oh, sole! Ti vela di tenebre oscure" 17 – 01:11:57 – La sonnambula, Act I: "Care compagne" (Amina, Choeur) 18 – 01:14:08 – I puritani, Act II: "O rendetemi la speme… Qui la voce" (Elvira, Giorgio, Riccardo) 19 – 01:26:59 – Adriana Lecouvreur, Act I, Scene 2: "Ecco: respiro appena" (Adriana) 20 – 01:30:42 – Adriana Lecouvreur, Act IV, Scene 5: "Poveri fiori" (Adriana)
21 – 01:33:53 – Nabucco, Act II, Scene 1: "Ben io t'invenni – Anch'io dischiuso un giorno" (Abigaille) 22 – 01:43:01 – Ernani, Act I, Scene 3: "Surta è la notte" & Cavatina. "Ernani! Ernani, involami" (Elvira) 23 – 01:49:17 – Macbeth, Act II, Scene 1: "La luce langue" (Lady Macbeth) 24 – 01:53:25 – Rigoletto, Act I: "Gualtier Maldé" (Gilda) 25 – 02:00:53 – La traviata, Act I, Scene 5: "Ah, fors'è lui" (Violetta) 26 – 02:03:54 – La traviata, Act I, Scene 5: "Sempre libera degg'io" (Violetta, Alfredo) 27 – 02:07:50 – I vespri siciliani, Act V, Scene 2: "Mercé, dilette amiche" (Elena) 28 – 02:11:48 – Un ballo in maschera, Act II: "Ecco l'orrido campo" (Amelia) 29 – 02:18:32 – La forza del destino, Act II, Scene 10: "La Vergine degli angeli" (Coro, Leonora) 30 – 02:22:07 – Don Carlo, Act IV, Scene 2: "Tu che le vanità" (Elisabeth)
31 – 02:32:48 – Aida, Act I: "Ritorna vincitor" (Aida) 32 – 02:40:05 – Le pardon de Ploërmel, Act II, Scene 3: "Ombra leggera" (Dinorah) 33 – 02:45:44 – Mignon, Act II: "Ah, pour ce soir… Je suis Titania la blonde" (Philine) 34 – 02:50:51 – Hamlet, Act IV: "Et maintenant écoutez ma chanson" (Ophélie) 35 – 02:55:14 – Roméo et Juliette, Act I: "Ah! Je veux vivre dans ce rêve" (Juliette) 36 – 02:58:49 – Mefistofele, Act III: "L'altra notte in fondo al mare" (Margherita) 37 – 03:06:12 – Carmen, Act I, Scene 10: "Près des remparts de Séville" (Carmen) 38 – 03:08:12 – La Gioconda, Act I, Scene 3: "Madre adorata" (La Gioconda, Barnaba, La Cieca) 39 – 03:12:03 – Samson et Dalila, Op. 47, Act I, Scene 6: "Printemps qui commence" (Dalila) 40 – 03:17:15 – Lakmé, Act II: "Dov'è l'indiana bruna?" (Lakmé)
41 – 03:25:17 – Le Cid, Act III: "De cet affreux combat… Pleurez mes yeux" (Chimène) 42 – 03:31:20 – Pagliacci, Act I, Scene 2: "Qual fiamma avea nel guardo!" – "Stridono lassù" (Nedda) 43 – 03:35:59 – Louise, Act III, Scene 1: "Depuis le jour" (Louise) 44 – 03:40:42 – Manon Lescaut, Act IV: "Sola, perduta, abbandonata" (Manon) 45 – 03:46:32 – La bohème, Act I: "Sì. Mi chiamano Mimì" & "Ehi! Rodolfo!" (Mimi, Rodolfo, Schaunard, Colline, Marcello) 46 – 03:52:08 – La bohème, Act III: "Donde lieta uscì" (Mimì) 47 – 03:55:25 – Tosca, Act II, Scene 5: "Vissi d'arte, vissi d'amore" (Tosca) 48 – 03:58:40 – Madama Butterfly, Act I: "Vogliatemi bene" (Madama Butterfly, Pinkerton) 49 – 04:05:56 – Suor Angelica, Act I: "Senza mamma" (Suor Angelica) 50 – 04:11:28 – Turandot, Act I: "Signore, ascolta!" (Liù)