Browse in the Library:
and subscribe to our social channels for news and music updates:
Rachmaninoff: Piano Concerto No. 3 with sheet music, Alexis Weissenberg, piano, Chicago Symphony, Georges Prêtre, conductor.
[0:07] I. Allegro ma non tanto [16:37] II. Intermezzo. Adagio [28:19] III. Finale. Alla breve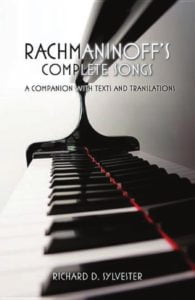 1. Allegro ma non tanto (16:25)
2. Intermezzo: Adagio (11:42)
3. Finale: Alla breve (14:54)
Alexis Weissenberg, piano
Chicago Symphony Orchestra – Georges Prêtre, conductor
Original LP: RCA LSC-3040 (1968)
CD re-issue: BMG Music (RCA Gold Seal) 9026-61396-2 (1993)
Original liner notes by Alexis Weissenberg:
It was Rachmaninoff's own recording of the concerto that revealed the work to me for the first time. I remembered this quite suddenly and with extraordinary precision the day, in Chicago, we sat listening, exhausted and happy, Jack Pfeiffer, the RCA technicians, Georges and I, to the final takes of the last recording session.
We had worked hard and well for two long days, and thanks to the orchestra's constant enthusiasm and cooperation of the highest professional quality the recording had been finished in record time. For each one of us the work was done, another record had been born. But for me, that late afternoon, it was a little more than that; in fact, it was a long-time dream that had suddenly come true.
It is often a pity that, with time, one tends to forget the moment when one first came into contact with a new work. While later performances of that work can have their ups and downs and be more or less exhilarating, nothing is, in a way, more thrilling, more exciting to an interpreter than his first discovery through listening or sight-reading.
Later, of course, when fully assimilated and completely re-created through the compulsive nature of one's talent, imagination and temperament, the work becomes such a part of oneself, such an unconditional fragment of one's creative nature, that one tends to feel, logically, that the composition somehow never existed away from one. This, actually, is a conviction that is essential to re-creation.
But that first moment, that spine-thrill of love at first sight, holds infinite magic in it. I must have been 7-8 years old, not more. Already, music was not part of my life, I had become part of its life. Everything connected with musical sound — harmonies, rhythms, melodic lines — had already established itself in me, and around me, as an absolute climate of self-expression and unlimited exploration for the rest of my life.
Recordings by Hoffmann, Horowitz, Rachmaninoff and Backhaus had become vitally important, and the days when after a long and wonderful piano lesson I would go with my teacher Wladigeroff to his brother Luben's house to listen to them were anticipated with the same tension and excitement as birthdays and Christmas. It was at Luben's that I first heard the Rachmaninoff Third, recorded by the composer.
Every child who is studying the piano seriously and has at heart the ambition to make it his professional career knows what it is to daydream, or sit awake nights "night-dreaming," about his first public appearance, in what seems a hundred years from then, at a gigantic plush-gilded concert hall packed with millions of people, looking like a jumbo-size penguin, seated in front of a monstrous jet-black concert grand with the biggest sound ever, surrounded by the largest and greatest (in that order!) orchestra, and with probably God conducting, playing the. . . . .
It had been the Tchaikovsky B-Flat for me too, of course. Until then. And then came the Rachmaninoff Third. I can still see myself, barely sitting on the edge of a chair in Luben's library, my heart pounding faster and faster, my eyes wide open (my mouth probably too), listening incredulously to what seemed then the discovery of the Concerto of all Concerti, and reliving through the scene described above up to the last thunderous applause that brought an apocalyptic end to an unmeasurable dream! Wladigeroff laughed heartily — "You'll play it someday."
That night I didn't sleep for the very opposite reason. I thought, "I'll never be able to play it."
Six years later, in Jerusalem, I saw the piano score in a music store and bought it. Reflexively, the same fantasy switched on automatically, but by then an instinctive teen-age censorship had brutally readjusted certain details regarding qualifications, plush-gildedness, quantities, enormities and the final result.
A first and unhappy attempt at sight-reading a visually frightening score did not help much in altering a pessimistic climate. Instead, I bought the Horowitz-Coates historic recording and listened to it day in, day out. It still remains a favorite, and by a wonderful, sentimental coincidence the first live performance of the concerto I heard was by Horowitz with Reiner and the New York Philharmonic in a memorable concert.
It was only during the winter of 1946, when I commuted between Philadelphia and New York to study with Samaroff at Juilliard, that I first seriously tried my hand at the concerto. I had decided to present the Rachmaninoff Third with the Brahms Second and the Chopin E Minor at both The Philadelphia Orchestra Youth Contest and the Leventritt Award Competition that same year. Madame Samaroff gave me my first opportunity to play the concerto with a second piano two months before the Leventritt Eliminations started, at one of her weekly Leyman Courses at Town Hall.
That was an excellent occasion for me to loosen up the work interpretively and to let it breathe some fresh air after the long weeks of applied hard labor. It was also at that concert that I met William Kapell, who came backstage and soon became a close and invaluable friend. To me, Willie gave one of the finest and most exciting performances of the Rachmaninoff Third I have ever heard, in Boston with Koussevitzky.
The following year, in 1947, as winner of The Philadelphia Orchestra Youth Contest, I had the great privilege of playing the concerto under Eugene Ormandy with The Philadelphia Orchestra. That particular concert also marked the beginning of my career in America — my early career in America, that is.
That same year, just after the Leventritt Award and during my first coast-to-coast tour of the United States, I was called upon as a last-minute substitute for Vladimir Horowitz, suddenly taken ill, in Pittsburgh, in the same concerto. I also made my European debut with the Rachmaninoff Third, in Paris in 1950 with the Orchestre du Conservatoire at the Théâtre des Champs-Élysées. The year after, I had an exciting collaboration in the concerto with Bernstein and the Israel Philharmonic. That same year I made my debuts with it both at La Scala of Milan and at the Colón in Buenos Aires with Celibidache.
Recently, after a self-imposed and necessary sabbatical over a period of ten years for work and meditation and a restrained amount of public appearances, I reopened my career with the New York Philharmonic at Lincoln Center, and chose to make my comeback with the Rachmaninoff Third for reasons more sentimental than superstitious, although the concerto had in the meantime inevitably become a mascot in my life.
By this time I have, of course, long since revised my speculations and considerations as to which is the Concerto of all Concerti, and the two Brahms, the Fourth and Fifth Beethoven, the Mozart K. 271 and K. 491, the Bartók Second and a few others have alternately exchanged or shared the place of preference in my creative enthusiasm and musical needs, but the Rachmaninoff Third has kept, and will keep forever and without the slightest doubt, a place apart in my heart.
I still think it is the most gloriously written concerto for the piano, find it as thrilling and exciting to hear and perform as I did years ago, and I find very appropriate and rewarding this first opportunity I have had not only to give it all due credit for the often decisive part it has played in my artistic life but also to dedicate to it my unlimited and everlasting gratitude.
—Alexis Weissenberg
Paris, June 1968
Browse in the Library:
and subscribe to our social channels for news and music updates: