Follow @LibrarySheet
Table of Contents
Rediscover, Chaplin, the unknown music composer (sheet music download)
A CENTURY after his Little Tramp character first appeared on screen, Charlie Chaplin is remembered for many things: as the derby-hatted, mustachioed comic symbol of the silent screen; as one of the first true international superstars; as an actor, writer and director who helped elevate film to a respected art form even as he enjoyed enormous popular success.
But it is another, often overlooked aspect of Chaplin's creative output that many people don't know: he was the composer of his films' music.
Chaplin may have been the one filmmaker to hold out the longest against talking pictures, but at the same time he also happened to be one of the earliest filmmakers to embrace sound, as well as to possess an innate understanding of its emotional relationship to film.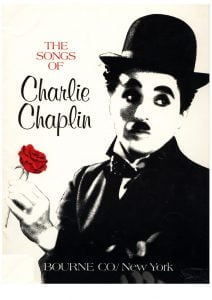 Life
Charles Spencer Chaplin was born in London, England, on April 16th, 1889. His father was a versatile vocalist and actor; and his mother, known under the stage name of Lily Harley, was an attractive actress and singer, who gained a reputation for her work in the light opera field.
Charlie was thrown on his own resources before he reached the age of ten as the early death of his father and the subsequent illness of his mother made it necessary for Charlie and his brother, Sydney, to fend for themselves.
Having inherited natural talents from their parents, the youngsters took to the stage as the best opportunity for a career. Charlie made his professional debut as a member of a juvenile group called "The Eight Lancashire Lads" and rapidly won popular favour as an outstanding tap dancer.
A quality, which can only be described as "Chaplinesque" was discerned and commented upon in this music, despite the fact that it was arranged and orchestrated by other hands.
Music through Chaplin's life
Those who still believe that Chaplin merely hummed a tune ot two and that "real musicians" did the rest have only to listen to the scores of several of his films. The style is marked and individual. It shows a fondness for romantic waltz hesitations played in very rubato time, lively numbers in two-four time which might be called "promenade themes", and tangos with a strong beat.
It can now be seen that Chaplin's music is an integral part of his film conceptions. In similar fashion D.W Griffith also composed some musical themes for his pictures. But perhaps of no other one man can it be said that he wrote, directed, acted, and scored a motion picture.
Incidentally, Chaplin even conducted the orchestra, himself, during recordings, an added reason for the satisfying impression of wholeness in the Chaplin films.
Although musically untrained, Chaplin nevertheless has the advantages of a musical inheritance from his ballad-singer father, the natural endowment of a quick ear, and a superb sense of rhythm, a taste for the art, experience with it on the stage, and an amateur performer's devotion to it.
In "My Trip Abroad" there is a passage describing his first consciousness of music. As a boy, in Kennington Cross, he was enraptured by a weird duet on clarinet and harmonica, to a tune he later identified as the popular song, "The Honeysuckle and the bee". "It was played with such feeling that I became conscious, for the first time, of what melody really was"
According to Fred Karno's biography, young Chaplin spent much of his leisure time between shows picking out tunes on an old cello. When Chaplin was signed by the Essanay Company, he bought a violin on which he scraped for hours at night, to the annoyance of less wakeful actors when they all lived next to the studio at Niles, California.
After Chaplin made his first million, he installed a pipe organ in his Beverly Hills mansion. In certain moods he is known to have fingered this expensive instrument for hours at a time. Realizing the importance of musical accompaniment to the silent film, Chaplin sought to have it reproduced in every theatre exactly as he wished it.
He supervised the cue sheets (lists of numbers to be played, sent free to all theatres booking a film) of his pictures from "The Kid" (1921) up to "City Lights" (1931) – when it was possible to have the music recorded on the film itself. Then it also was commercially expedient to claim at least "music and sound effects" since by 1931 the silent picture has been superseded by the talkie.
Search Posts by Categories:
and subscribe to our social channels for news and music updates: