Search Posts by Categories:
and subscribe to our social channels for news and music updates: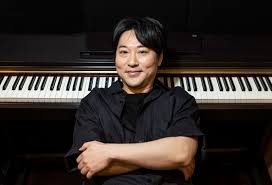 Download YIRUMA's sheet music from our Library.
이루마
위키백과, 우리 모두의 백과사전. 둘러보기로 가기검색하러 가기 일본의 도시에 대해서는 이루마시 문서를 참조하십시오.
비슷한 이름의 이루에 관해서는 해당 문서를 참조하십시오.
이루마(영어: Yiruma, 유년 시절의 영국식 이름은 Louma Rhee, 1978년 2월 15일 ~ )는 대한민국의 피아니스트 겸 작곡가이다. 그의 이름은 '달성하다'의 뜻을 담고 있다고 한다.
생애
이루마는 서울에서 태어나 어린 시절 영국에 유학했다. 1992년영국 "크로이던 영 뮤지션 페스티벌"의 솔리스트 데뷔로 경험을 쌓았고 그 후 2001년 《Love Scene》로 정식 데뷔하였다. 영국과 대한민국의 국적을 이중으로 취득하고 있었던 그는 영국시민권을 포기하고 2006년7월 10일대한민국 해군에 입대하여 26개월의 병역 의무를 수행한 후, 군복무를 마치고 2008년8월 28일 전역했다.
Yiruma
Lee Ru-ma (Korean: 이루마; born 15 February 1978), better known by his stage name Yiruma (Korean: 이루마), is a South Korean contemporary pianist and composer.
Biography
Yiruma was born in Seoul to a pastor. He began learning the piano at age five and moved to the United Kingdom, where he attended the Purcell School for Young Musicians and graduated from King's College London.
After graduation, Yiruma returned to South Korea and released his debut album Love Scene in 2001. He gained wider public recognition for performing the piano versions of the soundtracks from the popular 2006 drama Spring Waltz. On 1 January 2009, he became a DJ for KBS1FM Yiruma's Music from All Around the World.
Yiruma's 2011 compilation album The Best: Reminiscent, 10th Anniversary debuted at number 3 in the Billboard Classical charts in July 2020 and reached number 1 just two weeks later; Billboard's Classical charts had done away with its rules of only counting albums sold in the United States and recognizing albums released in the last 18 months.[5] His music has seen a resurgence in popularity due to the COVID-19 pandemic lockdowns in 2020 and a number of videos of his compositions posted on YouTube and other social media platforms have garnered millions of views.
Personal life
Yiruma previously held British citizenship, which he voluntarily renounced in order to enlist for mandatory military service. He enlisted in the Republic of Korea Navy in July 2006 and was assigned to public relations duties.[9][10] He was discharged in August 2008.
In April 2007, while on leave, Yiruma married his girlfriend Son Hye-im, the older sister of actress and former Miss Korea contestant Son Tae-young.[12][10] They have a daughter (born in 2008).
His composition 'River Flows in You' was selected by fans of The Twilight Saga to serve as 'Edward's Lullaby' prior to the release of the first film. Fan pressure was so strong that the piece was included in the soundtrack of the later film, Eclipse. The piece is still heavily circulated, and has seen a surge in popularity with the release of the fifth book in the saga, Midnight Sun.
Search Posts by Categories:
and subscribe to our social channels for news and music updates: