FAIR USE DISCLAIMER: I do not own copyright for this copyrighted artwork, but under Section 107 United States Copyright Law as noted by the United States Copyright Office (Copyright Act 1976), allowance is made for fair use for purposes such as criticism, comment, news reporting, teaching, scholarship, and research.

I state here in a good faith that I have made and uploaded here this copy of this copyrighted artwork completely for the purposes of teaching and research, that my action – i.e. my production of the copy of this copyrighted artwork and sharing of it here on YouTube in this particular case – is totally non-profit, and that I believe that my production of this copy of this copyrighted artwork and sharing of it here in this particular case can only increase value of this copyrighted artwork and produce only positive effects for this copyrighted artwork in its potential market.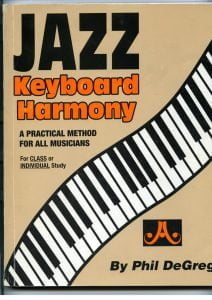 This nearly two-hour presentation features Jamey Aebersold at the piano, demonstrating the fundamental techniques used by all great jazz improvisers.
Includes chord/scale relationships, keeping your place, patterns, the blues and pentatonic scales and their application, what and how to practice, articulation, memorizing songs and more!
This presentation not only provides the technical information essential to getting started on improvisation, but it also serves as an overview of the entire creative process that even non-musicians can understand. Jamey Aebersold also provides much needed motivational material and discusses the philosophy of man's need to be creative. A complete presentation!
Jamey Aebersold explains music theory practically. He uses a piano for the examples because it is the best way for him to teach and for us to learn the lessons; however, the viewer doesn't need to play piano. Once the lessons are heard, it is obvious that they applied to almost all instruments.
This video is closely aligned with the world-famous Volume 1 and Volume 24 play-a-longs. The visual, hands-on demonstration makes their concepts easier to grasp.
Jamey Aebersold even plays along with tracks from those two play-a-long volumes, showing proper application of scales to chords and essential practice techniques.
Jamey Aebersold gives us a distillation of his many books on jazz improvisation in a 2-hour video. The material is simply and clearly presented, with strong suggestions as to how to start improvising.
A word of warning: The listener needs to know basic music theory, – chords and their main types, scales (major, dorian, dominant, half diminished, blue) and their construction – to be able to follow Jamey's discussion.
Jamey Aebersold believes that anyone can improvise while playing, and tells the listener how to overcome the major obstacles that the beginner improviser must overcome. He recommends starting to improvise when first learning your instrument.
This video is an excellent introduction to the problems of improvising and how to overcome them. This video is an excellent, simple description of how to approach improvisation. Will this video alone make you a top-notch improviser? No, but with other resources Jamey recommends and a few of his other book / recording sets, and lots of practice this video points the way.
Jamey Aebersold speaks clearly with obvious passion for his art. The video is easy to listen to, and moves along through the material at a reasonable rate of speed for the listener who knows basic music theory.
Chapters:
Why anyone can improvise – 4 sections
Basic forms – 3 sections
Improvising in Major – 2 sections
Playing the blues – 6 sections
Practice, Ear Training and Mood – 3 sections
Piano comping – 1 section
Improvising techniques and concepts – 7 sections
Putting it together – 5 sections
VOLUME 1 – HOW TO PLAY JAZZ & IMPROVISE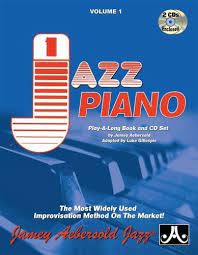 Easy to understand and inspiring for all musicians wishing to explore the secrets of jazz improv. The first CD includes blues in Bb and F, four dorian minor tracks, four-measure cadences, cycle of dominants, 24-measure song, II/V7 in all keys and Jamey Aebersold playing exercises from the book (hear the master clinician demonstrate exactly how it's done).
The Second CD of slower tempos included in this Book/2CD set is available separately for those wishing to upgrade their old single-CD set they may have previously purchased.
Everything is included in our set (PDF book + audios).
Browse in the Library:
and subscribe to our social channels for news and music updates: