Browse in the Library:
and subscribe to our social channels for news and music updates:
Sheet Music download.
Robert Schumann
List of compositions by Robert Schumann

Piano works
Vocal works

Lieder and partsongs
Choral and dramatic works
Orchestral works
Works for solo instrument(s) with orchestra
Chamber music
Robert Schumann Op. 48 "Dichterliebe"; Op. 48. Dietrich Fischer-Dieskau
Browse in the Library:
and subscribe to our social channels for news and music updates: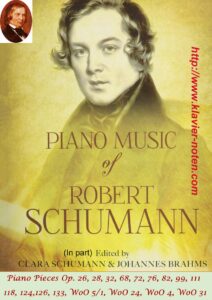 Dichterliebe Op. 48 (Heinrich Heine):
Im wunderschönen Monat Mai 0:00
Aus meinen Tränen spriessen 1:38
Die Rose, die Lilie, die Taube 2:37
Wenn ich in deine Augen seh' 3:07
Ich will meine Seele tauchen 4:47
Im Rhein, im heiligen Strome 5:47
Ich grolle nicht 8:16
Und wüssten's die Blumen, die kleinen 9:59
Das ist ein Flöten und Geigen 11:11
Hör' ich ein Liedchen klingen 12:34
Ein Jüngling liebt ein Mädchen 14:25
Am leuchtenden Sommermorgen 15:28
Ich hab' im Traum geweinet 17:47
Allnächtlich im Traume seh' ich dich 20:22
Aus alten Märchen winkt es 22:05
Die alten, bösen Lieder 24:36
Robert Schumann
Robert Schumann (8 June 1810 – 29 July 1856) was a German composer, pianist, and influential music critic. He is widely regarded as one of the greatest composers of the Romantic era. Schumann left the study of law, intending to pursue a career as a virtuoso pianist. His teacher, Friedrich Wieck, a German pianist, had assured him that he could become the finest pianist in Europe, but a hand injury ended this dream. Schumann then focused his musical energies on composing.
In 1840, Schumann married Clara Wieck, after a long and acrimonious legal battle with her father, Friedrich, who opposed the marriage. A lifelong partnership in music began, as Clara herself was an established pianist and music prodigy. Clara and Robert also maintained a close relationship with German composer Johannes Brahms.
Until 1840, Schumann wrote exclusively for the piano. Later, he composed piano and orchestral works, and many Lieder (songs for voice and piano). He composed four symphonies, one opera, and other orchestral, choral, and chamber works. His best-known works include Carnaval, Symphonic Studies, Kinderszenen, Kreisleriana, and the Fantasie in C. Schumann was known for infusing his music with characters through motifs, as well as references to works of literature. These characters bled into his editorial writing in the Neue Zeitschrift für Musik (New Journal for Music), a Leipzig-based publication that he co-founded.
Schumann suffered from a mental disorder that first manifested in 1833 as a severe melancholic depressive episode—which recurred several times alternating with phases of "exaltation" and increasingly also delusional ideas of being poisoned or threatened with metallic items. What is now thought to have been a combination of bipolar disorder and perhaps mercury poisoning led to "manic" and "depressive" periods in Schumann's compositional productivity.
After a suicide attempt in 1854, Schumann was admitted at his own request to a mental asylum in Endenich near Bonn. Diagnosed with psychotic melancholia, he died of pneumonia two years later at the age of 46, without recovering from his mental illness.
Schumann had considerable influence in the nineteenth century and beyond, despite his adoption of more conservative modes of composition after his marriage. He left an array of acclaimed music in virtually all the forms then known. Partly through his protégé Brahms, Schumann's ideals and musical vocabulary became widely disseminated. Composer Sir Edward Elgar called Schumann "my ideal."
Schumann has often been confused with Austrian composer Franz Schubert; one well-known example occurred in 1956, when East Germany issued a pair of postage stamps featuring Schumann's picture against an open score that featured Schubert's music. The stamps were soon replaced by a pair featuring music written by Schumann.
One of the best known instruments that Robert Schumann played on was the grand piano by Conrad Graf, a present from Graf on the occasion of Robert and Clara's marriage in 1839. This instrument stood in Schumann's workroom in Düsseldorf and was later given by Clara Schumann to Johannes Brahms. After changing a few lodgings, it was received by the Gesellschaft der Musikfreunde and can be seen at the Kunsthistorisches Museum in Vienna.
List of compositions by Robert Schumann
This list of compositions by Robert Schumann is classified into piano, vocal, choral, orchestral and chamber works. All works are also listed separately, by opus number. Schumann wrote almost exclusively for the piano until 1840, when he burst into song composition around the time of his marriage to Clara Wieck.
Piano works
See also: List of solo piano compositions by Robert Schumann
Op. 1, Variations on the name "Abegg" (1830)
Op. 2, Papillons (1829–1831)
Op. 3, Études after Paganini Caprices (1832)
Op. 4, Intermezzi (1832)
Op. 5, Impromptus [on a Theme by Clara Wieck] (1833)
Op. 6, Davidsbündlertänze (1837)
Op. 7, Toccata in C major (1832)
Op. 8, Allegro in B minor (1831)
Op. 9, Carnaval (1834–1835)
Op. 10, 6 Concert Studies on Caprices by Paganini (1833)
Op. 11, Grand Sonata No. 1 in F-sharp minor (1835)
Op. 12, Fantasiestücke (Fantasy Pieces) (1837)
Op. 13, Symphonic Studies (Études symphoniques) (1834)
Op. 14, Grand Sonata No. 3 in F minor, Concerto Without Orchestra (1835)
Op. 15, Kinderszenen (Scenes From Childhood) (1838)
Op. 16, Kreisleriana (1838)
Op. 17, Fantasie in C (1836, revised 1839)
Op. 18, Arabeske in C (1839)
Op. 19, Blumenstück (Flower Piece) in D-flat (1839)
Op. 20, Humoreske in B-flat (1839)
Op. 21, Novelletten (Novelettes) (1838)
Op. 22, Piano Sonata No. 2 in G minor (1833–1838)
Op. 23, Nachtstücke (Night Pieces) (1839)
Op. 26, Faschingsschwank aus Wien (Carnival Jest from Vienna) (1839)
Op. 28, Three Romances (1839)
Op. 32, Four Klavierstücke (Scherzo, Gigue, Romance and Fughette) (1838–9)
Op. 56, Studies in the Form of Canons for Organ or Pedal Piano (Etuden in kanonischer Form für Orgel oder Pedalklavier) (1845; also known in arrangements for piano trio)
Op. 58, Sketches for Organ or Pedal Piano (Skizzen für Orgel oder Pedalklavier) (1845)
Op. 60, 6 Fugues on B–A–C–H for organ or pedal piano (1845)
Op. 66, Bilder aus Osten (Pictures from the East), 6 Impromptus for piano 4-hands (1848)
Op. 68, Album for the Young (Album für die Jugend) (1848)
Op. 72, Four Fugues (Vier Fugen) (1845)
Op. 76, Four Marches (Vier Märsche) (1849)
Op. 82, Waldszenen (Forest Scenes) (1848–1849)
Op. 85, 12 Piano Pieces for Young and Older Children (12 Klavierstücke für kleine und große Kinder) (piano 4 hands) (1849)
Op. 99, Bunte Blätter ("Coloured Leaves") (1836–1849)
Op. 109, Ball-Scenen (Scenes from a Ball) (4 hands) (1851)
Op. 111, Three Fantasiestücke (1851)
Op. 118, Drei Sonaten für die Jugend (Three Piano Sonatas for the Young) (1853)
Op. 124, Albumblätter (Album Leaves) (1832–1845) (includes one piece previously part of WoO 31)
Op. 126, Seven Piano Pieces in Fughetta Form (1853)
Op. 130, Children's Ball (Kinderball) (four hands) (1853)
Op. 133, Gesänge der Frühe (Songs of Dawn) (1853)
WoO 20, Eight Polonaises (four hands) (1828)
WoO 24, Variations in E-flat on an Original Theme (Geistervariationen) (1854)
WoO 31, Studies in the Form of Free Variations on a Theme by Beethoven (1831–32)
Posth., Canon für Alexis
Posth., Scherzo (rejected from Op. 14) & Presto passionato (original finale of Op. 22)
Posth., 5 Short Pieces (Notturnino, Ballo, Burla, Capriccio, Écossaise) (nos. 1, 4 & 5 unfinished)
Posth., Romanza in F major (unfinished)
Posth., Hasche Mann
Vocal works
Lieder and partsongs
Op. 24, Liederkreis (Heine), nine songs (1840)
Op. 25, Myrthen, twenty-six songs (4 books) (1840)
Op. 27, Lieder und Gesänge volume I (5 songs) (1840)
Op. 29, 3 Gedichte (1840)
Op. 30, 3 Gedichte (1840)
Op. 31, 3 Gesänge (1840)
Op. 33, 6 Lieder (part songs for men's voices with piano ad lib) (1840)
Op. 34, 4 Duets (soprano and tenor with piano) (1840)
Op. 35, 12 Gedichte (1840)
Op. 36, 6 Gedichte (1840)
Op. 37, Gedichte aus "Liebesfrühling" (12 songs, of which numbers 2, 4 and 11 are by Clara Schumann) (1840)
Op. 39, Liederkreis (Eichendorff), twelve songs (1840)
Op. 40, 5 Lieder (1840)
Op. 42, Frauenliebe und -leben (Chamisso), eight songs (1840)
Op. 43, 3 Duets (1840)
Op. 45, Romanzen & Balladen volume I (3 songs) (1840)
Op. 48, Song cycle, Dichterliebe, sixteen songs from Heine's Buch der Lieder (1840)
Op. 49, Romanzen & Balladen volume II (3 songs) (1840)
Op. 51, Lieder und Gesänge volume II (5 songs) (1842)
Op. 53, Romanzen & Balladen volume III (3 songs) (1840)
Op. 55, 5 Lieder (partsongs) (1846)
Op. 57, Belsatzar, ballad (Heine) (1840)
Op. 59, 4 Gesänge (partsongs) (1846)
Op. 62, 3 Gesänge (partsongs with piano ad lib) (1847)
Op. 64, Romanzen & Balladen volume IV (3 songs) (1841–47)
Op. 65, Ritornelle in canonischen Weisen (7 canonic part songs) (1847)
Op. 67, Romanzen & Balladen volume I (5 partsongs) (1849)
Op. 69, Romanzen volume I (6 partsongs for women's voices) (1849)
Op. 74, Spanisches Liederspiel (3 songs, 5 duets, 2 quartets) (1849)
Op. 75, Romanzen & Balladen volume II (5 partsongs) (1849)
Op. 77, Lieder und Gesänge volume III (5 songs) (1841–50)
Op. 78, 4 duets (soprano and tenor) (1849)
Op. 79, Liederalbum für die Jugend (29 songs) (1849)
Op. 83, 3 Gesänge (1850)
Op. 87, Ballad, "Der Handschuh" (Schiller) (1850)
Op. 89, 6 Gesänge (1850)
Op. 90, 6 Gedichte und Requiem (1850)
Op. 91, Romanzen volume II (6 partsongs for women's voices) (1849)
Op. 95, 3 Gesänge (1849)
Op. 96, Lieder und Gesänge volume IV (1850)
Op. 98a, Songs from Wilhelm Meister
Op. 101, Minnespiel (4 songs, 2 duets, 2 quartets) (1849)
Op. 103, Mädchenlieder (2 women's voices and piano) (1851)
Op. 104, 7 Lieder (1851)
Op. 106, Declamation with piano, "Schön Hedwig" (1849)
Op. 107, 6 Gesänge (1851–52)
Op. 114, 3 Lieder für 3 Frauenstimmen (1853)
Op. 117, 4 Husarenlieder (1851)
Op. 119, 3 Gedichte (1851)
Op. 122, Declamation with piano: "Ballade vom Heideknaben" and "Die Flüchlinge" (1852)
Op. 125, 5 heitere Gesänge (1851)
Op. 127, 5 Lieder und Gesänge (1850–51)
Op. 135, Gedichte der Königin Maria Stuart (1852)
Op. posth. 137, Jagdlieder (5 partsongs for men's voices with 4 horns ad lib) [1849]
Op. posth. 138, Spanische Liebeslieder (1849)
Op. posth. 141, 4 doppelchörige Gesänge (partsongs) (1849)
Op. posth. 142, 4 Gesänge (1852)
Op. posth. 145, Romanzen & Balladen Vol. III (5 partsongs) (1849–51)
Op. posth. 146, Romanzen & Balladen Vol. IV (5 partsongs) (1849)
Choral and dramatic works
Op. 50, Das Paradies und die Peri, oratorio (1841–43)
Op. 71, Adventlied for soprano, chorus and orchestra (1848)
Op. 81, Genoveva, opera (1848)
Op. 84, Beim Abschied zu singen for chorus & winds (1848)
Op. 93, Motet, "Verzweifle nicht im Schmerzenstal" for double chorus and organ ad lib (1849, orchestrated 1852)
Op. 98b, Requiem for Mignon for solo voices, chorus and orchestra (1849)
Op. 101, Minnespiel (4 songs, 2 duets, 2 quartets) (1849)
Op. 108, Nachtlied for chorus and orchestra (1849)
Op. 112, Der Rose Pilgerfahrt oratorio (1851)
Op. 115, Overture and incidental music, Manfred (1848–49)
Op. 116, Der Königssohn (Uhland), for solos, chorus and orchestra (1851)
Op. 123, Festival overture on the Rheinweinlied for orchestra and chorus (1853)
Op. posth. 139, "Des Sängers Fluch" (Uhland) for solo voice, chorus and orchestra (1852)
Op. posth. 140, "Vom Pagen und der Königstochter" for solo voice, chorus, and orchestra (1852)
Op. posth. 143, "Das Glück von Edenhall" (Uhland) for solo voice, chorus, and orchestra (1853)
Op. posth. 144, "Neujahrslied" for chorus and orchestra (1849–50)
Op. posth. 147, Missa sacra (1852)
Op. posth. 148, Requiem (1852)
WoO 3, Scenes from Goethe's Faust, oratorio (1844–1853)
Orchestral works
Works for solo instrument(s) with orchestra
Chamber music
Op. 41, Three String Quartets in A minor, F and A (1842)
Op. 44, Piano Quintet in E flat (1842)
Op. 46, Andante and variations for two pianos (1843) (also see WoO 10)
Op. 47, Piano Quartet in E flat (1842)
Op. 63, Piano Trio No. 1 in D minor (1847)
Op. 70, Adagio and Allegro for Horn and Piano (1849) (Schumann directed that the horn part could also be performed on violin or cello)
Op. 73, Fantasiestücke for Clarinet and Piano (1849) (Schumann directed that the clarinet part could be also performed on violin or cello)
Op. 80, Piano Trio No. 2 in F (1847)
Op. 88, Fantasiestücke for piano trio (1842)
Op. 94, Three Romances for Oboe and Piano (1849)
Op. 102, Five Stücke im Volkston for piano and cello (1849), listen
Op. 105, Violin Sonata No. 1 in A minor (1851)
Op. 110, Piano Trio No. 3 in G minor (1851)
Op. 113, Märchenbilder for piano and viola (1851)
Op. 121, Violin Sonata No. 2 in D minor (1851)
Op. 132, Märchenerzählungen, four pieces for clarinet, viola and pianoforte (1853)
WoO 10, Andante and variations for two pianos (original version of Op. 46, arranged for two pianos, 2 cellos and horn)
WoO 32, Piano quartet in C minor (1829)
WoO 27, Violin Sonata No. 3 in A minor (1853)
Browse in the Library:
and subscribe to our social channels for news and music updates: