Browse in the Library:
and subscribe to our social channels for news and music updates:
Search Posts by Categories: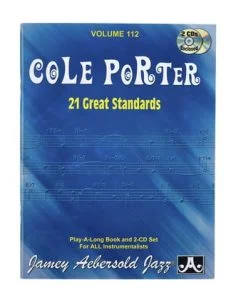 Avalon Jazz Band – I love Paris (Cole Porter) with sheet music download
Cole Albert Porter (June 9, 1891 – October 15, 1964) was an American composer and songwriter. Many of his songs became standards noted for their witty, urbane lyrics, and many of his scores found success on Broadway and in film.
Born to a wealthy family in Indiana, Porter defied his grandfather's wishes and took up music as a profession. Classically trained, he was drawn to musical theatre. After a slow start, he began to achieve success in the 1920s, and by the 1930s he was one of the major songwriters for the Broadway musical stage. Unlike many successful Broadway composers, Porter wrote the lyrics as well as the music for his songs. After a serious horseback riding accident in 1937, Porter was left disabled and in constant pain, but he continued to work. His shows of the early 1940s did not contain the lasting hits of his best work of the 1920s and 1930s, but in 1948 he made a triumphant comeback with his most successful musical, Kiss Me, Kate. It won the first Tony Award for Best Musical.
Porter's other musicals include Fifty Million Frenchmen, DuBarry Was a Lady, Anything Goes, Can-Can and Silk Stockings. His numerous hit songs include "Night and Day", "Begin the Beguine", "I Get a Kick Out of You", "Well, Did You Evah!", "I've Got You Under My Skin", "My Heart Belongs to Daddy" and "You're the Top". He also composed scores for films from the 1930s to the 1950s, including Born to Dance (1936), which featured the song "You'd Be So Easy to Love"; Rosalie (1937), which featured "In the Still of the Night"; High Society (1956), which included "True Love"; and Les Girls (1957).
Notable Cole Porter's songs
e also the Cole Porter Collection).[n 17]
| | |
| --- | --- |
| (1916) See America First (1919) Hitchy-Koo of 1919 – "Old-Fashioned Garden" (1928) Paris – "Let's Do It, Let's Fall in Love" (1929) Wake Up and Dream – "What Is This Thing Called Love?" (1929) Fifty Million Frenchmen – "You Do Something to Me" (1930) The New Yorkers – "Love for Sale", "I Happen to Like New York", "Where Have You Been?" (1932) Gay Divorce – "After You, Who?", "Night and Day" (adapted as The Gay Divorcee, 1934) (1933) Nymph Errant – "Experiment", "The Physician", "It's Bad for Me" (1934) Hi Diddle Diddle (revue) — "Miss Otis Regrets" (1934) Anything Goes – "All Through the Night," "Anything Goes," "I Get a Kick Out of You," "You're the Top" (1934) Adios Argentina (un-produced film) – "Don't Fence Me In" (1935) Jubilee – "Begin the Beguine", "Just One of Those Things" (1936) Red, Hot and Blue – "Down in the Depths (on the Ninetieth Floor)," "Ridin' High," "It's De-Lovely" (1936) Born to Dance (film) – "You'd Be So Easy to Love", "I've Got You Under My Skin" (1937) Rosalie (film) – "In the Still of the Night" (1937) You Never Know – "At Long Last Love", "From Alpha to Omega", "Let's Misbehave" (1938) Leave It to Me! – "From Now On", "Get Out of Town", "My Heart Belongs to Daddy" (1939) Broadway Melody of 1940 (film) – "Between You and Me", "I Concentrate on You", "I've Got My Eyes on You", "I Happen to Be in Love", "Begin the Beguine" (1939) DuBarry Was a Lady – "But in the Morning No", "Do I Love You?", "Well, Did You Evah!", "Friendship" | (1940) Panama Hattie – "I've Still Got My Health", "Let's Be Buddies" (1941) You'll Never Get Rich (film) – "Dream Dancing", "So Near and Yet So Far" (1941) Let's Face It! – "I Hate You, Darling," "Ace in the Hole" (1942) Something for the Boys – "Could It Be You" (1942) Something to Shout About – "You'd Be So Nice to Come Home To" (1943) Mexican Hayride – "I Love You" (1944) Seven Lively Arts – "Ev'ry Time We Say Goodbye" (1946) Around the World – "Look What I Found" (1947) The Pirate (film) – "Be a Clown", "Mack the Black", "You Can Do No Wrong" (1948) Kiss Me, Kate – "Always True to You in My Fashion," "Another Op'nin', Another Show," "Brush Up Your Shakespeare," "I Hate Men," "Why Can't You Behave?," "So in Love," "Tom, Dick or Harry," "Too Darn Hot," "Wunderbar" (1950) Out of This World – "From This Moment On", "I Am Loved" (1950) Stage Fright (film) – "The Laziest Gal in Town" (1953) Can-Can – "I Am in Love", "I Love Paris", "C'est Magnifique", "It's All Right With Me" (1954) Silk Stockings – "All of You", "Paris Loves Lovers" (1955) High Society (film) – "Mind if I Make Love to You?", "True Love", "Who Wants to Be a Millionaire?", "You're Sensational" (1956) Les Girls (film) – "Ça, C'est L'amour", "You're Just Too, Too" (1958) Aladdin (television) – "Come to the Supermarket (In Old Peking)" |
Browse in the Library:
and subscribe to our social channels for news and music updates: