Search Posts by Categories:
and subscribe to our social channels for news and music updates: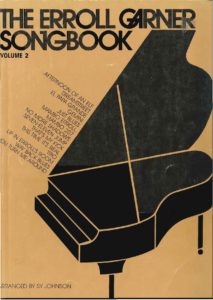 Erroll Louis Garner (June 15, 1921 – January 2, 1977) was an American jazz pianist and composer known for his swing playing and ballads. His best-known composition, the ballad "Misty", has become a jazz standard. Scott Yanow of Allmusic calls him "one of the most distinctive of all pianists" and a "brilliant virtuoso." He received a star on the Hollywood Walk of Fame at 6363 Hollywood Blvd. His live album, Concert by the Sea, first released in 1955, sold over a million copies by 1958 and Scott Yanow's opinion is: "this is the album that made such a strong impression that Garner was considered immortal from then on."
Garner was born with his twin brother Ernest in Pittsburgh, Pennsylvania on June 15, 1921, the youngest of six children in an African-American family. He attended George Westinghouse High School (as did fellow pianists Billy Strayhorn and Ahmad Jamal). Interviews with his family and music teachers (and with other musicians), plus a detailed family tree are given in Erroll Garner: The Most Happy Piano by James M Doran.
Garner began playing piano at the age of three. His elder siblings were taught piano by Miss Bowman. From an early age, Erroll would sit down and play anything she had demonstrated, just like Miss Bowman, his eldest sister Martha said.[ Garner was self-taught and remained an "ear player" all his life, never learning to read music. At age seven, he began appearing on the radio station KDKA in Pittsburgh with a group called the Candy Kids. By age 11, he was playing on the Allegheny riverboats. In 1937 he joined local saxophonist Leroy Brown.
He played locally in the shadow of his older pianist brother Linton Garner.
Garner moved to New York City in 1944. He briefly worked with the bassist Slam Stewart, and though not a bebop musician per se, in 1947 played with Charlie Parker on the "Cool Blues" session. Although his admission to the Pittsburgh music union was initially refused because of his inability to read music, it relented in 1956 and made him an honorary member.
Garner is credited with a superb musical memory. After attending a concert by the Russian classical pianist Emil Gilels, Garner returned to his apartment and was able to play a large portion of the performed music by recall.
Garner made many tours both at home and abroad, and regularly recorded. He was, reportedly, The Tonight Show host Johnny Carson's favorite jazz musician, appearing on Carson's show many times over the years.
Garner died of cardiac arrest related to emphysema on January 2, 1977. He is buried in Pittsburgh's Homewood Cemetery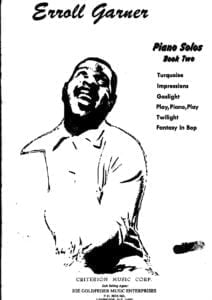 Short in stature (5 feet 2 inches [157 cm]), Garner performed sitting on multiple telephone directories. He was also known for his vocalizations while playing, which can be heard on many of his recordings. He helped to bridge the gap for jazz musicians between nightclubs and the concert hall.
Called "one of the most distinctive of all pianists" by Scott Yanow, Garner showed that a "creative jazz musician can be very popular without watering down his music" or changing his personal style. He has been described as a "brilliant virtuoso who sounded unlike anyone else", using an "orchestral approach straight from the swing era but … open to the innovations of bop." His distinctive style could swing like no other, but some of his best recordings are ballads, such as his best-known composition, "Misty", which rapidly became a jazz standard – and was featured in Clint Eastwood's film Play Misty for Me (1971).
Garner may have been inspired by the example of Earl Hines, a fellow Pittsburgh resident but 18 years his senior, and there were resemblances in their elastic approach to timing and use of right-hand octaves. Garner's early recordings also display the influence of the stride piano style of James P. Johnson and Fats Waller. He developed a signature style that involved his right hand playing behind the beat while his left strummed a steady rhythm and punctuation, creating insouciance and tension.
The independence of his hands also was evidenced by his masterful use of three-against-four and more complicated cross-rhythms between the hands. Garner would also improvise whimsical introductions—often in stark contrast to the rest of the tune—that left listeners in suspense as to what the piece would be. His melodic improvisations generally stayed close to the theme while employing novel chord voicings.
Pianist Ross Tompkins described Garner's distinctiveness as due to 'happiness'.
Garner's first recordings were made in late 1944 at the apartment of Timme Rosenkrantz; these were subsequently issued as the five-volume Overture to Dawn series on Blue Note Records. His recording career advanced in the late 1940s when several sides such as "Fine and Dandy", "Skylark" and "Summertime" were cut. His 1955 live album Concert by the Sea was a best-selling jazz album in its day and features Eddie Calhoun on bass and Denzil Best on drums. This recording of a performance at the Sunset Center, a former school in Carmel-by-the-Sea, California, was made using relatively primitive sound equipment, but for George Avakian the decision to release the recording was easy.
In 1954 Garner composed "Misty", first recording it in 1955 for the album Contrasts. Lyrics were later added by Johnny Burke. "Misty" rapidly became popular, both as a jazz standard and as the signature song of Johnny Mathis. It was also recorded by Ella Fitzgerald, Frank Sinatra, Sarah Vaughan, Ray Stevens and Aretha Franklin. Clint Eastwood used it as the basis for his thriller Play Misty For Me.
One World Concert was recorded at the 1962 Seattle World Fair (and in 1959 stretching out in the studios) and features Eddie Calhoun on bass and Kelly Martin on drums. Other works include 1951's Long Ago and Far Away, 1953's Erroll Garner at the Piano with Wyatt Ruther and Fats Heard, 1957's The Most Happy Piano, 1970's Feeling Is Believing and 1974's Magician, on which Garner performs a number of classic standards. Often the trio was expanded to add Latin percussion, usually a conga.
In 1964, Garner appeared in the UK on the music series Jazz 625 broadcast on the BBC's new second channel. The programme was hosted by Steve Race, who introduced Garner's trio with Eddie Calhoun on bass and Kelly Martin on drums.
Because Garner could not write down his musical ideas, he used to record them on tape, to be later transcribed by others.
Search Posts by Categories:
and subscribe to our social channels for news and music updates: