Songs List:
1."The Night We Called It A Day"
2."I love you"
3."Things Ain't What They Used To Be"
4."Sound" (K. Jarrett)
5."I Loves You, Porgy"

6."There Is No Greater Love"
7."'Round About Midnight"
8."Solar"
9."Then I'll Be Tired Of You"
10."Sweet And Lovely"

11."The Wind"
12."Do Nothing Till You Hear From Me"
13."I Got It Bad And That Ain't Good"
14."Summertime"
Captured live at Tokyo's Suntory Hall, renowned piano virtuoso Keith Jarrett performs some of his most memorable and haunting standards before an enthusiastic crowd. Performed entirely solo, these numbers clearly reveal the breadth and power of his immense musical skills.
Keith Jarrett's discography embraces solo improvisation, duets, trios, quartets, original compositions, multi-instrumental ventures, masterpieces of the classical repertoire and wide-ranging explorations of the Great American Songbook.
Jarrett was born in Allentown, Pennsylvania, in May 1945. He took his first piano lesson before his third birthday and gave his debut solo recital aged seven. "I grew up with the piano," he has said, "I learned its language while I learned to speak."
His earliest training was classical, but by the age of 15 his piano lessons had ceased and Jarrett's interest in jazz was burgeoning. He turned down an opportunity to study with Nadia Boulanger in Paris and in 1964 took the decisive step of moving to New York to establish himself in the jazz world. After a spell touring with Art Blakey's New Jazz Messengers, Jarrett joined Charles Lloyd's quartet in 1966. He also played organ and electric piano with Miles Davis in 1970 and 1971.
Jarrett's association with ECM dates from November 1971, when he and producer Manfred Eicher first collaborated on the hugely influential solo piano album Facing You, eight short pieces which, in Eicher's words, "hold together like a suite". The album also prefigured the solo piano concerts which would be such a defining aspect of Jarrett's career.
In 1973 ECM organised an eighteen-concert European tour, consisting solely of Jarrett's solo improvisations. The Köln Concert (1975) has unsurprisingly passed into legend: a multi-million-selling album that has been the subject of books and a complete transcription. But Köln should not eclipse the achievement of the whole sequence of improvised concerts, a genre which Jarrett effectively created.
After the success of that first solo tour, Jarrett has continued to pursue the improvised solo concert format, the decades of his career studded with records of his endlessly fertile imagination, usually referred to simply by where they took place: Paris, Vienna, Lausanne, Carnegie Hall, La Scala…
Jarrett has been a member of several outstanding groups. In the mid-1970s he began recording with his so-called "European Quartet" consisting of saxophonist Jan Garbarek, bassist Palle Danielsson and drummer Jon Christensen. Their recordings include Belonging, My Song, Nude Ants, Personal Mountains and Sleeper.
No less essential is his contemporaneous "American Quartet" work with Charlie Haden (bass), Paul Motian (drums) and Dewey Redman (sax), whose output included The Survivors' Suite and Eyes of the Heart (both 1976). The American Quartet extended the range of Jarrrett's trio with Haden and Motian. The early trio's work is documented on Hamburg '72.
In the early 1980s Jarrett formed his "Standards Trio" with bassist Gary Peacock and drummer Jack DeJohnette, which proved to be one of the most fertile and long-lasting partnerships in jazz history. Over the years they have toured and released an unparalleled series of albums of standards and freely improvised sets, including the 6-CD set At the Blue Note, an extraordinary record of three extraordinary nights in June 1994, about which the New York Times wrote: "Jarrett makes each new note sound like a discovery… The music whispered and glimmered, seeking a pure, incorporeal song."
In 1987, Jarrett initiated a series of recordings of some of the great monuments of the classical keyboard repertoire with Bach's Wohltempierte Klavier, Book I, which was followed by the Goldberg Variations (1989) and the second book of Wohltempierte Klavier (1990). For a pianist with such a fine command of voicing, Shostakovich's 24 Preludes and Fugues, Op. 87, was perhaps a natural next step: "It didn't feel like I was playing someone else's music," Jarrett said of his first encounter with these works.
"The pieces are coming from some strange quirky place that I'm familiar with." The New York Times was just one of many to hail this award-winning recording: no mere crossover curiosity, "Jarrett has finally staked an indisputable claim to distinction in the realm of classical music".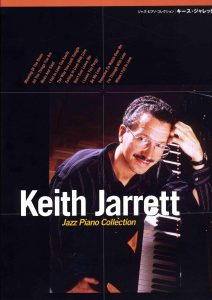 今にして思うとキース・ジャレットの80年代は脂の乗り切った最高の時期だった気がします。そんなキースの演奏をお気軽に見られてしまうなんて、いい時代になったものです。

このライブは一曲まるまる即興ではないので、区切って見ることも可能です。しかも、全般的に当たりの演奏が多いコンサートだったので、価値を上げています。キースのファンならこの辺の気持ちは分かってくれるはずです。録音は1987年4月14日、東京、サントリーホールにて。

日本での100回目のコンサートということで、気合は十分。Tribute ということで、誰かに捧げてはいるものの、誰に対してかは不明。ただし、曲名から察するに、ビル・エヴァンス、マイルス・デイビスの影がちらつきます。愛奏曲まで含めればオスカー・ピーターソンも入るかな。The Wind だけは、作曲者のラス・フリーマンだろうけど。

ダントツに突き抜けた演奏なのは、マイルス・デイビス作曲のSolar、これ凄いです。サントリーホールの天井から神の啓示が舞い降りてきたような演奏。あっさり始まり、大きく盛り上がり、絶頂に達して、見事収束という演奏の典型。リズムに乗ったキースはピーコックとディジョネットがいなくても、まさしく疾走します。ソウルフルという言葉はキースに似合いませんが、体の芯から発せられる熱気をここまで感じさせる演奏は少ないのでは。

DVD だと一気に102分という辛さがありますが、最後のサマータイムの尻切れエンディング編集を除けば、演奏はすべて一級品。非常にお薦めです。
Browse in the Library:
and subscribe to our social channels for news and music updates: