Philip Glass
Philip Glass is an Oscar-nominated avant-garde composer whose notable works include 'Einstein on the Beach,' 'The Hours' and 'Notes on a Scandal.'
Musician Philip Glass, born on January 31, 1937, in Baltimore, went on to study with Nadia Boulanger and Ravi Shankar, later forming the Philip Glass Ensemble. He received accolades for his debut opera, Einstein on the Beach, and eventually earned Oscar nominations for scoring the films Kundun, The Hours and Notes on a Scandal. Known for his distinctive contemporary minimalism, Glass has worked with artists from a variety of disciplines.
Background and Education
Philip Glass was born on January 31, 1937, in Baltimore. He took up the violin and flute and began performing before reaching his teens. Glass took classes at the Peabody Institute's conservatory and later studied at the University of Chicago and The Juilliard School.
Studies With Ravi Shankar
Glass eventually decided to travel to Europe, studying under conductor Nadia Boulanger and sitar musician Ravi Shankar, whom Glass cited as a major influence on his craft.
Glass adopted an approach to musical composition that relied on repetitive, sometimes subtly nuanced musical structures that would be seen as a cornerstone of contemporary minimalism. (The composer later saw the term "minimalism" as an outdated way of describing his work and the varying sounds of up-and-coming artists.) He formed the electric Philip Glass Ensemble in 1967, an avant-garde group that would continue to earn buzz over the years, if not universal acclaim.
Acclaim for 'Einstein'
Playwright Robert Wilson worked with the composer to bring Glass' first opera, Einstein on the Beach, to the stage in 1976. Based on the life of the famed physicist and relying upon an unorthodox, repeating sonic framework, Einstein earned major acclaim. Many more operas were to come from Glass, including 1980's Satyagraha, which followed a portion of the life of Mahatma Gandhi.
The prolific Glass has composed several symphonies and concertos as well, performing his work internationally as part of his ensemble and having works staged in venues like the London Coliseum, Lincoln Center and Carnegie Hall. His albums include Glassworks (1982), Songs From Liquid Days (1986)—with contributions from David Byrne, Paul Simon, Linda Ronstadt and the Kronos Quartet—and Hydrogen Jukebox (1993), among many others. Glass has received an array of honors and has worked with visionaries from various art forms, including singer-songwriter Patti Smith, dancer-choreographer Twyla Tharp and writer Doris Lessing. https://e86d87bb5a9fdef0b9c2d00c33f4487b.safeframe.googlesyndication.com/safeframe/1-0-37/html/container.html
Array of Film Scores
Glass has provided scores for a litany of movies that include the acclaimed Koyaanisqatsi (1982), a project directed byGodfrey Reggio that uses visuals and music to create a story about humanity's relationship with nature. Other big-screen scores from Glass have included Hamburger Hill (1987), Candyman (1992), The Truman Show (1998), Secret Window (2002), The Illusionist (2006), Leviathan (2014) and Fantastic Four (2015), as well as documentaries like Pandemic: Facing AIDS (2002) and A Sea Change (2009). Glass received Academy Award nominations for the musical scores of Kundun (1997), The Hours (2002) and Notes on a Scandal (2006).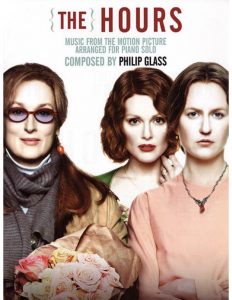 In September 2016, President Barack Obama presented Glass with a National Medal of Arts. At the ceremony, President Obama said Glass was being honored "for his groundbreaking contributions to music and composition," and described him as "one of the most prolific, inventive, and influential artists of our time, he has expanded musical possibility with his operas, symphonies, film scores, and wide-ranging collaborations."
Metamorphosis and his Solo Piano album
Solo Piano (1989) is an album of piano music composed and performed by Philip Glass. It was produced by Kurt Munkacsi.
The title of five of the seven tracks, "Metamorphosis", refers to and was inspired by the 1915 novella The Metamorphosis by Franz Kafka. While all pieces were written in 1988, some were written for a staging of Metamorphosis, while others were for the 1988 documentary film The Thin Blue Line directed by Errol Morris. "Mad Rush" was written in 1979 and is based on an earlier organ piece; it has been used by choreographers Lucinda Childs and Benjamin Millepied. The title of the last composition is a reference to Allen Ginsberg's 1966 poem "Wichita Vortex Sutra", and was composed, in collaboration with Ginsberg, for both a reading and recording of the poem.
"Metamorphosis One" is played in an episode of Battlestar Galactica by Kara "Starbuck" Thrace. Within the narrative, her father composed and performed the piece. It is also played in the series finale of Person of Interest, Return 0. "Metamorphosis Two" formed the basis of one of the main musical themes in the film The Hours. It is also the song that the American rock band Pearl Jam uses as their introduction music to concerts. Many pianists have recorded this music subsequently, notably Bruce Brubaker, Sally Whitwell, Lisa Moore, and Valentina Lisitsa.
Inspired by the unprecedented reaction to Einstein, Glass spent the next decade focusing on stage music. There were two follow-up operas – Satyagraha (1980) and Akhnaten (1983) – as well as a series of sparklingly original adaptations of the works of Irish writer and poet Samuel Beckett, which showcased the talents of Mabou Mines, a virtuoso group Glass had helped set up in the early 1970s.
By now he had achieved the kind of cult following normally associated with pop stars. His new-found celebrity status was confirmed when he was signed exclusively by record label CBS Masterworks (later Sony Classical), an accolade only previously awarded to two other giants of 20th-century music: Igor Stravinsky and Aaron Copland.
Glass's first album for CBS, Glassworks, shifted 250,000 copies in its first year – something almost unheard of for a contemporary "classical" composer. Yet despite all the acclaim and material rewards, Glass kept his feet firmly on the ground, determined to remain true to his creative vision rather than composing music for the masses.
"I'm very pleased with it," he quietly enthused. "The pieces seem to have an emotional quality that everyone responds to, and they also work very well as performance pieces."
Never one to rest on his laurels, Glass felt ready, by the late 1980s, to tackle the kind of mainstream instrumental genres that had felt so unnatural during his student years.
Widely celebrated for the supreme concentration of his musical thought, he began expanding into the expressive opulence of the concerto and symphony. In 1987, he produced a Violin Concerto that at times appears to hark back to the 18th- and 19th-century traditions that Glass had so studiously avoided earlier in life.
"The search for the unique can lead to strange places," Glass reasoned at the time. "Taboos – the things we're not supposed to do – are often the more interesting."

Glass's terms of stylistic reference were broadened further still when he turned "crossover" with a pair of symphonies that synthesised classical and rock as though it was the most natural thing in the world. Inspired by the music of David Bowie and Brian Eno, Glass hit the headlines with his Low Symphony No.1 (1992) and "Heroes" Symphony No.4 (1996).
He later explained: "My approach was to treat the themes very much as if they were my own and allow their transformations to follow my own compositional bent when possible."
Bowie gave the results his seal of approval with the immortal expression, emblazoned on countless T-shirts ever since: "Philip Glass rocks my ass".
Glass continued his revitalisation of traditional classical genres with a series of five string quartets composed for the Kronos Quartet and a Third Symphony (1995) in which the terms of stylistic reference range from Haydn to Ravel.
Another feature of this period was a new interest in solo piano music, which expressed itself most notably, perhaps, in Metamorphosis (1988), an unusually melodious work that takes its name from a play based on a short story by Kafka.
Browse in the Library:
and subscribe to our social channels for news and music updates: