Follow @LibrarySheet
Ennio Morricone, (10 November 1928 – 6 July 2020) was an Italian composer, orchestrator, conductor, and former trumpet player who wrote music in a wide range of styles.
Short biography
Morricone composed over 400 scores for cinema and television, as well as over 100 classical works. He started as a talented football player for A.S. Roma but left the sport to follow his passion for music.
His score to The Good, the Bad and the Ugly (1966) is considered one of the most influential soundtracks in history and was inducted into the Grammy Hall of Fame. His filmography includes over 70 award-winning films, all Sergio Leone's films since A Fistful of Dollars, all Giuseppe Tornatore's films since Cinema Paradiso, The Battle of Algiers, Dario Argento's Animal Trilogy, 1900, Exorcist II, Days of Heaven, several major films in French cinema, in particular the comedy trilogy La Cage aux Folles I, II, III and Le Professionnel, as well as The Thing, The Mission, The Untouchables, Mission to Mars, Bugsy, Disclosure, In the Line of Fire, Bulworth, Ripley's Game and The Hateful Eight.
After playing the trumpet in jazz bands in the 1940s, he became a studio arranger for RCA Victor and in 1955 started ghost writing for film and theatre. Throughout his career, he composed music for artists such as Paul Anka, Mina, Milva, Zucchero and Andrea Bocelli. From 1960 to 1975, Morricone gained international fame for composing music for Westerns and—with an estimated 10 million copies sold—Once Upon a Time in the West is one of the best-selling scores worldwide.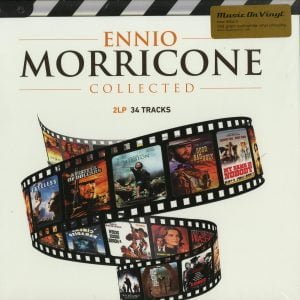 From 1966 to 1980, he was a main member of Il Gruppo, one of the first experimental composers collectives, and in 1969 he co-founded Forum Music Village, a prestigious recording studio. From the 1970s, Morricone excelled in Hollywood, composing for prolific American directors such as Don Siegel, Mike Nichols, Brian De Palma, Barry Levinson, Oliver Stone, Warren Beatty, John Carpenter and Quentin Tarantino.
In 1977, he composed the official theme for the 1978 FIFA World Cup. He continued to compose music for European productions, such as Marco Polo, La piovra, Nostromo, Fateless, Karol and En mai, fais ce qu'il te plait. Morricone's music has been reused in television series, including The Simpsons and The Sopranos, and in many films, including Inglourious Basterds and Django Unchained.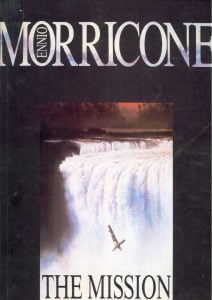 He also scored seven Westerns for Sergio Corbucci, Duccio Tessari's Ringo duology and Sergio Sollima's The Big Gundown and Face to Face. Morricone worked extensively for other film genres with directors such as Bernardo Bertolucci, Mauro Bolognini, Giuliano Montaldo, Roland Joffé, Roman Polanski and Henri Verneuil. His acclaimed soundtrack for The Mission (1986) was certified gold in the United States. The album Yo-Yo Ma Plays Ennio Morricone stayed 105 weeks on the Billboard Top Classical Albums.
In 2007, he received the Academy Honorary Award "for his magnificent and multifaceted contributions to the art of film music." He has been nominated for a further six Oscars. In 2016, Morricone received his first competitive Academy Award for his score to Quentin Tarantino's film The Hateful Eight, at the time becoming the oldest person ever to win a competitive Oscar.
His other achievements include three Grammy Awards, three Golden Globes, six BAFTAs, ten David di Donatello, eleven Nastro d'Argento, two European Film Awards, the Golden Lion Honorary Award and the Polar Music Prize in 2010. Morricone has influenced many artists from film scoring to other styles and genres, including Hans Zimmer,Danger Mouse, Dire Straits, Muse, Metallica, and Radiohead.
Morricone's Sheet music is fully available in our Library.
Browse in the Library:
and subscribe to our social channels for news and music updates:
Morricone's discography
This list contains only films whose soundtracks (original or as a re-recording) are available on CD. At least in the form of suites with a length of about 20 minutes.
Updates:
19.11.20.
New from Beat: A reissue of "Spasmo".
15.08.20.
Latest additions: "Eat It" & "Una breve stagione"
17.07.20.
New from La-La Land: The official CD-premiere of "Two Mules for Sister Sara".
20.06.20.
Latest addition: "Ci risiamo, vero Provvidenza?" (co-composed with Bruno Nicolai)
18.06.20.
Latest addition: "Vergogna schifosi",
20.05.20.
New from Quartet: A re-issue of "The Thing".
08.05.20.
New from Beat: A re-issue of "L'Agnese va a morire".
21.04.20.
Latest addition: "A Time to Die"
13.03.20.
Latest additions: "Le mani sporche", "Voyage of Terror – The Achille Lauro Affair", "Comandamenti per un gangster".
11.12.19.
New from Quartet Records: A re-issue of "Atame!"
09.12.19.
New from Beat Records: A re-issue of Ennio Morricone's "Les voleurs de la nuit".
20.11.19.
New from Decca Records: The new 18-CD-set "Ennio Morricone: Musiques de films 1964 – 2015" contains the first commercial release of "Orca".
15.11.19.
New from Beat Records: "La chiave"
10.07.19.
Latest additions: "Les deux saisons de la vie" (Quartet Records), "Cartoni animati" (GDM), "Deutsches Mann geil! Die Geschichte von Ilona und Kurti" (MCP Records), "I figli chiedono perché?" (Dagored), "Oceano" (GDM)
09.07.19.
Latest addition: "Il giocattolo" (Label: Cinevox)
Notes:
Agente 077 Missione Bloody Mary (only main theme, score by Angelo Francesco Lavagnino)
Il Giro Del Mondo Degli Innamorati Di Peynet (Theme by Morricone, score by Alessandro Alessandroni)
Al cuore si comanda (co-composed with Andrea Morricone)
Jacob (Themes by Morricone, score by Marco Frisina)
Abraham (Theme by Morricone, score by Marco Frisina)
Missing:
Idoli controluci
Opposte esperienze
Tre nel mille
L'ultimo uomo di Sara
Drammi gotici (TV series)
Una vita venduta
122, Rue du Provence
Invito allo sport (TV series)
Noi lazzaroni
Il prigioniero
Dietro il processo (TV series)
Orient Express (TV miniseries)
Il pianeta dell' acqua
Professione figlio
Si salvi chi vuole
Stark System
Uomini e no
Gli indifferenti
I promessi sposi
Only One Survived
Una storia italiana
Missus
Piazza di spagna
Il barone
In fondo al cuore
La casa bruciata
Il quarto re
Ultimo
Nana
Ultimo 2: La sfida
Aida degli alberi
Musashi
E ridendo l'uccise
Lucia
La provinciale
Browse in the Library:
and subscribe to our social channels for news and music updates: