Dave Brubeck live 64'/66′ – Jazz Icons
Search Posts by Categories:
and subscribe to our social channels for news and music updates:
Video link:
Personnel
Dave Brubeck – piano Paul Desmond – alto saxophone Eugene Wright – double bass Joe Morello – drums
Live in Belgium 1964
Track list
1. St Louis Blues — 00:13 – 08:34 2. Koto Song — 08:35 – 14:35 3. Three to Get Ready 14:37 – 18:52 4. In your own sweet way 18:53 – 25:01 5. Take Five — 25:02 – 32:24 Live in Germany 1966 6. Take the A train — 32:35 – 42:22 7. 40 days — 42:26 – 48:32 8. I´m in a Dancing Mood 48:50 – 51:45 9. Koto Song (Live 1966) 51:51 – 59:50 10. Take Five ( Live 1966) 59:54 – 1:05:07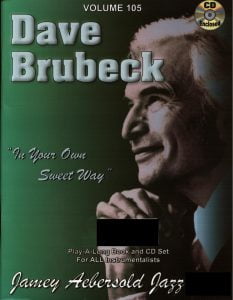 Dave Brubeck
David Warren Brubeck (December 6, 1920 – December 5, 2012) was an American jazz pianist and composer, considered one of the foremost exponents of cool jazz. Many of his compositions have become jazz standards including "In Your Own Sweet Way" and "The Duke". Brubeck's style ranged from refined to bombastic, reflecting both his mother's classical training and his own improvisational skills. His music is known for employing unusual time signatures as well as superimposing contrasting rhythms, meters, and tonalities.
Brubeck experimented with time signatures throughout his career, recording "Unsquare Dance" in 7/4, "World's Fair" in 13/4, and "Blue Rondo à la Turk" in 9/8. He was also a composer of orchestral and sacred music and wrote soundtracks for television, such as Mr. Broadway and the animated miniseries This Is America, Charlie Brown.
Often incorrectly attributed to Brubeck, the song "Take Five", which has become a jazz standard, was composed by Brubeck's long-time musical partner, alto saxophonist Paul Desmond. Appearing on one of the top-selling jazz albums, Time Out, and written in 5/4 time, "Take Five" has endured as a jazz classic associated with Brubeck.
Dave Brubeck, declared a "Living Legend" by the Library of Congress, was one of the most active and popular jazz musicians in the world. His experiments with odd time signatures, improvised counterpoint, and a distinctive harmonic approach were the hallmarks of his unique musical style.
Born into a musically inclined family — his two older brothers were professional musicians — he began taking piano lessons from his mother, a classical pianist, at age four. After graduating from College of the Pacific in 1942, he enlisted in the Army, and while serving in Europe led an integrated G.I. jazz band.
At the end of World War II, he studied composition at Mills College with French classical composer Darius Milhaud, who encouraged him to introduce jazz elements into his classical compositions. This experimentation with mixed genres led to the formation of the Dave Brubeck Octet that included Paul Desmond, Bill Smith, and Cal Tjader. In 1949, Brubeck formed an award-winning trio with Cal Tjader and Ron Crotty, and in 1951 expanded the band to include Desmond.
Dave Brubeck became the first jazz artist to make the cover of Time magazine, in 1954, and in 1958 performed in Europe and the Middle East for the U.S. State Department, leading to the introduction of music from other cultures into his repertoire. In 1959, the Dave Brubeck Quartet recorded an experiment in time signatures, Time Out. The album sold more than a million copies, and Brubeck's "Blue Rondo a la Turk," based on a Turkish folk rhythm, and Desmond's "Take Five" appeared on jukeboxes throughout the world.
Throughout his career, Brubeck continued to experiment with integrating jazz and classical music. In 1959, he premiered and recorded his brother Howard's Dialogues for Jazz Combo and Orchestra with the New York Philharmonic under Leonard Bernstein. In 1960, he composed Points on Jazz for the American Ballet Theatre, and in later decades composed for and performed with the Murray Louis Dance Co.
His musical theater piece, The Real Ambassadors starring Louis Armstrong and Carmen McRae, was also written and recorded in 1960 and performed to great acclaim at the 1962 Monterey Jazz Festival. The classic Dave Brubeck Quartet with Paul Desmond, Eugene Wright, and Joe Morello was dissolved in December 1967 and Brubeck's first of many oratorios, The Light in the Wilderness, premiered in 1968.
He received many honors in the U.S. and abroad for his contribution to jazz, including the National Medal of Arts, a Grammy Lifetime Achievement Award, the Kennedy Center Honors, and the Austrian Medal of the Arts. In 2008, Brubeck received the Benjamin Franklin Award for Public Diplomacy from the U.S. State Department for "introducing the language, the sounds, and the spirit of jazz to new generations around the world."
Selected Discography
Jazz at Oberlin, Original Jazz Classics, 1953
Time Out, Columbia, 1959
The Real Ambassadors, Columbia/Legacy, 1961
Classical Brubeck, Telarc, 2002
London Flat, London Sharp, Telarc, 2004
Compilations
Dave Brubeck's Greatest Hits (Columbia CS 9284 / CL 2484, 1966)
Interchanges '54 (Columbia Jazz Masterpieces 467917 2, 1991)
Ballads (Legacy 501795 2, 2001)
The Essential Dave Brubeck (Columbia Legacy, 2003)
Search Posts by Categories:
and subscribe to our social channels for news and music updates: