Follow @LibrarySheet
Yukie Nishimura 西村由紀江 – Japanese pianist
Yukie Nishimura 西村由紀江
He began playing the piano at the age of three, participated in the Yamaha Junior Original Concert (JOC) when he was in elementary school, traveled around the world, and performed with top-level teachers and orchestras.
It debuted at the same time as entering Toho Gakuen University, the beautiful and painful original melody has been supported by a wide range of people.
In addition to starring in many dramas, movies, and commercials such as '101st Proposal' and 'Helen the Baby Fox', she also appears on television and radio and writes essays.
While touring various parts of the country with more than 60 concerts a year, he also engages in 'school concerts', 'hospital concerts' and 'Smile Piano 500', an activity to deliver pianos to the affected areas.
In 2016, the album 'My Stories' won the Hong Kong IFPI 'Best Sales Awards 2015'.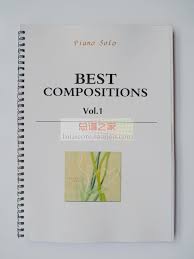 In 2020, he became a goodwill ambassador for the street piano project in the city of Toyonaka, Osaka Prefecture.
In 2021, the 35th anniversary of his debut, the 41st album 'Piano Switch 2' was released.
Yukie's graceful, romantic melodies continue to play the strings between people of all ages.
He has released over 40 albums and composed music for a number of films, television dramas and commercials. Her most famous film and television scores include the 101st Marriage Proposal (1991 drama series), Helen the Baby Fox (film). , 2006), and the NHK archives.
Yukie's musical talent was discovered at an early age. She was already a great pianist and songwriter long before making her professional debut in 1986, when she simultaneously began her academic activities in piano performance at the Toho Gakuen School of Music. During her childhood, Yukie occasionally participated in concert tours and had the pleasure of performing with masters and the best orchestras in the world. In the United States, Europe, and Southeast Asia, the girl won public praise.
Yukie's artistic endeavors are not limited to making music.
He writes, presents a radio program, and appears frequently on television. He is also engaged in philanthropic work. In addition to performing in schools and hospitals, he directs 'Simile Piano 500', a charity project that helps people donate their pianos to areas affected by the Great East Japan Earthquake and the subsequent tsunami.
In 2016 the album 「My stories」 won the 「Best Sales Awards 2015」 in Hong Kong.
In 2020, she was appointed Goodwill Ambassador for the street piano project in her hometown of Toyonaka, Osaka. In 2021, he released his 41st album 「Piano Switch II」 to celebrate the 35th anniversary of his debut.
Discography
Angelique (1986)
Lyrisme (1987)
Dolce (1988)
Fascination (1988)
Lumiere ~地図のない季節~ (1989) : playin' around with no map and plot
L'espoir ~レスポワール~ (1989)
風色の夢 (1990) : windings in Fantastic world
Vi・Ji・N (1991) : sophisticated girl
101回目のプロポーズ (1991) : ("The Hundredth Proposal of Marriage")
MOON (1992)
親愛なる者へ (1992)
SUPER BEST (1992)
プロポーズ ~Propose~ (1992)
graceful (1993)
GOOD MORNING ~グッドモーニング~ (1994)
Memories (Released in Hong Kong only) (1995)
時の輝き (1995)
Virgin (1995)
Blue Horizon (1996)
月いろのつばさ (1997)
大地のうた (1998)
BALLISTIC KISS (1998)
自分への手紙 (1999)
風が生まれる瞬間 (2000)
優しさの意味 (2001)
しあわせまでもう少し (2002)
明日のために (2002)
扉をあけよう (2003)
君が想い出になる前に (2004)
しあわせのかたち (2004)
耳をすまして (2005)
Best of Best ~20 Songs~ (2006)
あなたが輝くとき (2007)
Vitamin (2009)
Piano (2010)
Smile Best ~selfcover collection~(2011/7) 
Beautiful Morning(2011/7)(yccs10049)
Bedtime Music(2011/7)(yccs10050)
フレデリック・バック meets 西村由紀江 (2012)
ビオトープ (2013)
Search Posts by Categories:
and subscribe to our social channels for news and music updates:
"Smile Piano 500".
Nishimura Yukie, a renowned pianist and composer in Japan, Europe, and Southeast Asia, is the co-founder of the project, called "Smile Piano 500". With her dedicated team, she seeks to return pianos to those families who lost their instruments during the earthquake and tsunami of 2011.
Nishimura hopes to return all 500 pianos that Tohoku lost on March 11. "This is why I named this program 'Smile Piano 500'. It would be impossible for me to return all 500 of them on my own. However, the government will deliver some, people will buy some, and I will deliver the others. I hope that in a few years, we, together, will restore all the lost instruments," explained Yukie.
Search Posts by Categories:
and subscribe to our social channels for news and music updates: