Search Posts by Categories:
and subscribe to our social channels for news and music updates:
Lukas Geniušas, piano
Alan Weiss, piano
Philipp Kopachevsky, piano

Johannes Brahms life

Download the best classical sheet music from our Library.
Search Posts by Categories:
and subscribe to our social channels for news and music updates:
Lukas Geniušas, piano
00:00:00 Piano Sonata No. 1 in C Major, Op. 1: I. Allegro 00:07:50 Piano Sonata No. 1 in C Major, Op. 1: II. Andante 00:13:21 Piano Sonata No. 1 in C Major, Op. 1: III. Scherzo 00:18:51 Piano Sonata No. 1 in C Major, Op. 1: IV. Allegro con fuoco
Alan Weiss, piano
00:25:15 Piano Sonata No. 2 in F sharp minor Op. 2: I. Allegro ma non troppo, ma energico 00:31:26 Piano Sonata No. 2 in F sharp minor Op. 2: II. Andante con espressione 00:36:38 Piano Sonata No. 2 in F sharp minor Op. 2 III. Scherzo:Allegro 00:40:35 Piano Sonata No. 2 in F sharp minor Op. 2: IV. Finale: Introduzione – Allegro non troppo e rubato
Philipp Kopachevsky, piano
00:51:53 Piano Sonata No. 3 in F Minor, Op. 5: I. Allegro maestoso 01:01:44 Piano Sonata No. 3 in F Minor, Op. 5: II. Andante espressivo 01:12:39 Piano Sonata No. 3 in F Minor, Op. 5: III. Scherzo, allegro energico 01:17:28 Piano Sonata No. 3 in F Minor, Op. 5: IV. Intermezzo, andante molto 01:21:13 Piano Sonata No. 3 in F Minor, Op. 5: V. Finale, allegro moderato ma rubato
Johannes Brahms life
Johannes Brahms (7 May 1833–3 April 1897) was a German composer, pianist, and conductor of the Romantic period. Born in Hamburg into a Lutheran family, Brahms spent much of his professional life in Vienna. His reputation and status as a composer are such that he is sometimes grouped with Johann Sebastian Bach and Ludwig van Beethoven as one of the "Three Bs" of music, a comment originally made by the nineteenth-century conductor Hans von Bülow.
Brahms composed for symphony orchestra, chamber ensembles, piano, organ, and voice and chorus. A virtuoso pianist, he premiered many of his own works. He worked with some of the leading performers of his time, including the pianist Clara Schumann and the violinist Joseph Joachim (the three were close friends). Many of his works have become staples of the modern concert repertoire. An uncompromising perfectionist, Brahms destroyed some of his works and left others unpublished.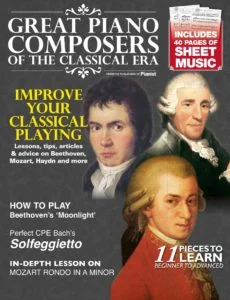 Brahms has been considered, by his contemporaries and by later writers, as both a traditionalist and an innovator. His music is firmly rooted in the structures and compositional techniques of the Classical masters. While many contemporaries found his music too academic, his contribution and craftsmanship have been admired by subsequent figures as diverse as Arnold Schoenberg and Edward Elgar. The diligent, highly constructed nature of Brahms's works was a starting point and an inspiration for a generation of composers. Embedded within his meticulous structures, however, are deeply romantic motifs.
Brahms wrote a number of major works for orchestra, including two Serenades, four symphonies, two piano concertos (No. 1 in D minor; No. 2 in B-flat major), a Violin Concerto, a Double Concerto for violin and cello, and two companion orchestral overtures, the Academic Festival Overture and the Tragic Overture.
His large choral work A German Requiem is not a setting of the liturgical Missa pro defunctis but a setting of texts which Brahms selected from the Luther Bible. The work was composed in three major periods of his life. An early version of the second movement was first composed in 1854, not long after Robert Schumann's attempted suicide, and this was later used in his first piano concerto. The majority of the Requiem was composed after his mother's death in 1865. The fifth movement was added after the official premiere in 1868, and the work was published in 1869.
His works in variation form include, among others, the Variations and Fugue on a Theme by Handel and the Paganini Variations, both for solo piano, and the Variations on a Theme by Haydn (now sometimes called the Saint Anthony Variations) in versions for two pianos and for orchestra. The final movement of the Fourth Symphony, Op. 98, is formally a passacaglia.
His chamber works include three string quartets, two string quintets, two string sextets, a clarinet quintet, a clarinet trio, a horn trio, a piano quintet, three piano quartets, and four piano trios (the fourth being published posthumously). He composed several instrumental sonatas with piano, including three for violin, two for cello, and two for clarinet (which were subsequently arranged for viola by the composer). His solo piano works range from his early piano sonatas and ballades to his late sets of character pieces.
Brahms was a significant Lieder composer, who wrote over 200 of them. His chorale preludes for organ, Op. 122, which he wrote shortly before his death, have become an important part of the organ repertoire. They were published posthumously in 1902. The last of this set is a setting of the chorale, "O Welt ich muss dich lassen", "O world I now must leave thee" and were the last notes he wrote.
Brahms was an extreme perfectionist. He destroyed many early works – including a violin sonata he had performed with Reményi and violinist Ferdinand David – and once claimed to have destroyed 20 string quartets before he issued his official First in 1873. Over the course of several years, he changed an original project for a symphony in D minor into his first piano concerto.
In another instance of devotion to detail, he laboured over the official First Symphony for almost fifteen years, from about 1861 to 1876. Even after its first few performances, Brahms destroyed the original slow movement and substituted another before the score was published.
Another factor that contributed to his perfectionism was Schumann's early enthusiasm, which Brahms was determined to live up to.
Brahms strongly preferred writing absolute music that does not refer to an explicit scene or narrative, and he never wrote an opera or a symphonic poem.
Brahms looked both backward and forward; his output was often bold in its exploration of harmony and rhythm. As a result, he was an influence on composers of both conservative and modernist tendencies. Within his lifetime, his idiom left an imprint on several composers within his personal circle, who strongly admired his music, such as Heinrich von Herzogenberg, Robert Fuchs, and Julius Röntgen, as well as on Gustav Jenner, who was his only formal composition pupil.
Antonín Dvořák, who received substantial assistance from Brahms, deeply admired his music and was influenced by it in several works, such as the Symphony No. 7 in D minor and the F minor Piano Trio. Features of the "Brahms style" were absorbed in a more complex synthesis with other contemporary (chiefly Wagnerian) trends by Hans Rott, Wilhelm Berger, Max Reger and Franz Schmidt, whereas the British composers Hubert Parry and Edward Elgar and the Swede Wilhelm Stenhammar all testified to learning much from Brahms. As Elgar said, "I look at the Third Symphony of Brahms, and I feel like a pygmy."
Ferruccio Busoni's early music shows much Brahmsian influence, and Brahms took an interest in him, though Busoni later tended to disparage Brahms. Towards the end of his life, Brahms offered substantial encouragement to Ernő Dohnányi and to Alexander von Zemlinsky.
Their early chamber works (and those of Béla Bartók, who was friendly with Dohnányi) show a thoroughgoing absorption of the Brahmsian idiom. Zemlinsky, moreover, was in turn the teacher of Arnold Schoenberg, and Brahms was apparently impressed by drafts of two movements of Schoenberg's early Quartet in D major which Zemlinsky showed him in 1897.
In 1933, Schoenberg wrote an essay "Brahms the Progressive" (re-written 1947), which drew attention to his fondness for motivic saturation and irregularities of rhythm and phrase; in his last book (Structural Functions of Harmony, 1948), he analysed Brahms's "enriched harmony" and exploration of remote tonal regions. These efforts paved the way for a re-evaluation of his reputation in the 20th century.
Schoenberg went so far as to orchestrate one of Brahms's piano quartets. Schoenberg's pupil Anton Webern, in his 1933 lectures, posthumously published under the title The Path to the New Music, claimed Brahms as one who had anticipated the developments of the Second Viennese School, and Webern's own Op. 1, an orchestral passacaglia, is clearly in part a homage to, and development of, the variation techniques of the passacaglia-finale of Brahms's Fourth Symphony.
Ann Scott has shown how Brahms anticipated the procedures of the serialists by redistributing melodic fragments between instruments, as in the first movement of the Clarinet Sonata, Op.120 No. 2.
Brahms was honoured in the German hall of fame, the Walhalla memorial. On 14 September 2000, he was introduced there as the 126th "rühmlich ausgezeichneter Teutscher" and 13th composer among them, with a bust by sculptor Milan Knobloch.