The Best of Sidney Bechet
Download the best Jazz scores from our Library.
Sidney Bechet – The Top 25 pearls in Jazz history
The other great soloist in early jazz was soprano saxophonist and clarinettist Sidney Bechet. He was a different sort of virtuoso from Louis, and as well as spontaneous creation he composed setpiece solos that would dazzle his audiences with virtuosity. His remarkable playing on this chamber jazz record is a perfect example of his seamless integration of improvisation and forward planning.
Clarinetist Sidney Bechet (1897) was the musician who tamed the soprano saxophone for jazz music. His style at both instruments indulged in a heavy vibrato sound. His saxophone style was exuberant, eloquent and even torrential. After performing in Will-Marion Cook's orchestra during its legendary European tour of 1919, cutting a handful of tracks in 1923-24, recording with Louis Armstrong and Alberta Hunter in the Red Onion Jazz Babies (1924), and accompanying Josephine Baker in Paris (1925), Bechet recorded sparely, although his style was reaching maturity, as proven by his Lay Your Racket (september 1932) and I Want You Tonight (same session), and especially by Joe Jordan's Shag (same session), that features his most momentous playing (all of them with the seven-piece New Orleans Feetwarmers). In november 1938 his career was reborn thanks to his Chant In The Night and What A Dream (recorded by an "orchestra" of soprano sax, baritone sax, piano, guitar, drums, bass). He pioneered overdubbing when he played six instruments (clarinet, soprano saxophone, tenor saxophone, piano, bass, drums) on Sheik of Araby (april 1941).
Sidney Bechet was a unique figure in jazz history. A masterful soprano-saxophonist and clarinetist, he recorded the first significant jazz solos (other than pianists). Bechet, whose fiery personality was sometimes a liability, was a dominant player who preferred that the trumpeter in his bands state a simple melodic lead so he could create virtuosic counter-melodies around him.
If the trumpeter failed in the task or tried to challenge him, Bechet could easily wipe him out with his powerful tone which had a wide but perfectly-controlled vibrato. He was not going to play second fiddle to a mere trumpeter! All of the musicians in his groups ended up being in the supporting cast anyway, supporting the brilliant Bechet.
Sidney Bechet was a child prodigy in New Orleans. He was such good clarinet player that, in his youth he was featured by some of the top bands in the city.
Bechet's style of playing clarinet and soprano sax dominated many of the bands that he was in. He played lead parts that were usually reserved for trumpets and was a master of improvisation.
In 1917 he moved to Chicago. In 1919 he was playing with Will Marion Cook's Syncopated Orchestra and with Louis Mitchell's Jazz Kings in Europe. While overseas he bought a soprano sax and from then on it was his main instrument.
Back in the U.S. Bechet made his recording debut in 1923 with Clarence Williams and during the next two years he appeared on several of Williams' records backing up blues singers and on a classic session with the Clarence Williams Blue Five, featuring Louis Armstrong whom he knew as a child in New Orleans. He played in an early version of Duke Ellington'sWashingtonians but unfortunately never recorded with them.
From 1925 to 1929 Bechet lived and played in Europe, playing in England, France, Germany and Russia. While living in Paris, Bechet got into a dispute with another musician and a gun fight broke out. Three people were wounded and Sidney spent a year in a French jail as a result of the fracas.
He was deported upon release from prison and went to Berlin, Germany. He could not stay in France and he would not get a visa for England so he stayed in Berlin till 1931 then joined the Noble Sissle Orchestra and returned to America. Bechet managed to keep playing during the Thirties, but he also ran an unsuccessful tailor's shop with Tommy Ladnier and made some memorable recordings with the trumpeter under the name of the New Orleans Feetwarmers.
In 1938 he had a hit record of "Summertime". In the Forties Bechet worked regularly in New York with Eddie Condon and tried to start a band with Bunk Johnson. Bechet was a popular figure of the Dixieland revival of the late Forties often recording with Mezz Mezzrow.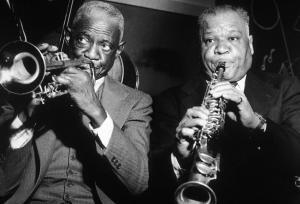 Bechet returned to France in 1952 and was warmly received there. While in France he recorded hit records that rivaled the sales of pop stars. Bechet was one of the great soloists of early Jazz. He lived a very rich life, always managing to "make the scene" where it was "happening", whether it be in New Orleans, Chicago, New York, Berlin or Paris.
In France during most of his final decade, Bechet performed the New Orleans jazz standards, Dixieland tunes and ballads that he most enjoyed. He never lost his enthusiasm for the music or his ability to come up with creative and surprising ideas.
Still very much in his musical prime, he used young French players (often from either clarinetist Andre Reweliotty or Claude Luter's band) who were in awe of him and did not mind him completely dominating the music. While he mostly performed on the European continent, there were occasional reunions with touring Americans (including a very exciting session with trumpeter Jonah Jones) and Bechet made a few visits to the U.S. until 1953.
Recording mostly for Vogue during his last period, he had hit records with "Les Oignons" and "Petite Fleur," and showed on a quartet project in 1957 with modern jazz pianist Martial Solal that he was quite capable of playing sophisticated tunes. He appeared in several French movies and, despite not knowing how to read music, composed a classical ballet (La Nuit est sorciere). In 1958 he completed his memorable and poetic autobiography Treat It Gentle.
Bechet's last hurrah was at the Brussels World's Fair in 1958 where he led an American group featuring Buck Clayton and Vic Dickenson. Soon afterwards, he was stricken with lung cancer. His final recordings (from Dec. 12, 1958) are of spirited versions of four Christmas-related songs and a remake of "Les Oignons." He passed away on his 62nd birthday, May 14, 1959.
Sidney Bechet was such a dominant force on the soprano-sax that for many years hardly anyone else in jazz played that instrument. He ranks with Louis Armstrong as the most technically skilled and gifted of all New Orleans musicians.
He died on May 14, 1959 (aged 62) in Garches, France.
Tracklist:
00:00 – Si tu vois ma mère
03:12 – Petite Fleur
06:23 – Marchand de poissons
09:08 – Everybody Loves My Baby
11:52 – Bechet's Blues
13:44 – Pattes de mouche
16:26 – Madame Bécassine
18:58 – Dans les rues d'Antibes
22:23 – I Get a Kick Out of You
25:27 – Mon homme
28:25 – Tiger Rag
31:25 – Les oignons
34:06 – Ce mossieur qui parle
37:43 – Summertime
41:48 – The Sheik of Araby
43:58 – Promenade aux Champs Elysées
47:12 – China Boy
50:14 – Black Bottom Stomp
53:42 – Stars Fell On Alabama
56:27 – Indian Summer
59:34 – Strike Up the Band
01:02:39 – Show Boat Medley
01:06:35 – My Melancholy Baby
01:10:07 – You Rascal You
01:13:11 – Big Butter and Eggman
01:16:10 – Ol' Man River
01:19:18 – As-tu le cafard ?
01:21:47 – Le fantôme du blues
01:24:57 – Moulin à café
01:27:57 – Moustache gauloise
01:31:06 – En attendant le jour
01:34:20 – Big Chief
01:37:18 – Blues In the Thirds
01:40:14 – That's a Plenty
01:44:20 – Egyptian Fantasy
01:47:19 – Perdido Street Blues
01:50:17 – Jungle Drums
01:52:44 – Temptation Rag
01:55:29 – Happy Go Lucky Blues
01:58:51 – Ni queue ni tête
Brought to you by The Wnts Jazz Education Program
Browse in the Library:
and subscribe to our social channels for news and music updates: