Search Posts by Categories:
and subscribe to our social channels for news and music updates:
Jakob Ludwig Felix Mendelssohn-Bartholdy—or Felix Mendelssohn—was a German composer, pianist, musical conductor, and teacher who was among the most celebrated figures of the early Romantic period. In his music Mendelssohn largely observed Classical models and practices while initiating key aspects of Romanticism— the artistic movement that exalted feeling and the imagination above rigid forms and traditions.
Among his most famous works are Overture to A Midsummer Night's Dream (1826), Italian Symphony (1833), a violin concerto (1844), two piano concerti (1831, 1837), the oratorio Elijah (1846), and several pieces of chamber music.
Early Life and Works
Felix was born of Jewish parents, Abraham and Lea Salomon Mendelssohn, from whom he took his first piano lessons. Though the Mendelssohns were proud of their ancestry, they considered it desirable, in accordance with 19thcentury liberal ideas, to mark their emancipation from the ghetto by adopting the Christian faith. Accordingly Felix, together with his brother and two sisters, was baptized in his youth as a Lutheran Christian.
The name Bartholdy, a family property on the river Spree, was held by a wealthy maternal uncle who had embraced Protestantism. When the fortune of this relative passed to the Mendelssohns, his name was adopted by them.
In 1811, during the French occupation of Hamburg, the family had moved to Berlin, where Mendelssohn studied the piano with Ludwig Berger and composition with K.F. Zelter, who, as a composer and teacher, exerted an enormous influence on his development. His personality was nourished by a broad knowledge of the arts and was also stimulated by learning and scholarship. He traveled with his sister to Paris, where he took further piano lessons and where he appears to have become acquainted with the
music of Wolfgang Amadeus Mozart.
Mendelssohn was an extremely precocious musical composer. He wrote numerous compositions during his boyhood, among them 5 operas, 11 symphonies for string orchestra, concerti, sonatas, and fugues. He made his first public appearance in 1818—at the age of nine—in Berlin.
In 1821 Mendelssohn was taken to Weimar to meet J.W. von Goethe, for whom he played works of J.S. Bach and Mozart and to whom he dedicated his Piano Quartet No. 3. in B Minor (1825). A remarkable friendship developed between the aging poet and the 12-year-old musician. The
next year he reached his full stature as a composer with the Overture to A Midsummer Night's Dream.
Mendelssohn also became active as a conductor. On March 11, 1829, at the Singakademie, Berlin, he conducted the first performance since Bach's death of the St. Matthew Passion, thus inaugurating the Bach revival of the 19th and 20th centuries.
Meanwhile he had visited Switzerland and had met Carl Maria von Weber, whose opera Der Freischütz encouraged him to develop a national character in music. Mendelssohn's great work of this period was the String Octet in E-flat Major (1825), displaying not only
technical mastery and an almost unprecedented lightness of touch but great melodic and rhythmic originality. Mendelssohn developed in this work the genre of the swift-moving scherzo (a playful musical movement) that he would also use in the incidental music to A Midsummer
Night's Dream (1842).
In the spring of 1829 Mendelssohn made his first journey to England, conducting his Symphony No. 1 in C Minor (1824) at the London Philharmonic Society. In the summer he went to Scotland, of which he gave many poetic accounts in his evocative letters. Describing, in a letter
written from the Hebrides, the manner in which the waves break on the Scottish coast, he noted down, in the form of a musical symbol, the opening bars of the Hebrides Overture (1830–32; also known as Fingal's Cave).
Between 1830 and 1832 he traveled in Germany, Austria, Italy, and Switzerland and, in 1832, returned to London, where he conducted the Hebrides Overture and where he published the first book of the piano music he called Lieder ohne Worte (Songs Without Words), completed in Venice in 1830. Gradually Mendelssohn's music was becoming the most popular of 19th-century composers in England.
Mendelssohn's Symphony No. 3 in A Minor–Major, or Scottish Symphony, as it is called, was dedicated to Queen Victoria. And he became endeared to the English musical public in other ways. The fashion for playing the "Wedding March" from his A Midsummer Night's Dream at bridal processions originates from a performance of this piece at the wedding of the Princess Royal after Mendelssohn's death, in 1858. In the meantime he had given the first performances in London of Ludwig van Beethoven's Emperor and G Major concerti. Later the popularity of his oratorio
Elijah, first produced at Birmingham in 1846, established
Mendelssohn as a composer whose influence on English music equaled that of George Frideric Handel. Later generations of English composers, enamoured of Richard Wagner, Claude Debussy, or Igor Stravinsky, revolted against the domination of Mendelssohn and condemned
the sentimentality of his lesser works.
In 1833, he was in London to conduct his Italian Symphony (Symphony No. 4 in A Major–Minor), and in the same year he became music director of Düsseldorf. At Düsseldorf, too, he began his first oratorio, St. Paul. In 1835 he became conductor of the celebrated Gewandhaus Orchestra at Leipzig, where he not only raised the standard of orchestral playing but made Leipzig the musical capital of Germany.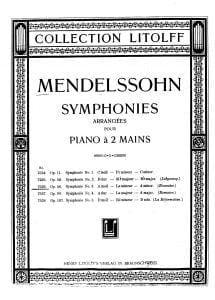 Marriage and Maturity
In 1835 Mendelssohn was overcome by the death of his father, Abraham, whose dearest wish had been that his son should complete St. Paul. He accordingly plunged into this work with renewed determination and the following year conducted it at Düsseldorf. The same year at Frankfurt he
met Cécile Jeanrenaud, the daughter of a French Protestant clergyman. Though she was no more than 16, they became engaged and were married on March 28, 1837.
Mendelssohn's sister Fanny, the member of his family who remained closest to him, spoke kindly of her sister-in-law. Indeed, Fanny was not only a composer in her own right—she had herself written some of the Songs Without Words attributed to her brother—but she seems to have exercised, by her sisterly companionship, a powerful influence on the development of his inner musical nature.
Works written over the following years include the Variations sérieuses (1841), for piano, the Lobgesang (1840; Hymn of Praise), Psalm CXIV, the Piano Concerto No. 2 in D Minor (1837), and chamber works. In 1838 Mendelssohn began the Violin Concerto in E Minor–Major. Though he
normally worked rapidly, this final expression of his lyrical genius compelled his arduous attention over the next six years. Later, in the 20th century, the Violin Concerto was still admired for its warmth of melody and for its vivacity, and it was also the work of Mendelssohn's that, for nostalgic listeners, enshrined the elegant musical language of the 19th century.
In 1843 Mendelssohn founded at Leipzig the conservatory of music where he taught composition. Visits to London and Birmingham followed, entailing an increasing number of engagements. These would hardly have affected his normal health; he had always lived on this feverish level. But at Frankfurt in May 1847 he was greatly saddened by the death of Fanny. His energies deserted him, and, following the rupture of a blood vessel, he soon died.
Tracklist:
Violin Concerto in E minor, Op. 64 A Midsummer Night's Dream Royal Philharmonic Orchestra
This album contains the Songs without Words, Variations serieuse, Kinderstucke, Rondo capriccioso, Capriccio, and Trois Fantasies ou Caprices plus several shorter works.