Search Posts by Categories:
and subscribe to our social channels for news and music updates:
Edvard Grieg: Lyric Pieces
Lyrical Pieces (Norwegian: Lyriske stykker) is a collection of 66 short solo piano pieces composed by Edvard Grieg. They were published in 10 volumes, from 1867 (Op. 12) to 1901 (Op. 71). The collection includes several of his best-known pieces, such as The Wedding Anniversary at Troldhaugen (Bryllupsdag på Troldhaugen), To Spring (Til våren), March of the Trolls (Trolltog), and The Butterfly (Sommerfugl).
The theme of the first piece of the ensemble, Arietta, was one of the composer's favorite tunes. He used it to complete the cycle in his last lyrical piece, Memories (Efterklang) — this time as a humorous waltz.
In 2002, Norwegian pianist Leif Ove Andsnes recorded a CD of 24 of Grieg's own 1892 Steinway grand piano pieces at Troldhaugen, the composer's residence. Other notable pianists who made recordings of the collection include Isabel Mourão (the Brazilian pianist was also the first to record the entire Lyric Pieces), Walter Gieseking, Sviatoslav Richter, Emil Gilels, Eva Knardahl, Andrei Gavrilov, Håkon Austbø, Einar Steen-Nøkleberg, Irina Mejoueva, Gerhard Oppitz, Stephen Hough, and Javier Perianes.
There are also a couple of recordings and piano rolls performed by Grieg himself, which have been released by the Norwegian record company Simax.
Four of the six pieces in Book V, Op. 54, were orchestrated under the title of Lyric Suite. Grieg and Anton Seidl performed the orchestration. Grieg also orchestrated two of the pieces in Book IX, Op. 68.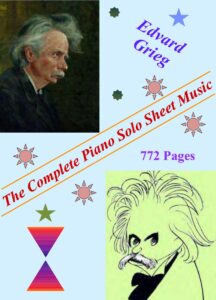 Although it was published in multiple volumes, some publishers, such as Peters Edition, have numbered the pieces as a whole, numbering all 66 pieces in order, rather than numbering each of the volumes individually. The movement parts list is as follows:
Book I, Op. 12 (composed 1866-7?; published 1867):
No. 1, Arietta
No. 2, Waltz (Waltz)
No. 3, Vektersang (Song of the Watchers, Homage to Macbeth)
No. 4, Alfedans (Dance of the Elves)
No. 5, Folkevise (folk tune)
No. 6, Norsk (Norwegian tune)
No. 7, Albumblad (Album Sheet)
No. 8, Fedrelandssang (national song)
Edvard Grieg
Edvard Hagerup Grieg (Bergen, Norway, June 15, 1843-ibidem, September 4, 1907) was a Norwegian composer and pianist, considered one of the main representatives of musical romanticism.
He adapted many themes and songs from his country's folklore, thus helping to create a Norwegian national identity, much like Jean Sibelius in Finland or Antonín Dvořák in Bohemia. His most important works are: the piano concerto in A minor, the intimate Lyrical Pieces (for piano) and especially Peer Gynt, incidental music that he wrote on behalf of the writer Henrik Ibsen for his drama of the same name.
Search Posts by Categories:
and subscribe to our social channels for news and music updates:
Grieg is regarded as a nationalist composer, reflecting inspiration from Norwegian folk music. His early works include a Symphony in C minor and a Piano Sonata in E minor Op. 7.
He also wrote three sonatas for violin and piano and many small piano works—for this reason some called him the 'Chopin of the North'—a often inspired by Norwegian folk dances and songs, the fjords and landscapes of their country, and the Hadangar dialect.
Among his best-known works are the Piano Concerto in A minor, the Holberg Suite (for string orchestra), and ten volumes of lyrical pieces (for piano). He is also known for his incidental music, commissioned by Henrik Ibsen for his drama Peer Gynt.
'The Morning' was a favorite of Carl Stalling, who often used it for some short films at Warner Bros. There is also some resemblance to this tune on the Lord of the Rings soundtrack. This work, contrary to what many think, was created to represent a sunrise in the Sahara desert, and not one in the fjords of Norway.
The first movement of Grieg's piano concerto is used in the Adrian Lyne film Lolita (1997). On the other hand, there are numerous Peer Gynt versions of him, and the fragment In the cave of the mountain king has appeared in many cultural references.
Due to the significance of his work, in commemoration of the centenary anniversary of his death, ceremonies were held in his honor in various countries, including a series of concerts in Bergen and Troldhaugen (the city where he lived); a tour of the Bergen Philharmonic Orchestra in the United States in November 2007; a concert in May 2007 at the Norwegian embassy in Dar es Salaam, Tanzania; an international festival of his music in Buenos Aires, Argentina, and a series of musical performances of his works in Quebec, Montreal and Saskatoon, in Canada, among many others.