Browse in the Library:
and subscribe to our social channels for news and music updates:
Giant Steps – (John Coltrane) Jazz Piano Solo transcription of Tete Montoliu (with sheet music)
Tete Montoliu
Vicenç Montoliu i Massana, better known as Tete Montoliu (Barcelona, ​​March 28, 1933 – August 24, 1997), was a Spanish jazz pianist and composer, the first to transcend borders and reach international level. His style is heavily influenced by artists such as Duke Ellington, John Coltrane and Thelonious Monk.
Blind from birth, he began to play the piano from his earliest childhood, influenced by a family with a great musical vocation. He starts out in the world of jazz, attracted by the music of Art Tatum, another great blind pianist, and Earl Hines.
His professional career began in May 1954, as a pianist in the orchestra of Venezuelan bolero singer Lorenzo González. At the Hot Club in Barcelona, ​​where he frequently plays with the saxophonist Don Byas, he meets Lionel Hampton, who incorporates him into a recording of his in 1956. In 1958, Tete Montoliu performs for the first time outside of Spain, in Cannes, accompanied by Art Taylor and Doug Watkins.
In the 1960s, he frequently played in Berlin, alongside Albert Mangelsdorff, Chet Baker, Sahib Shihab, and Herb Geller, as well as in Copenhagen, alongside Dexter Gordon, Archie Shepp, Kenny Dorham and Roland Kirk, among others.
In 1965 he formed a trio with double bassist Eric Peter and drummer Billy Brooks, performing regularly at the Jamboree in Barcelona, ​​and also at the Whiskey Jazz in Madrid, where he shared the stage with saxophonist Pedro Iturralde. At that time he accompanied musicians as prominent as Donald Byrd, Lucky Thomson, Pony Poindexter, Art Farmer and Ornette Coleman.
Then, in 1965, he recorded A Tot Jazz volume 1 and 2 (with Eric Peter and Billy Brooks) in Catalonia, an all-jazz album to his taste. Josep Mª Espinàs from the Concèntric label participated in the recording. 'The first time I wasn't told 3 minutes, and I was able to do 8 or 9 minutes per subject. Let's say they let me talk.'
'A record is suffering if there is no audience. In a concert if I make a mistake, I look at the person next to me and nothing happens, or we fix it and that's it, but with a record repeat and repeat… I'm sure I do worse. I don't like to repeat, let alone an improvisation (the day I do it, I'm going home). The first 30 cm Jazz LP recorded in Spain by a record label in the country. 'An improvisation is a story you're telling, you can't always tell the same story.'
'I get very nervous listening to me, sometimes you think, now you're going to make a mistake, or I wouldn't have touched the subject like that'. 'Although the opposite happened to me once at Whiskey Jazz, I heard a record I really liked and when I asked who the pianist was, they told me it was me, I couldn't remember.'
During January 1966 he recorded with Élia Fleta an album of 4 jazz tracks in Catalan (Les Fulles Mortes…). Élia Fleta was chosen as the best singer of the year according to Peninsular Radio. In November 1966 he inaugurated the 1st Barcelona Jazz Festival.
In 1967, he recorded with Richard Davis and Elvin Jones, in the United States, for Impulse! (although these recordings are not released on album) and, back in Europe, he publishes several albums as accompanist and as director.
He returned to the United States twice (1979 and 1980), and worked with Bobby Hutcherson, Ben Webster, Lucky Thompson, Anthony Braxton and George Coleman, with whom he also made various recordings.
He also plays with musicians like Chick Corea, Paquito D'Rivera, Stan Getz and Stéphane Grappelli. In Spain, he performs numerous sessions together with Núria Feliu, or with his inseparable trio, formed with the double bass player Horacio Fumero and the drummer Peer Wyboris.
In 1996, he received a national tribute at the Teatro Monumental in Madrid on the occasion of his 50 years in the world of jazz, with Tom Harrell and Gary Bartz, among others.
Tete Montoliu died on August 24, 1997, in Barcelona at 11:40 a.m. at the Hospital Clínic de Barcelona, ​​at the age of 64, a victim of lung cancer. After his death, the Biennial Tete Montoliu Jazz Awards was created.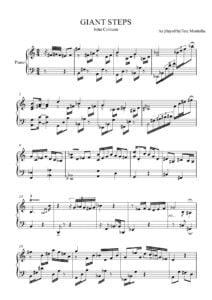 Tete Montoliu developed his way of playing based on the influence of Bud Powell and, to a lesser extent, Lennie Tristano, although he achieved a personal style, percussive, full of swing and very bluesy, which made him the most international figure in jazz. Spanish, and in a companion claimed by American figures passing through Europe. His role on the Spanish scene is similar to that of Martial Solal on the French scene.
Browse in the Library:
and subscribe to our social channels for news and music updates: