Browse in the Library:
and subscribe to our social channels for news and music updates:
Giant Steps – (John Coltrane) Jazz Piano Solo transcripción de Tete Montoliu (con partitura, with sheet music)
Tete Montoliu
Vicenç Montoliu i Massana, más conocido como Tete Montoliu (Barcelona, ​​28 de marzo de 1933 – 24 de agosto de 1997), fue un pianista y compositor de jazz español, el primero en trascender fronteras y alcanzar el nivel internacional. Su estilo está fuertemente influenciado por artistas como Duke Ellington, John Coltrane y Thelonious Monk.
Ciego de nacimiento, comenzó a tocar el piano desde su más tierna infancia, influenciado por una familia con una gran vocación musical. Se inicia en el mundo del jazz atraído por la música de Art Tatum, otro gran pianista ciego, y Earl Hines.
Su carrera profesional comenzó en mayo de 1954, como pianista de la orquesta del bolerista venezolano Lorenzo González. En el Hot Club de Barcelona, ​​donde toca frecuentemente con el saxofonista Don Byas, conoce a Lionel Hampton, que lo incorpora a una grabación suya en 1956. En 1958, Tete Montoliu actúa por primera vez fuera de España, en Cannes, acompañada por Art Taylor y Doug Watkins.
En la década de 1960, tocó con frecuencia en Berlín, junto a Albert Mangelsdorff, Chet Baker, Sahib Shihab y Herb Geller, así como en Copenhague, junto a Dexter Gordon, Archie Shepp, Kenny Dorham y Roland Kirk, entre otros.
En 1965 hace trío con el contrabajista Eric Peter y el batería Billy Brooks, actuando habitualmente en el Jamboree de Barcelona, ​​y también en el Whisky Jazz de Madrid, donde comparte escenario con el saxofonista Pedro Iturralde. En esta época acompaña a músicos tan destacados como Donald Byrd, Lucky Thomson, Pony Poindexter, Art Farmer y Ornette Coleman. En 1965 graba A Tot Jazz volumen 1 y 2 (con Eric Peter y Billy Brooks) en Cataluña, un disco todo de todo jazz ya su gusto. Josep Mª Espinàs del sello Concéntrico participó en la grabación. «La primera vez que no me dijeron 3 minutos y pude hacer 8 o 9 minutos por tema. Digamos que me dejaban hablar».
«Un disco es un sufrimiento si no hay público. En un concierto si me equivoco, miro al de mi lado y no pasa nada o arreglamos y punto, pero con un disco repetir y repetir… seguro que lo hago peor. No me gusta repetir y menos una improvisación (el día que lo haga, me voy a casa). El primer L.P de Jazz de 30 cm grabado en España por una discográfica del país.
«Una improvisación es una historia que estás contando, no puedes contar siempre la misma historia.» «Me pongo muy nervioso escuchándome, a veces piensas, ahora te equivocarás o no lo habría tocado así el tema». «Aunque una vez me ocurrió lo contrario en el Whisky jazz, que oí un disco que me gustaba mucho y cuando pregunté quién era el pianista, me dijeron que era yo, no me acordaba.»
Durante enero de 1966 graba con Élia Fleta un disco de 4 temas de jazz en catalán (Autumn Leaves, las Hojas Muertas…). Élia Fleta fue elegida como mejor cantante del año según Radio Peninsular. En noviembre de 1966 inaugura el I Festival de Jazz de Barcelona.
En 1967, grabó con Richard Davis y Elvin Jones, en Estados Unidos, para Impulse! (aunque estas grabaciones no se editan en disco) y, de vuelta en Europa, edita varios discos como acompañante y como director.
Regresó a Estados Unidos en dos ocasiones (1979 y 1980), y trabajó con Bobby Hutcherson, Ben Webster, Lucky Thompson, Anthony Braxton y George Coleman, con quienes también realizó varias grabaciones. También toca con músicos como Chick Corea, Paquito D'Rivera, Stan Getz y Stéphane Grappelli. En España realiza numerosas sesiones junto a Núria Feliu, o con su inseparable trío: el formado por el contrabajista Horacio Fumero y el baterista Peer Wyboris.
En 1996 recibió un homenaje nacional en el Teatro Monumental de Madrid con motivo de sus 50 años en el mundo del jazz, junto a Tom Harrell y Gary Bartz, entre otros.
Tete Montoliu murió el 24 de agosto de 1997, en Barcelona, a las 11:40 de la mañana, en el Hospital Clínic de Barcelona, ​​con 64 años, víctima de cáncer de pulmón. Después de su muerte, se creó la Biennial Tete Montoliu Jazz Awards.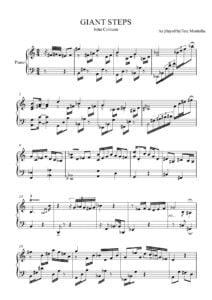 Montoliu desarrolló su forma de tocar basándose en la influencia de Bud Powell y, en menor medida, de Lennie Tristano, aunque logró un estilo personal, percusivo, lleno de swing y muy bluesero, que le convirtió en la figura más internacional del jazz español, y en un compañero reclamado por figuras americanas de paso por Europa. Su papel en la escena española es similar al de Martial Solal en la escena francesa.
Browse in the Library:
and subscribe to our social channels for news and music updates: