Follow @LibrarySheet
Bud Powell (1924-1966) – Autumn in New York (Jazz Piano Transcription sheet music)
Bud Powell (1924-1966)
Earl Rudolph 'Bud' Powell (New York, September 27, 1924 – New York, July 31, 1966), known as Bud Powell, was an American jazz pianist and composer, and one of the fundamental figures of bebop.
Along with Charlie Parker, Dizzie Gillespie, Thelonious Monk and Mary Lou Williams, he was one of the most important figures in modern jazz. He was also a creative and influential songwriter.
The arrests and beatings ended up bordering him to the diffuse domains of that madness in which we are all exposed. Then his addictions and excesses did the rest to remain in the permanent memory of jazz as another of those many broken toys that the genre has produced.
His name was Bud Powell and in the luminosity of his life everyone recognizes one of the capital musicians of jazz , the main protagonist in the gestation and growth of 'bebop', that beat that was invented between dreams and nightmares, another genius torn apart by his own circumstances Charlie Parker.
Now that jazz players are trained in immaculate schools and make a career with the calculator, this pianist with his own legend, whose 90th anniversary of his birth is celebrated this year, made himself walking on those two faces that life has.
Bud Powell was considered by all his peers to be a true divinity of the piano, equating his talent and authority even with other friendly teachers such as Thelonious Monk, with whom he shared music, stage and tortuous life.
The community of fans was also faithful to him, although a very different matter was the relationship he had with representatives, programmers, promoters and record managers, who, you know, do not understand or admit what is different. Many of them forced the pianist to rigorous confinement in flats to avoid any possibility of the artist's disappearance.
However, the essence of Powell's music lay precisely in his convulsive personality, which was as soon revealed with the gestures of an introverted and quiet person as of a person with unusual violent attacks.
Beyond the vicissitudes that Earl Rudolph Powell (New York, 1924-1966) ended up suffering in the end, today it is clear that his name was destined to occupy a good part of the jazz glory of the time in which he lived.
Bud Powell was born in one of those neighborhoods that mark, Harlem, in the bosom of a family with a great musical passion; his grandfather Zachary was one of the best flamenco guitarists in the United States; his father was a noted stride piano player; and his older brother Richie a professional violinist and trumpeter.
It was his father, precisely, who they say guided his first tours of the keyboard, transcending the early talent of the young pupil, who was capable of playing songs by Fats Waller or Art Tatum just by listening to them once.
An irresistible temptation
He spent his adolescence between songs by Nat 'King' Cole and classics like Debussy, Chopin, Beethoven, Liszt or, especially, Mozart and Bach; inspired by preludes and fugues of the latter. But the temptation of jazz with the passage of time became, more than irresistible, a reality, abandoning his studies to start in the professional world at the hands of the trumpeter and singer Valaida Snow.
Soon the sessions would arrive from midnight to dawn, playing in clubs with the kings of the moment, the fathers of 'bebop': Charlie Parker, Dizzy Gillespie, Fats Navarro and, above all, as has been said, Thelonious Monk, probably the artist who exerted the most influence on him, and from whom he would receive the same admiration through compositions such as In a walked Bud or 52nd Street Theme.
It would be this, the author of 'Round Midnight', who would encourage Bud Powell to join the orchestra of the trumpeter Cootie Williams, with whom he would sign one of those solos for posterity in Blue Garden Blues, and with whom he would stay for two years, between 1942 and 1944.
The following year the pianist would suffer a beating by a policeman who brutally crushed his head, and whose consequences – pain, depression, nervous breakdowns – would end up accompanying him for the rest of his life.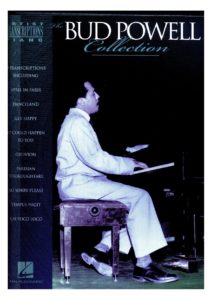 It is said that the reason for the dispute was to come out in defense of his friend Monk and his admission to Bellevue Hospital is today remembered as one of the great stories of jazz anecdotes, since the diagnosis of the doctor in question included the following analysis: "pianist and composer of about 1000 songs, person with great delusions of grandeur".
"He's crazier than me!!!"
In 1946, Powell returned, already being described as 'The Charlie Parker of the piano' and being the main pianist of emblematic venues such as the Mintons Playhouse, where he collaborated with other noble jazz players of the New York scene and of the time, in the case of Dexter Gordon, Sonny Stitt, JJ Johnson, Kenny Clarke or Sarah Vaughan.
Between 1947 and 1950 he recorded his first albums for labels such as Roost, Verve, Blue Note or Savoy, coinciding in the latter with Charlie Parker, who, due to the chaotic and erratic personality of the pianist, would end up rejecting Powell "because he is more crazy than me!!!", as Miles Davis would later recount in his biography.
In 1951, he would have another serious altercation with the police, who arrested him for drug possession and admitted him to a hospital where they treated him with electroshock sessions, which undermined the low self-esteem that the progressive loss of memory allowed him. He then begins a hospital confinement that would last two years, and in which he was barely allowed to play the piano.
In 1953, he was discharged, and he immediately assembled a new group, made up of double bassist George Duvivier and drummer Art Taylor, being a regular at another of the most famous venues on the New York jazz circuit, Birdland.
Despite his diminished physical faculties, Bud Powell was considered one of the greatest pianists of the genre , attesting to this in the historic concert held that year at Massey Hall in Toronto, along with none other than Dizzy Gillespie. , Charlie Parker, Charles Mingus and Max Roach. There it is nothing: half a fatherhood of jazz gathered on a stage. The performance was recorded by the 'Original Jazz Classics' division of the multinational Universal and is, without a doubt, one of the albums that every good jazz club should have.
However, and since life is persistent like the channels of a river, a short time later the pianist suffers another personal blow: the death of his older brother in the same traffic accident as that of Clifford Brown.
The event -any similarity with Bill Evans is real-would plunge him into another deep depression, from which he flees by enrolling in the European tour that he would carry out with the Birdland All Star, where Lester Young or Miles Davis were also active.
Years later he would establish his residence in Paris, setting up the trio Three Bosses together with the French bassist Pierre Michelot and another exiled North American, the aforementioned drummer Kenny Clarke.
Drugs and alcohol problems
In the French capital he would enjoy a certain glory as a great jazz star, although his problems with drugs and alcohol gradually worsened. To these excesses was added tuberculosis in both lungs, which would worsen with the suicidal intake of all kinds of tranquilizers. In the middle of the 1960s, Powell decides to return to his beloved New York.
In 1966, unable to stop drinking and taking pills, suffering from tuberculosis, the pianist died in 1966; Nearly 5,000 people attend his funeral through the streets of Harlem and comrades-in-arms like Barry Harris and Lee Morgan play at his funeral.
"If I had to choose a single musician, it would be Bud Powell, for his artistic integrity, the dimension of his work and his incomparable creativity," said another broken personality and jazz giant like Bill Evans, who paid for a tribute out of his pocket to the New Yorker in 1979.
Two years ago, the historian Peter Pullman delivered a juicy biography in which he realizes the eventful and tortuous life of the pianist.
The history of jazz is full of biographical stories similar to Powell's, almost all of them set in a time, that of the middle of the last century, in which everything was questions and there was a voracious appetite for experimentation and the discovery that, in the In most cases, it was articulated on erroneous approaches and ideas.
Parker affirmed it at the time: drugs did not make him play better, but they did change his perception when it came to listening to and digesting them. That is why all these artists could give us the dreams in which they lived, the conflicting emotions that culminated in an impossible melody, in a phrasing of eternal temporality.
Browse in the Library:
and subscribe to our social channels for news and music updates:
Bud Powell discography (Wikipedia)