Follow @LibrarySheet
Gladiator – Now we are free (piano solo) Hans Zimmer with sheet music download from our Library.
Hans Florian Zimmer (12 Sept.1957) is a German film score composer and record producer. Zimmer's works are notable for integrating electronic music sounds with traditional orchestral arrangements. Since the 1980s, he has composed music for over 150 films. His works include The Lion King, for which he won the Academy Award for Best Original Score in 1995, the Pirates of the Caribbean series, Interstellar, Gladiator, Crimson Tide, Inception, Dunkirk, and The Dark Knight Trilogy.
He has received four Grammy Awards, three Classical BRIT Awards, two Golden Globes, and an Academy Award. He was also named on the list of Top 100 Living Geniuses, published by The Daily Telegraph.
Zimmer spent the early part of his career in the United Kingdom before moving to the United States. He is the head of the film music division at DreamWorks studios and works with other composers through the company that he founded, Remote Control Productions, formerly known as Media Ventures. His studio in Santa Monica, California has an extensive range of computer equipment and keyboards, allowing demo versions of film scores to be created quickly.
Zimmer has collaborated on multiple projects with directors including Ridley Scott, Ron Howard, Gore Verbinski, Michael Bay, Guy Ritchie and Christopher Nolan.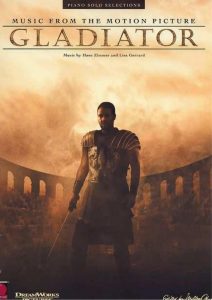 Zimmer has composed and produced over one hundred soundtracks and film scores. Of them, about 50 soundtracks and songs were nominated for awards.
You can find most of his sheet music in our Library.
Zimmer has received a range of honors and awards, including the Lifetime Achievement Award in film Composition from the National Board of Review, the Frederick Loewe Award in 2003 at the Palm Springs International Film Festival, ASCAP's Henry Mancini Award for Lifetime Achievement, and BMI's Richard Kirk Award for lifetime achievement in 1996.
In December 2010, Zimmer received a star on the Hollywood Walk of Fame. He dedicated the award to his publicist and long-term friend Ronni Chasen, who had been shot and killed in Beverly Hills the previous month.
In 2016, Zimmer was one of the inaugural winners of the Stephen Hawking Medal for Science Communication.
In November 2017, a main-belt asteroid (495253) 2013 OC8 discovered by Polish astronomers Michal Kusiak and Michal Zolnowski was named Hanszimmer.
As of 2018, Zimmer has received eleven Academy Award nominations for his work, with a win at the 67th Academy Awards for the 1994 film The Lion King.
On 2 October 2018, Zimmer received the Order of Merit of the Federal Republic of Germany.
In 2019, Zimmer was inducted as a Disney Legend.
Gladiator (2000 film) with sheet music
Gladiator is a 2000 British-American epic historical drama film directed by Ridley Scott and written by David Franzoni, John Logan, and William Nicholson. The film was co-produced and released by DreamWorks Pictures and Universal Pictures.
It stars Russell Crowe, Joaquin Phoenix, Connie Nielsen, Ralf Möller, Oliver Reed (in his final role), Djimon Hounsou, Derek Jacobi, John Shrapnel, and Richard Harris. Crowe portrays Roman general Maximus Decimus Meridius, who is betrayed when Commodus, the ambitious son of Emperor Marcus Aurelius, murders his father and seizes the throne. Reduced to slavery, Maximus becomes a gladiator and rises through the ranks of the arena to avenge the murders of his family and his emperor.
Inspired by Daniel P. Mannix's 1958 book Those About to Die (formerly titled The Way of the Gladiator), the film's script, initially written by Franzoni, was acquired by DreamWorks and Ridley Scott signed on to direct the film. Principal photography began in January 1999, before the script was completed, and wrapped up in May of that year, with the scenes of Ancient Rome shot over a period of nineteen weeks in Fort Ricasoli, Malta.
The film's computer-generated imagery effects were created by British post-production company The Mill, who also created a digital body double for the remaining scenes involving Reed's character Proximo due to Reed dying of a heart attack during production.
Gladiator premiered in Los Angeles on May 1, 2000, and was released theatrically in the United States on May 5 and in the United Kingdom on May 11. The film received generally favorable reviews from critics, with praise for the acting (particularly Crowe's and Phoenix's performances), Scott's direction, visuals, screenplay, action sequences, musical score and the production values. It was a box office success, grossing $187.7 million in the United States and grossed $457 million worldwide, making it the second highest-grossing film of 2000.
The film won multiple awards, including five Academy Awards at the 73rd Academy Awards: Best Picture, Best Actor for Crowe, Best Costume Design, Best Sound and Best Visual Effects. It also received four BAFTA Awards at the 54th British Academy Film Awards for Best Film, Best Cinematography, Best Production Design and Best Editing. Since its release, Gladiator has also been credited with reinventing the swords 'n' sandals genre and rekindling interest in entertainment centered around ancient Greek and ancient Roman culture, such as the TV series Rome.
The Oscar-nominated score was composed by Hans Zimmer and Lisa Gerrard, and conducted by Gavin Greenaway. Zimmer was originally planning to use Israeli vocalist Ofra Haza for the score, after his work with her in The Prince of Egypt. However, Haza died in late February 2000, before she was able to record, and so Gerrard was chosen instead. Lisa Gerrard's vocals are similar to her own work on The Insider score.
The music for many of the battle scenes has been noted as similar to Gustav Holst's "Mars: The Bringer of War", and in June 2006, the Holst Foundation sued Hans Zimmer for allegedly copying the late Holst's work. Another close musical resemblance occurs in the scene of Commodus's triumphal entry into Rome, accompanied by music clearly evocative of two sections – the Prelude to Das Rheingold and Siegfried's Funeral March from Götterdämmerung – from Richard Wagner's Ring of the Nibelung.
On February 27, 2001, nearly a year after the first soundtrack's release, Decca produced Gladiator: More Music From the Motion Picture. Then, on September 5, 2005, Decca produced Gladiator: Special Anniversary Edition, a two-CD pack containing both the above-mentioned releases. Some of the music from the film was featured in the NFL playoffs in January 2003 before commercial breaks and before and after half-time. In 2003, Luciano Pavarotti released a recording of himself singing a song from the film and said he regretted turning down an offer to perform on the soundtrack.
Browse in the Library:
and subscribe to our social channels for news and music updates: