Keith Jarrett Trio – Standards 2 – LIVE in Tokyo, October 26, 1986, at Hitomi Memorial Hall
Browse in the Library:
and subscribe to our social channels for news and music updates:
Search Posts by Categories:
Personnel:
Keith Jarrett Piano Gary Peacock Double Bass Jack DeJohnette Drums
Love Letters
Georgia On My Mind
You And The Night And The Music
When I Fall In Love
On Green Dolphin Street
Woody'n You
Abspann
Young And Foolish
Recorded live in Tokyo, October 26, 1986 at Hitomi Memorial Hall
This standards extravaganza is the regression to the previous concert's progression, but loses no sense of integrity for its introversion. "You Don't Know What Love Is" eases into things with sweeping finesse such as only Jarrett can pull off. It is followed by "With A Song In My Heart," the meditation of which morphs into some solid invigorations. Peacock and DeJohnette share a flawless rapport, the drummer popping off that snare like a machine gun. So begins an alternating pattern of valleys and peaks, which by the end leave behind an even more cohesive program than the first.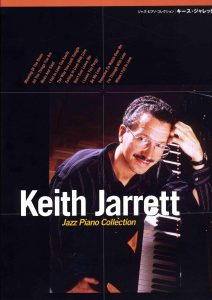 We next dip down into a tune the trio plays like no one else: "When You Wish Upon A Star." Jarrett's rendering makes even the most familiar blossom anew with emotional honesty. The mastery on display in this quintessential example is as pliant as Peacock's strings, and carries over into the interlocking tempi of "All Of You." For this, the bassist leaps forward with the first of two solos, moving from robust to filigreed without loss of syncopation. The bassist turns out to be the sun of this solar system, lathering a mysterious yet lucid "Georgia On My Mind" and a duly nostalgic "When I Fall In Love" with enough light to spare in conversation with his bandmates.
DeJohnette, for his part, airbrushes the night sky in "Blame It On My Youth" and lets the groove be known behind "Love Letters." And in tandem with Jarrett, he feeds magic into the masterstroke of "You And The Night And The Music." Unforgettable. Each of the encores—"On Green Dolphin Street," and "Woody 'n You," —is a virtuosic gem set to twinkling and reminds us that Jarrett and his associates came this far only by selecting their divergences lovingly.
"Although only music excites me, and awards and ceremonies do not, I feel honored to receive this NEA Jazz Masters Award, due to the many players on the list since 1982 that have been influential in my life. I'm honored to be in their company, and am reminded that the true nature of jazz has always relied on the individual players making their mark on the music of the future. Jazz is not dead as long as someone is playing with true inspiration."
Follow @LibrarySheet