Follow @LibrarySheet
George Shearing – Lullaby of Birdland (transcription sheet music)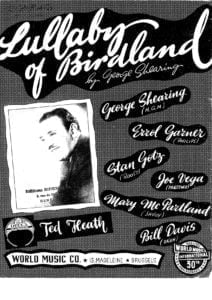 George Shearing
George Shearing ( London , August 13, 1919 – February 14, 2011 ) was an English Jazz pianist and composer. His stylistic scope was that of pre-hard bop genres : swing , bop , and cool; he has also made important approaches to Latin jazz .
Within his constant attention to jazz from a rather traditional perspective, George Shearing led in the fifties, and well into the sixties, one of the most popular jazz groups: an original quintet consisting of piano , vibraphone , electric guitar , bass and battery .
George Shearing was influenced in his style (self-styled "locked hands", based on the parallel chords) by pianist Milt Buckner's work with vibraphonist Lionel Hampton's band , by the sax's orchestra, section of Glenn Miller and by the King Cole Trio .
The influences of the great boogie-woogie pianists and classics such as Fats Waller , Earl Hines , Teddy Wilson, Erroll Garner, Art Tatum and Bud Powell are also noticeable. Of course, he has also been greatly admired and followed.
In the 50s, he created the famous style of Shearing Blocks, consisting of playing the melody in harmonic blocks. The melody note is accompanied by the remaining 3 notes of the chord in the right hand, and the left hand doubles the melody.
Shearing also contributed as a pioneer of small combos in Afro-Cuban jazz, in the 1950s. In this sense, Cal Tjader got his start in Latin jazz while playing with Shearing, who also had congueros such as Mongo Santamaría , Willie Bobo and Armando Peraza among his musicians.
As a songwriter, George Shearing is best known for the standards "Lullaby of Birdland," "Conception" and "Consternation."
George Shearing has also been one of the most acclaimed companions of singer Mel Tormé.
George Shearing Essential biography
George Shearing, who was born blind, began playing the piano at the age of three, taking some lessons at London's Linden Lodge School for the blind during his teens, already being influenced by jazz men such as Teddy Wilson and Fats Waller .
In the late 1930s, he began playing professionally with the Ambrose dance band and made the first recording of it in 1937 under the supervision of a young Leonard Feather .
He became a star in Britain, playing for the BBC and the self-exiled Stéphane Grappelli's groups in the early 1940s.
He won seven consecutive Melody Maker magazine polls.
In 1947, prompted by Feather, he emigrated to New York . Once there, the pianist absorbed bebop and replaced Erroll Garner in Oscar Pettiford 's trio and led a quartet along with Buddy DeFranco .
In 1949, he formed the first and most famous of his quintet, which featured Marjorie Hyams on vibraphone, Chuck Wayne on guitar, John Levy on bass, and Denzil Best on drums. They recorded first for Discovery, then for Savoy , eventually landing major contracts with MGM (1950-55) and Capitol (1955-69), making for them the famous records with Nancy Wilson , Peggy Lee , and Nat Cole . 3 He also recorded in 1961 with Jazzland with the Montgomery Brothers (including Wes Montgomery ) and began to give concerts with symphony orchestras .
After leaving Capitol, Shearing continued to play with several other quintets, but his music became somewhat predictable and in 1978 he left the last of them. In the early 1970s, he had created his own company, Sheba, which lasted only a short time, and went on to make some trio recordings for MPS .
Throughout the 1970s, his popularity had waned considerably; however, when in 1979 he signed with Concord, he regained some of the credit from him.
He recorded highly praised albums with singer Mel Tormé, which in turn increased Tormé's popularity, and with other artists such as vocalist Ernestine Anderson , guitarist Jim Hall , Marian McPartland , Hank Jones, and with French horn player Barry Tuckwell .
He also recorded several solo albums, expressing all his influences.
After signing with Telarc in 1992, he continued to record, continuing one of the longest and most prolific careers in jazz history.
He passed away on February 14, 2011, due to heart failure in New York City.
Discography
1947: Piano Solo – Savoy
1947: Great Britain's Marian McPartland & George Shearing – Savoy Jazz (Released 1994)
1949: Midnight on Cloud 69 – Savoy
1949: George Shearing Quintet – Discovery
1950: You're Hearing George Shearing and his Quintet – MGM (E-3216)
1951: An Evening with the George Shearing Quintet
1951: Souvenirs – London
1951: Touch of Genius – MGM
1952: I Hear Music – Metro
1955: Shearing Caravan – MGM
1955: Shearing in Hi Fi – MGM
1955: The Shearing Spell – Capitol
1956: Latin Escapade – Capitol
1956: Black Satin – Capitol (T858) (pop #13)
1956: By Request – London
1956: Velvet Carpet – Capitol (pop #20)
1957: Shearing on Stage – Capitol #T-1187
1958: Blue Chiffon – Capitol
1958: Burnished Brass – Capitol (pop #17)
1958: Latin Lace – Capitol
1958: George Shearing on Stage! – Capitol
1958: Latin Affair – Capitol
1958: In the Night – Capitol
1959: Satin Brass – Capitol
1959: Satin Latin – MGM
1959: Beauty and the Beat! (con Peggy Lee) – Capitol
1960: San Francisco Scene – Capitol
1960: On the Sunny Side of the Strip – GNP
1960: The Shearing Touch – Capitol (T1472)
1960: White Satin – Capitol (pop #11)
1961: George Shearing and the Montgomery Brothers – Jazz
1961: Mood Latino – Capitol
1961: Nat King Cole Sings/George Shearing Plays (con Nat King Cole) – Capitol (pop #27)
1961: Satin Affair – Capitol (pop #82)
1961: The Swingin's Mutual! (con Nancy Wilson) – Capitol
1962: Concerto for My Love – ST-1755 Capitol
1962: Jazz Moments – Blue Note
1962: Shearing Bossa Nova –Capitol
1962: Soft and Silky – MGM
1962: Smooth & Swinging – MGM
1963: Touch Me Softly – Capitol
1963: Jazz Concert – Capitol
1963: Old Gold and Ivory – Capitol
1963: Latin Rendezvous – Capitol
1964: Out of the Woods – Capitol
1964: Deep Velvet – Capitol
1965: "Here & Now" – Capitol
1965: "New Look" – Capitol
1966: That Fresh Feeling – Capitol
1966: Rare Form (live, grabado 1963)
1968: Shearing Today – Capitol
1969: In the Mind – Capitol
1969: The Fool on the Hill – Capitol
1970: Out of This World (Sheba Records)
1970: It's Real George (CRS 2023 Crown Records)
1971: The Heart and Soul of Joe Williams and George Shearing (Sheba)
1972: As Requested (Sheba)
1972: Music to Hear (Sheba)
1972: The George Shearing Quartet (Sheba)
1973: GAS (Sheba)
1974: Light Airy and Swinging – MPS/BASF
1974: Swinging in a Latin Mood – MPS/BASF
1974: My Ship – MPS/BASF
1974: The Way We Are – MPS/BASF
1975: Continental Experience – MPS/BASF
1976: The Many Facets of George Shearing – MPS/BASF
1976: The Reunion – MPS/BASF (with Stéphane Grappelli)
1977: Windows – MPS/BASF
1977: 500 Miles High – MPS/BASF
1979: Getting in the Swing of Things – MPS/BASF
1979: Blues Alley Jazz (Live) – Concord Jazz
1979: Concerto for Classic Guitar and Jazz Piano – Angel
1980: Two for the Road – Concord
1980: On a Clear Day – Concord Jazz
1981: Alone Together – Concord Jazz (con Marian McPartland)
1981: First Edition – Concord Jazz (con Jim Hall)
1982: An Evening with George Shearing & Mel Tormé (Live, con Mel Tormé)
1983: Top Drawer – Concord Jazz (Live, con Mel Tormé)
1984: Live at the Cafe Carlyle – Concord
1985: An Elegant Evening – Concord Jazz (con Mel Tormé)
1985: Grand Piano – Concord Jazz
1986: George Shearing & Barry Tuckwell Play the Music of Cole Porter – Concord
1986: More Grand Piano – Concord Jazz
1987: A Vintage Year – Concord Jazz (Live, con Mel Tormé)
1987: Breakin' Out – Concord Jazz
1987: Dexterity – Concord Jazz (Live, con Ernestine Anderson)
1988: The Spirit of 176 – Concord Jazz (con Hank Jones)
1988: A Perfect Match – Concord Jazz (con Ernestine Anderson)
1989: George Shearing in Dixieland – Concord
1989: Piano – Concord Jazz
1990: Mel and George "Do" World War II – Concord (Live, con Mel Tormé)
1991: Get Happy! – EMI Classics
1992: I Hear a Rhapsody: Live at the Blue Note – Telarc (Live)
1992: Walkin': Live at the Blue Note – Telarc (Live)
1992: How Beautiful Is Night – Telarc
1994: That Shearing Sound – Telarc
1994: Cocktail for Two – Jazz World
1995: Paper Moon: Songs of Nat King Cole
1997: Favorite Things – Telarc
1998: Christmas with The George Shearing Quintet – Telarc
2000: Just for You: Live in the 1950s – Jazz Band
2001: Back to Birdland – Telarc (Live)
2002: The Rare Delight of You – Telarc
2002: Pick Yourself Up – Past Perfect
2002: Here and Now. New Look – with G.S. Quintet and String Choir
2004: Like Fine Wine – Mack Avenue
2005: Music to Hear – Koch
2005: Hopeless Romantics – Concord
2012: George Shearing at home (con Don Thompson) – Jazzknight Records 001, New York
Search Posts by Categories:
and subscribe to our social channels for news and music updates: