Follow @LibrarySheet
La musique magique de Jocelyn Pook:
Parvin Cox – Jocelyn Pook – Upon this Rock
Fermez les yeux et écoutez la musique magique de Jocelyn Pook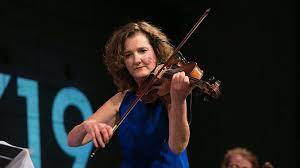 Il y a des musiques qui s'entendent et d'autres qui se vivent. Celle du Britannique Jocelyn Pook relève de la deuxième catégorie, et je suppose que, comme toute expérience vécue, il est difficile de l'expliquer sans imprégner le discours d'émotion. En fait, pour commencer, je dois dire qu'il m'est difficile de définir le type de musique que Pook crée, et je devrais utiliser des adjectifs qui sonnent bien :
Une musique « belle et hypnotique », un « mélange de styles et de musiques qui créent des atmosphères mystérieuses ».
C'est assurément le cas, devant les compositions de Pook, on s'abandonne aux sons qu'on entend, on se laisse transporter par ces ambiances, certaines dérangeantes et d'autres magiques.
Jocelyn Pook est compositrice, joue du piano, de l'alto et du violon, et chante également. Il a composé de la musique pour le théâtre, des séries et des films. Le théâtre et le cinéma sont toujours des formes de narration ; et la musique est aussi de la musique, même si elle ne vient pas toujours accompagnée de paroles ; aussi parce que l'un des films auxquels il a mis de la musique était Eyes Wide Shut , de Stanley Kubrick.
Trois des morceaux interprétés dans son concert font partie de la bande originale de ce film et l'un d'eux, justement, est l'une de ses compositions les plus reconnues. Je ne sais pas si cela est dû à la force de la musique, à la voix du pianiste Jon Banks, qui dans cette pièce montre une interprétation orale grave et dérangeante, ou au souvenir que nous avons d'un des films de Kubrick plus inquiétant.
Pook est conscient du pouvoir de la musique en général et de ses compositions en particulier, et il est également clair que les mots ne doivent pas nuire au pouvoir de la musique.
C'est pourquoi ce que produisent les voix dans nombre de ses pièces, ce sont des sons ou des mots que nous ne comprenons pas parce qu'ils sont écrits à l'envers , c'est-à-dire des mots lus ou prononcés à l'envers. Au-delà de cela, le Joselyn Pook Ensemble fait de sa musique un mélange de styles du monde entier, et je pense que c'est ce mélange qui nous donne l'impression d'être en voyage lorsque nous écoutons leurs offres.
Pas seulement un voyage autour du monde, mais surtout un voyage intérieur. La musique, comme tout art, est une occasion de dialoguer avec nous-mêmes. Quiconque ne connaît pas Jocelyn Pook devrait la consulter rapidement et apprécier ses compositions imaginatives et suggestives.
Biographie
Jocelyn Pook (né le 14 février 1960) est un compositeur et altiste anglais. Elle est connue pour ses partitions pour de nombreux films, dont Eyes Wide Shut, The Merchant of Venice et The Wife.
Jocelyn Pook est l'un des compositeurs les plus polyvalents du Royaume-Uni, ayant beaucoup écrit pour la scène, l'écran, l'opéra et la salle de concert. Elle s'est forgé une réputation internationale en tant que compositrice très originale, remportant de nombreux prix et nominations, dont un BAFTA, un Golden Globe, un Olivier et deux British Composer Awards.

Souvent connue pour sa musique de film pour Eyes Wide Shut , qui lui a valu un Chicago Film Award et une nomination aux Golden Globes, Pook a travaillé avec certains des plus grands réalisateurs, musiciens, artistes et institutions artistiques du monde, dont Stanley Kubrick, Martin Scorsese, le Royal Opera House, BBC Proms, Andrew Motion, Peter Gabriel, Massive Attack et Laurie Anderson.

Pook est diplômée de la Guildhall School of Music and Drama en 1983, où elle a étudié l'alto. Elle s'est ensuite lancée dans une période de tournées et d'enregistrements avec des artistes tels que Peter Gabriel, Massive Attack, Laurie Anderson et PJ Harvey et en tant que membre des Communards.

de Michael Radford Pook a écrit la musique du film The Merchant of Venice avec Al Pacino, qui mettait en vedette la voix du contre-ténor Andreas Scholl et a été nominé pour un Classical Brit Award.
Parmi les autres musiques de films notables, citons Brick Lane réalisé par Sarah Gavron, une pièce pour la bande originale de Gangs of New York réalisé par Martin Scorsese, et une partition complète pour The Wife de Björn Runge, avec Jonathan Pryce, Glenn Close et Christian Slater.
Jocelyn Pook a également composé des partitions pour des émissions de télévision et des publicités, et a été nominée pour un BAFTA pour The Government Inspector de Channel 4 (Dir: Peter Kosminsky).
En 2018, Pook a remporté un BAFTA pour la version téléfilm 2017 de la pièce de théâtre King Charles III écrite par Mike Bartlett, en plus de sa partition originale pour la pièce de théâtre.

Avec une réputation de compositrice d'œuvres électroacoustiques et de musique pour la plate-forme de concert, Pook continue de célébrer la diversité de la voix humaine, faisant de nombreuses tournées avec The Jocelyn Pook Ensemble , interprétant le répertoire de ses albums et la musique de ses musiques de film.

Pook a remporté un Olivier Award pour la production de St Joan du National Theatre en 2008, et pour sa pièce de théâtre musical Speaking in Tunes , elle a remporté un British Composer Award. Elle a remporté un deuxième British Composer Award pour sa bande originale de DESH , qui accompagne la production de danse d'Akram Khan du même nom.

La partition de Pook pour Adam du National Theatre of Scotland a été un succès du Fringe d'Édimbourg en 2017 et mettait en vedette une chorale internationale de 120 personnes trans du monde entier. Adam a remporté un Scottish Arts Club Award, Fringe First Award, a été présélectionné pour Amnesty International Freedom of Expression Award et a remporté un Herald Angel Award (pour Adam Kashmiry). Il continue de tourner, avec une course au Battersea Arts Center en septembre 2018.

Jocelyn Pook a été acclamée par la critique pour son cycle de chansons sur la maladie mentale, Hearing Voices , qui a été créé en décembre 2012 par le BBC Concert Orchestra et la chanteuse Melanie Pappenheim au Queen Elizabeth Hall.
En 2015, il a été retravaillé pour ensemble de chambre avec des représentations à Tête à Tête The Opera Festival et à The Print Room Coronet, Notting Hill (2017), remportant un financement de l'Arts Council England et PRS (2017).
Jocelyn Pook a également composé et interprété Anxiety Fanfare , une exploration musicale de l'anxiété sous toutes ses formes, pour chœur et ensemble à : Wigmore Hall 2014, Tête à Tête The Opera Festival 2015 et en tant que compositeur gagnant à la PRS New Music Biennale 2017 à Albermarle Music Centre, Hull et au Southbank Centre de Londres.

En 2015, Pook a composé la partition de King Charles III , une pièce primée Olivier de Mike Bartlett, qui a connu du succès au Almeida Theatre, au Wyndham's Theatre et à Broadway. L'émission a depuis fait une tournée au Royaume-Uni et en Australie, et a récemment été transformée en un téléfilm de la BBC, pour lequel elle a remporté un BAFTA de la meilleure musique originale en 2018.

En 2014, Pook a composé la partition d'une nouvelle pièce de danse Lest We Forget chorégraphiée par Akram Khan pour l'English National Ballet pour marquer le centenaire de la Première Guerre mondiale. En 2016, elle a été chargée de faire une autre œuvre pour ENB pour leur production She Said , qui a reçu un prix Oliver pour ses réalisations exceptionnelles en danse.

Le premier opéra de Pook, Ingerland , a été commandé et produit par ROH2 pour le Linbury Studio du Royal Opera House en juin 2010. Les BBC Proms et The King's Singers ont été chargés de collaborer avec le poète lauréat Andrew Motion sur une œuvre intitulée Mobile . Portraits in Absentia a été commandé par BBC Radio 3 et est un collage de sons, de voix, de musique et de mots tissés à partir des messages laissés sur son répondeur.
(2018) de Björn Runge Les projets récents incluent la musique du film The Wife avec Glenn Close et la musique du documentaire sur le crime réel The Staircase de Jean-Xavier de Lestrade, tous deux sortis sous forme d'albums numériques en 2018.
Les premières récentes incluent Memorial , une œuvre de théâtre musical à grande échelle avec de la musique de Pook et interprétée par son ensemble au Festival d'Adélaïde, au Festival de Brisbane et au Barbican Theatre de Londres ; et la première mondiale du dernier volet de sa trilogie sur la santé mentale, Hysteria , au Hoxton Hall de Londres.

Pook a présidé et été juge dans divers panels, notamment les British Composer Awards, les Ivor Novello Awards et le BBC Proms Young Composers Competition.
Browse in the Library:
and subscribe to our social channels for news and music updates:
Bandes sonores (film and TV)
1994-6 – Blight – 14-minute short film by John Smith
1999 – Eyes Wide Shut – directed by Stanley Kubrick
2000 – My Khmer Heart (Breaking Hearts)
2000 – The Sight – directed by Paul Anderson
2000 – Enron advert, "Ode to Why Campaign"
2000 – Comment j'ai tué mon père (How I Killed My Father)
2001 – In a Land of Plenty – 10 episode BBC drama series produced by Sterling Pictures and Talkback
2001 – Stanley Kubrick: A Life in Pictures – documentary, director Jan Harlan
2001 – L'Emploi Du Temps (Time Out)
2002 – Addicted to the Stars
2002 – La Repentie (The Repentant)
2002 – La Guerre à Paris (The War in Paris)
2002 – Gangs of New York – directed by Martin Scorsese
2004 – The Merchant of Venice
2004 – Wild Side
2004 – Soupçons (The Staircase)
2004 – They Came Back
2005 – The Government Inspector
2005–2006 – Heidi
2007 – Brick Lane
2007 – Remnants of Everest: The 1996 Tragedy (US: Storm over Everest)
2009 – The People v. Leo Frank
2009 – Chaotic Ana
2009 – Going South
2010 – Room in Rome
2011 – Room 304
2012 – Augustine
2012 – Les Invisibles
2017 – King Charles III
2017 – The Wife
2019 – The Kingmaker (2019 film)
Collaborations
1993 – Plus from US – various artists – Real World Records
1993 – Way Down Buffalo Hell – Jam Nation – ("Sleeping, She Moved Through The Fair") – Real World Records
1996 – A Night in London – Mark Knopfler – Mercury Records
1997 – Friday the Thirteenth – The Stranglers – ("Waltz in Black", "Valley of the Birds", "Daddy's Riding the Range", "Golden Brown", "No More Heroes")

1999 – Liquid Sunshine – Keziah Jones – ("Hello Heavenly", "Runaway", "Teardrops Will Fall") – Delabel
2000 – OVO (The soundtrack for the Millennium Dome Show of Cirque du Soleil) – Peter Gabriel – ("Low Light", "The Time of the Turning", "The Weaver's Reel", "Downside Up", "The Nest that Sailed the Sky") – Real World Records
2003 – Something Dangerous – Natacha Atlas – ("Adam's Lullaby") – Mantra Records
2008 – Ana Hina – Natacha Atlas – World Village
Prix
Music and Sound Award (Best Original Composition, 2019) for the Wife
Bafta (Original Music, 2018) for King Charles III
British Composer Award nomination (Stage Works, 2012) for DESH
Special Mention of the Jury, Karlovy Vary Film Festival (Best Music, 2011) for Room 304
Olivier Award (Best Music and Sound Design, 2008) for St Joan
ASCAP Award for Brick Lane
BAFTA TV Award nomination (Best Original TV Music, 2006) for The Government Inspector
Classical BRIT Award nomination (Soundtrack Composer, 2005) for The Merchant of Venice
British Composer Award (Multi-Media, 2003) for Speaking in Tunes
ASCAP Award for Eyes Wide Shut
CFCA Award nomination (Best Original Score, 2000) for Eyes Wide Shut
Golden Globe nomination (Best Original Score – Motion Picture, 2000) for Eyes Wide Shut
OFCS Award nomination (Best Original Score, 2000) for Eyes Wide Shut
Follow @LibrarySheet