Follow @LibrarySheet
The Best of Hans Zimmer (with sheet music DOWNLOAD HERE)
Hans Florian Zimmer (born 12 September 1957) is a German film score composer and record producer. Zimmer's works are notable for integrating electronic music sounds with traditional orchestral arrangements.
Since the 1980s, he has composed music for over 150 films. His works include The Lion King, for which he won the Academy Award for Best Original Score in 1995, the Pirates of the Caribbean series, Interstellar, Gladiator, Crimson Tide, Inception, Dunkirk, and The Dark Knight Trilogy.
He has received four Grammy Awards, three Classical BRIT Awards, two Golden Globes, and an Academy Award. He was also named on the list of Top 100 Living Geniuses, published by The Daily Telegraph.
Zimmer spent the early part of his career in the United Kingdom before moving to the United States. He is the head of the film music division at DreamWorks studios and works with other composers through the company that he founded, Remote Control Productions, formerly known as Media Ventures.
His studio in Santa Monica, California has an extensive range of computer equipment and keyboards, allowing demo versions of film scores to be created quickly.
Zimmer has collaborated on multiple projects with directors including Ridley Scott, Ron Howard, Gore Verbinski, Michael Bay, and Christopher Nolan.
Track list:
Interstellar
00:00 – 01:05 – Organ Variation 00:00 – 03:54 – Tick Tock 03:54 – 05:10 – Cornfield Chase 05:10 – 08:08 – Where We're Going 07:55 – 08:56 – No Time For Caution
Inception
Pirates of the Caribbean 13:15 – 14:18 – Davy Jones 14:19 – 16:15 – The Kraken 16:15 – 18:17 – At Wits End 18:17 – 20:13 – What Shall We Die For 20:13 – 24:02 – One Day 24:03 – 26:37 – Up Is Down 26:38 – 30:05 – Drink Up Me Hearties
Batman Trilogy
30:06 – 30:34 – Bank Robbery 30:34 – 31:45 – Antrozous 31:45 – 32:18 – Barbastella 32:19 – 33:06 – Vespertilio 33:05 – 36:07 – A Dark Knight 36:07 – 36:33 – Aggressive Expansion 36:33 – 36:41 – Im Not A Hero 36:42 – 39:51 – Like A Dog Chasing Cars 39:51 – 42:08 – Despair
Man of Steel, The Da Vinci Code, Gladiator, The Last Samurai, Blue Planet II, Planet Earth II
42:09 – 44:19 – Flight 44:15 – 47:57 – Chevaliers de Sangreal 47:57 – 50:34 – Now We Are Free 50:35 – 51:42 – Spectres In The Fog 51:42 – 54:25 – Safe Passage 54:26 – 56:48 – The Blue Planet 56:48 – 58:11 – Planet Earth II Suite
Hans Zimmer, a short biography.
Hans Florian Zimmer (born September 12, 1957, in Frankfurt am Main) is a German film composer, arranger and music producer. He works in Hollywood.
He has been nominated eleven times for an Oscar, fourteen times for a Golden Globe Award and eleven times for a Grammy Award.
Hans Zimmer received his first Oscar nomination in 1989 for the film Rain Man. In 1995, he was awarded an Oscar for the film music for The Lion King. In 2010, he received a star on the Hollywood Walk of Fame. A star followed in 2011 on the Boulevard der Stars in Berlin. Zimmer was awarded the Federal Cross of Merit 1st Class in 2018.
Hans Zimmer's soundtrack albums have sold more than 25.4 million copies worldwide.

Hans Zimmer was born in Frankfurt am Main, the son of chemical entrepreneur Hans J. Zimmer. As a child, he learned to play the piano in his parents' house, in the Villa Gans in Kronberg, although he only had a piano teacher for a short time because he didn't want to submit to his discipline regarding the basic rules for a pianist.
On the Harald Schmidt Show on February 15, 2002, when asked if he had music lessons, he replied: 'Yes, I had them for a week. It was like that, either I would have killed the teacher or he would have killed me."
He was a graduate of Hurtwood House boarding school in Dorking, Surrey, England, and played synthesizers in groups such as Krisma and Helden (with Ultravox drummer Warren Cann). He did not go through an academic musical education.
Hans Zimmer is married and has four children. In 1999, at a press conference on the Holocaust documentary The Last Days, he declared that he was Jewish. In 1939 his mother fled from the National Socialists to England.
Follow @LibrarySheet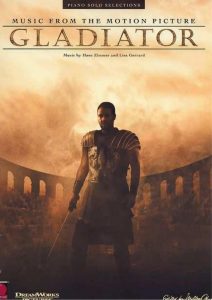 Years in England
In the late 1970s, Hans Zimmer was a composer of commercial music jingles and worked on the modular synthesizer in the video clip of the Buggles hit video Killed the Radio Star. He composed advertising and radio jingles in the London studio Air Edel.
There he met the well-known English film music composer Stanley Myers, whose assistant he became in 1980. Zimmer learned a lot about composing for an orchestra from him.
Through this collaboration, he received his first smaller commissions for composing film music. In the late 1980s, he drew attention to himself with the soundtrack for films such as Rain Man.
Hollywood
Zimmer was best known in the early 1990s for his innovative combination of orchestral and synthesizer sounds. With Ridley Scott's Black Rain and Ron Howard's Backdraft – Men Who Walk Through Fire, he created a new style of setting music to action films.
Backdraft in particular is considered a milestone in film music history: Zimmer's decision to set the film to music with a so-called 'wall-to-wall score', i.e. to underlay the majority of the film with music, created the prototype for many action film scores that were later released in Hollywood were produced.
The style, roughly based on a powerful main theme, rhythmic action motifs, and gentler passages for the two main characters (portrayed by Kurt Russell and William Baldwin), is found in numerous later film scores.
Together with his partner Jay Rifkin, he founded the film music studio Media Ventures in the mid-1980s.
In 2003, after a legal battle with Rifkin, Zimmer took over the business with his company Remote Control Productions. Remote Control is a kind of talent factory, in which some other film music composers, such as Examples include Steve Jablonsky, James Dooley, Heitor Pereira, and Geoff Zanelli. Notable former Remote Control composers include Klaus Badelt, John Powell, Nick Glennie-Smith, Mark Mancina, and Harry Gregson-Williams.
After completing work on Illuminati, Zimmer planned to give a few concerts, but this has only been possible to a limited extent so far, as he has been accepting new orders. In an interview with the website Amazona.de, he said that most of the directors he works with are his friends, so he finds it difficult to turn down an assignment from them.
Finally, in 2016, Zimmer was on a major tour of Europe with an orchestra of 70 musicians. Various of his soundtracks were played live in front of an audience, combined with short stories by Zimmer, e.g. about the death of Heath Ledger in 2008, shortly after filming The Dark Knight. The live tour premiered on April 6, 2016, at Wembley Arena in London.
The tour ended on June 5, 2016, with a concert in the ancient theater of Orange. Johnny Marr accompanied Zimmer on the electric guitar at a few selected concerts in London, Berlin, Prague, Manchester, Dublin and Orange. Zimmer received a great deal of attention after his concert on April 22, 2016, in the König-Pilsener-Arena in Oberhausen, when he played Prince's song Purple Rain after his death.
In 2017, Zimmer was again on the road on a live tour, for the first time in the United States, Australia, New Zealand and South Korea. The concert tour began on April 14, 2017 at the Microsoft Theater in Los Angeles and ended on October 7 at Seoul Olympic Stadium.
Zimmer now lives and works in Los Angeles and is one of the most successful and influential film composers in Hollywood history.
In 2018, Hans Zimmer was nominated for an Oscar for the eleventh time.
In the European Year of Intercultural Dialogue 2008, Hans Zimmer was an ambassador in Germany. The aim of the European Commission's campaign was to inform people in all 27 EU countries about the benefits of diversity and to get them excited about intercultural exchange.
In response to the Aurora attack in July 2012, he released the composition Aurora. All proceeds should be donated to the victims and their families.
Style
The use of ethnic instruments such as B. the duduk in Gladiator (played by the Armenian duduk player Djivan Gasparyan), flutes in Rangoon – In the heart of the storm or taiko in Last Samurai, is one of his trademarks. This also includes compositions with African influences, such as B. Two Worlds, In the Glory of the Sun, The Lion King and Black Hawk Down, but also music for comedies like It Can't Be Better or Tricks or for the action film The Dark Knight Rises.
He works regularly with directors Ridley Scott, James L. Brooks, Gore Verbinski, Penny Marshall and Christopher Nolan. Hans Zimmer himself describes Ennio Morricone as his great idol.
Zimmer frequently collaborates with the same musicians. In many pieces of music, a guitar is played by Heitor Pereira or a cello by Martin Tillman.
Long before filming begins, Zimmer usually composes suites that contain all the essential components of the later film music. Towards the end of the production, the suites serve as the basis for the music, which is written directly to the picture.
But the suites themselves are mostly used in the film and on the soundtrack – e.g. For example, tracks 9 through 13 from The Da Vinci Code soundtrack are the suite written by Zimmer.
In an interview, Zimmer explains this way of working as follows:
'I've been thinking about how I've been working lately. Writing things before shooting is a better way. Film technology has changed so much in recent years, especially with computer effects, that it is now possible to make last-minute changes to the film. I think the old way of waiting for the film to finish editing and then writing and recording the music for the last six to twelve weeks or whatever doesn't work anymore these days.
So it makes sense to write some of the music before those 12 weeks. That gives you and the filmmakers something to work with while you think about the music to go with the picture. That way, you might have more influence on the style of the film. It also solves those annoying temp track issues."
– Hans Zimmer
Other composers often help Zimmer with his music, especially towards the end of film production, by orchestrating, arranging or composing parts for him based on his suites and musical ideas. This collaborative way of working is controversial for some film music fans, but not entirely uncommon in Hollywood. Rupert Gregson-Williams says the following in an interview:
"Hans is an icon and – in my opinion – most of the criticism against Media Ventures is completely unfounded. The most common misconception is that everyone works on the issues while Hans gets the credit for it. Well, I worked with Hans in Los Angeles for three months on different scenes for The Prince of Egypt – the sandstorm sequence where Moses is woken up by a camel and the scene with the death of the firstborn – and all the themes were written by Hans.
My job was to take the thematic content from Hans and work it into my pieces for the scene. There was a lot of discussion and talk about the contextual meaning behind the film and how the music relates to it, but the driving force behind it was Hans. Just to watch him work, to be creative and to be in this atmosphere for once was wonderful. Also, Hans is a phenomenal orchestrator. That's something people don't understand.'
– Rupert Gregson-Williams
Hans Zimmer not only composes, but also takes on the execution as the responsible music producer for films, such as 2006 with Over the Hedge and 2015 with Terminator: Genisys.
Search Posts by Categories:
and subscribe to our social channels for news and music updates: