Follow @LibrarySheet
Gershwin, George – The Man I Love (Piano Solo arr. by Percy Grainger) Sheet Music
ТНЕ MAN I LOVE by Gershwin-Grainger
"The Man I Love" is one of the great songs of all time, taking its place in immortality beside the finest love-songs by Dowland, Schubert, Schumann, Brahms, Grieg, Tchaikovsky, Gabriel Fauré, Henri du Parc, Hatton, Maude Valerie White, Cyril Scott, Roger Quilter, Debussy and John Alden Carpenter.
Its obvious indebtedness to а phrase in the slow movement of Grieg's С minor Sonata for violin and piano (measures 26 to 29) does not in the least lessen its claims to first class originality.
In the Grieg phrase (ех. 1) and in the Gershwin phrase (ех. 2) the basic procedure is the same: the melody rises from the interval of the fifth to that of the seventh, and while it pauses on the seventh, the alto voice of the four-part harmony drops from the major third (of the tonic triad) to the minor third, while the two lowest voices sustain the drone 1,5.
The main theme of Gershwin's "Rhapsody in Blue" (ех. 4) is no less obviously derived from the theme with which Grieg closes his Piano Concerto (ех. 3). Both motives have the same intervallic resting places – 5, 1, flat 7, 6, 5.
In both, а pair of triplets move from the flat seventh to the fifth, by way of the sixth, while the chords below, in both cases, display the clash of а sharp seventh.
Such similarity amounts almost to identicalness. But none of this detracts from Gershwin's immense and indisputable originality. It only shows what а life-giving inspiration Grieg's startling innovations provided for almost all truly progressive composers that came after him: Debussy, Ravel, Delius, Cyril Scott, Albéniz, Stravinsky, MacDowell, Gershwin. And it goes to prove how deeply Gershwin's genius (whatever inspiration it also drew from popular and local sources) was rooted in the traditions of classical cosmopolitan music.
So much of Gershwin's unique and subtle greatness lies in his humanistic universalism – in his effortless ability to reconcile hitherto unreconciled contrasts and seemingly
opposing tendencies.
Percy Aldridge Grainger,
June 22, 1944.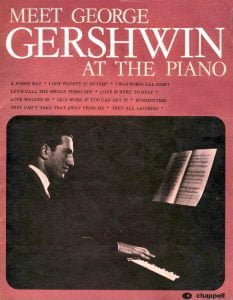 Browse in the Library:
and subscribe to our social channels for news and music updates: